ALASKA STATE SENATOR INDICTED ON PUBLIC CORRUPTION CHARGES

July 11, 2008
Friday

(SitNews) - John Cowdery (R), a current member of the Alaska state Senate representing District ) - Anchorage, was indicted on charges arising out of a federal investigation into public corruption in the state of Alaska, Acting Assistant Attorney General Matthew Friedrich for the Criminal Division announced Thursday.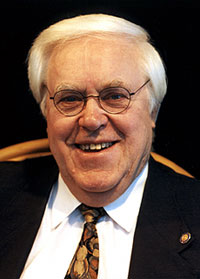 Alaska State Senator
John Cowdery
A two-count indictment returned by a federal grand jury in Anchorage on July 9, 2008, charges Cowdery with one count of bribery and one count of conspiracy. The indictment alleges that Cowdery and his co-conspirators, including Bill J. Allen, the former chief executive officer of VECO Corporation, and Richard L. Smith, VECO's former vice president, corruptly offered and agreed to give financial benefits to another state legislator (State Senator A) to influence and reward State Senator A in exchange for State Senator A agreeing to perform official acts as a member of the Alaska State Legislature.
The indictment specifically alleges that VECO Corporation, which at the time was a multinational oil services corporation, had a significant financial interest in contracts with oil producers in Alaska and, consequently, supported certain oil and gas legislation pending in the Alaska state legislature in 2006. The indictment further alleges that, in exchange for $25,000 ­ characterized as political campaign contributions ­ Cowdery, Allen, Smith and others sought an agreement with State Senator A that would require State Senator A to vote in favor of the oil and gas legislation favored by VECO. Cowdery and the alleged co-conspirators agreed to this plan, according to the indictment, through a series of telephone calls and in-person meetings.
Friday Senator Donny Olson (D- Nome) acknowledged that Senator A as referenced in the federal indictment of Senator John Cowdery is indeed himself. He further stated that he has been willingly cooperating with the FBI and the U.S. Attorneys Office since their investigation began almost two years ago.

Regarding the news of the indictment of Sen. Cowdery , Alaska Governor Sarah Palin said in a prepared statement Thursday, "It was disturbing to learn that another public official has been charged with violating the public trust. I urge Senator Cowdery to step down, for the good of the state."

Palin said, "Today's news is a good reminder that we must continue to be vigilant in defending Alaska's sovereignty against those who would undermine it in an attempt to sell out Alaskans. As we move forward, let me remind everyone that this administration is committed to putting Alaskans and their interests first, as we develop our resources in a responsible and ethical manner."

"We are on the right path. I am confident that path will be made more clear and obstacle-free as justice prevails in the ongoing FBI investigation. Like many Alaskans, I look forward to closure on this disturbing chapter in our state's history," said Palin.
Doug Van Etten, the Democratic candidate for the State Senate seat in mid-town Anchorage currently held by Cowdery called for Cowdery's immediate resignation.
"Cowdery should resign," Van Etten said. "He has breached the public trust in a serious way. Our legislators do not need this distraction as they try to move forward with the important energy issues now pending in the Special Session."
The five-member Senate Republican Minority Caucus expressed disappointment at the news Thursday that a sitting legislator has been indicted on federal charges of bribery and conspiracy in the ongoing public corruption investigation surrounding the 2006 PPT and SGDA Natural Gas Pipeline debate. Member of the Senate Republican Minority Caucus are Sens. Con Bunde, Fred Dyson, Tom Wagone, Gary Wilken and Gene Therriault.
"The news today of the indictment of a sitting Alaska State Senator is extremely disturbing. This latest development adds to the complexity the Legislature faces to regain the public's trust and confidence as we forge ahead in making one of the most important public policy decisions in the State's history," said Senate Minority Leader Gene Therriault, R-North Pole.
Recognizing that during the 2008 legislative session deliberations would again take place over a proposal for a Natural Gas Pipeline, the Republican Minority Senators sent a private letter to Sen. John Cowdery in December. The letter again expressed grave concern over his continued leadership position in the Senate. All five Minority members urged Sen. Cowdery to resign his Senate seat prior to the January session in the interest of protecting the integrity of the Legislative Branch and the 32,000 constituents of Senate District O.
As discomforting as Thursday's development is, members of the Senate Republican Minority said in a prepared statement that they firmly believe that the ongoing federal investigation and jury trials will help to reinforce that no person is above the law. We believe that through this process the public's trust will be restored with a Legislature that all Alaskans can and will be proud of.
According to information provided by the United States Department of Justice, if convicted, Cowdery faces a maximum penalty of 10 years in prison on the bribery count and a maximum penalty of five years in prison on the conspiracy count, as well as a maximum $250,000 fine for each count. An indictment is merely an accusation and defendants are presumed innocent until proven guilty at trial beyond a reasonable doubt.
To date, there have been seven criminal convictions arising out of the ongoing investigation into public corruption in the state of Alaska. Thomas T. Anderson, a former elected member of the Alaska House of Representatives, was convicted in July 2007 and sentenced to five years in prison for extortion, conspiracy, bribery and money laundering for soliciting and receiving money from an FBI confidential source in exchange for agreeing to perform official acts to further a business interest represented by the source. Peter Kott, a former Speaker of the Alaska House of Representatives, was convicted in September 2007 and sentenced to six years in prison for extortion, bribery and conspiracy. Victor H. Kohring, a former elected member of the Alaska House of Representatives, was convicted at trial in November 2007 for attempted extortion, bribery and conspiracy, and was sentenced to three and a half years in prison. Four other individuals, including Allen and Smith, have pleaded guilty to felony public corruption charges.
Former state senator Ben Stevens was once again implicated in Thursday's indictment as part of a conspiracy by VECO to bribe Alaska legislators. U.S. Senator Ted Stevens remains under investigation for a number of alleged improprieties including funneling federal dollars to his son Ben and his clients and his own relationship with VECO.
With all of the recent news stories and media hype concerning the indictment, Senator Olson (D) issued the following statement when he identified himself as Senator A as referenced in the federal indictment: "I state categorically that I have not received any money or other benefits (including aviation gas) to myself, personally or any corporation I own, or my campaign from VECO and/or its representatives during the time period of concern and subsequently," said Olson.

"Secondly, the public record on my votes regarding the Petroleum Production Tax (PPT) is clear and without ambiguity. I rejected any attempt by VECO to influence my decisions," said Olson. "A review of my voting record shows that I never voted in favor of a lower percentage surrounding the PPT subject matter or any other provision supported by VECO or VECO representatives."
The Cowdery case is being prosecuted by Trial Attorneys Nicholas A. Marsh and Edward P. Sullivan of the Criminal Division's Public Integrity Section, headed by Chief William M. Welch II, and Assistant U.S. Attorneys Joseph W. Bottini and James A. Goeke from the District of Alaska. The ongoing investigation is being led by the FBI and the Internal Revenue Service-Criminal Investigation.
Sources of News:
United States Department of Justice
www.usdoj.gov

Office of the Governor
www.gov.state.ak.us

Alaska Democrats
www.alaskademocrats.org

Senate Republican Minority Caucus
http://www.aksenateminority.com/

Office of Senator Don Olson


E-mail your news & photos to editor@sitnews.us


Publish A Letter in SitNews Read Letters/Opinions
Contact the Editor
SitNews ©2008
Stories In The News
Ketchikan, Alaska