Youth to Work Program Completes First
Construction Project at Paintball Field
July 30, 2007
Monday

(SitNews) Ketchikan, Alaska - Eight trainees, ages 14 to 17, received their Certificates of Completion from the first construction project completed under the Youth to Work job readiness training program on Friday July 27th , This program was launched in January 2007 under a partnership between Ketchikan Youth Initiatives (KYI) and the Alaska State Job Center with support from Boys and Girls Club, AmeriCorps*VISTA and others.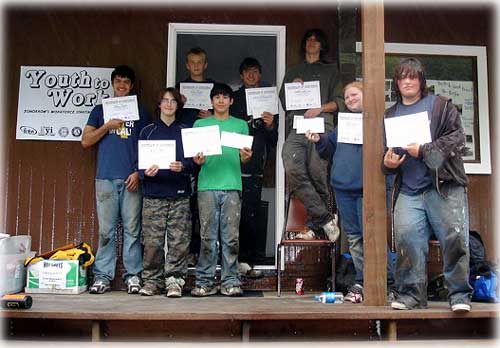 Grads: from 1st row left to right: Dean Mahan; Joron Whitton, Sidney Brendible, Kaylea Stoakes, Rob Hannah; 2nd row: Jason Enright, Herbert Guthrie, A.J. Hayward
Photo courtesy KYI

Brought together under the tutelage of Charles Edwardson of Edwardson Enterprises, the two week construction project at the Ketchikan Hot Shots Paintball field tackled the renovation of an office trailer donated to the Hot Shots this Spring by C. E. Bradley.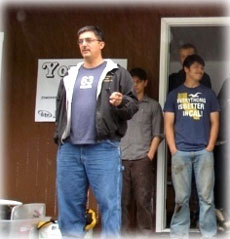 Chas Edwardson speaking to the need to attract new blood into the construction trade.
Photo courtesy KYI
Trainee salaries were funded by grants from Sons of Transition (Metlakatla Indian Community), Ketchikan Youth Initiatives, Ketchikan Indian Community and the State of Alaska Department of Labor. The Rasmuson Foundation and a High Growth Industry grant from Department of Labor completed the cash funding supplemented by in-kind donations from local organizations including Southeast Alaska Independent Living (SAIL), Tyler Rentals and Ward Cove Construction.
Quoting Chas Edwardson, "I was pleased to see the cooperative effort and really pleased that other contractors stepped up to help when they saw what we were doing. I believe that given the opportunity any youth can do anything required of them. This project substantiated my belief."
Members of the public, family members and educational administrators gathered to witness the graduation ceremony where Certificates of Completion and paychecks were distributed by Jesse Harrington, the AmeriCorps*VISTA assigned to the Youth to Work program.
KYI President, Ty Rettke, explained how development of the paintball field was the first project sponsored by Ketchikan Youth Initiatives. The Youth to Work program carries out the third KYI strategy to help youth and young adults make a successful transition into the work world.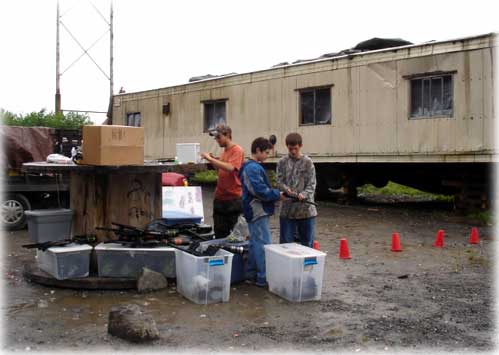 Hot Shots preparing for a paintball game before the trailer was renovated.
Photo courtesy KYI

A barbecue followed an impromptu paintball game with the trainees and other members of the Hot Shots Paintball League. The Ketchikan Hot Shots Paintball field is located on Revilla Road (mile 4)
Bobbie McCreary, KYI Administrative Manager stated, "This has been an exciting project to put together."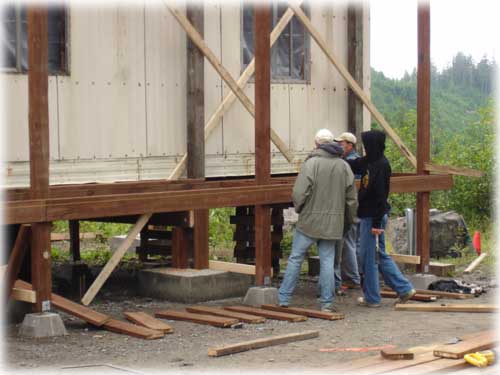 Learning on the Job - The trainees worked hard, 8 hours a day for two weeks
Photo courtesy KYI

About the Youth to Work Program McCreary said, "The Youth to Work program is committed to making a difference in the future of our youth and our communities by acquainting these youth with the opportunities Alaska's High Growth Industries and other businesses have to offer them."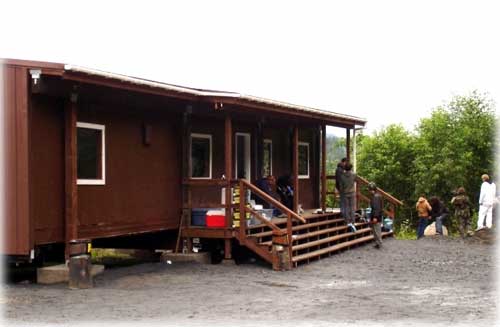 Work completed, now they have a place to convene and prepare for paintball games.
Photo courtesy KYI

The Youth to Work program serves youth and young adults ages 14 to 24. McCreary said, "We are continually looking for employers to provide work experience and mentors to guide the program trainees."
If you would like more information on how to participate in this Ketchikan Youth Initiatives' program, visit the KYI office at 640 Park Avenue in Ketchikan, call 247-8080 or email youthtowork@gmail.com.
E-mail your news & photos to editor@sitnews.us


Publish A Letter in SitNews Read Letters/Opinions
Contact the Editor
SitNews ©2007
Stories In The News
Ketchikan, Alaska