Southeast Travel
Getting Down and Dirty in Naukati Bay
By Susan Batho and Bill Hupe

July 24, 2007
Tuesday

Naukati Bay, Alaska - A wet, rainy July 15th on Prince of Wales Island, and the morning spent photographing the abundant Sitka Black-Tailed Deer; the quest to find something cold to drink; and a signpost up ahead: Naukati Bay: gas and groceries, daring us to make the left turn off Forest Highway 20, beckoning the weary, thirsty travellers. Yes, we made that fateful choice and entered the "Only on Prince of Wales Island Zone," missing the hidden sign for the grocers and instead being greeted by another sign: Naukati Bay Mud Bogg Races.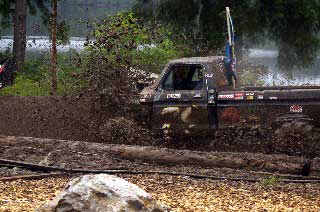 Mud Bogg Racing
Photograph By Susan Batho and Bill Hupe©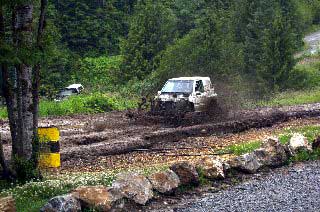 Mud Bogg Racing
Photograph By Susan Batho and Bill Hupe©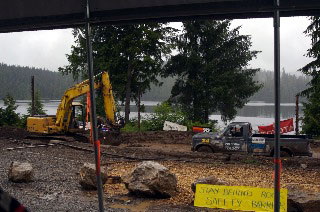 Mud Bogg Racing
Photograph By Susan Batho and Bill Hupe
Common sense should have dictated we turn straight around and head back for civilization, and we actually did for a moment, but caution, common sense, maybe a chance to get out of the rain, found us chucking a "U-ee" and heading back, finding a parking space, forking over $10 each, all of the time wondering what we had gotten ourselves into.
In the leveled area behind town, overlooking the harbour, lay some bleachers, a muddy strip of road between parallel logs, and a couple of tents with grills. Delicious aromas filled the air, and what looked to be not only the entire village of Naukati Bay, but a fair number of out-of-towners as well was there. It might have been a good, steady rain, but no one seemed to notice as everyone was enjoying the offered hamburgers, hot dogs, nachos, and beverages - alcoholic and soda pop. Almost resembled a county fair, with laughter and festivity filling the glen.
Before long, the Craig Hardware store had a portable sound system, as well as timers and a signal light set up. The designated singer of the National Anthem was nowhere to be found ("Mom - they need you" one child ran off yelling), so Grandma stepped up and we all joined in, and then it was time for the Main Event - the Mud Bogg Racing, otherwise known as Drag Racing, Alaskan Rain Forest Style.
The vehicles lined up by class, each waiting for their turn and a green light to run the gauntlet through what looked to be a 250 foot stretch of four to five feet deep of Tongass' Finest Mud. Times ranged from just over six seconds to getting stuck at less than fifty feet and having a large piece of construction equipment with a claw and chain extricate the hapless driver by dragging them to the finish line amidst laughter and shame in time for the next daredevil. The mud not being choosy as the president of the sponsor of the day's event, the Prince of Wales Off-Road Vehicle Club, was one of its victims.
The drivers came from near and far (a handful of Ketchikan residents had brought over their souped up speedsters for a go), and ranged from a twelve year old boy and thirteen year old girl to seasoned drivers in their forties. The rules for the Powder Puff Series Opener were simple: make the entire length of the mud track under your own power. Each driver had four attempts to do so, and the fastest average of their best three runs were tallied. The fastest average would be declared the winner. The vehicles ranged from a severely-modified Volkswagon Bug and cars with all of their doors removed to lessen their weight, to seemingly off the factory showroom (and a decade of two of torture on some of Alaska's smoothest roads) Ford and GM's.
The audience rooted and cheered for their favourite drivers and/or family members, and we may have all laughed with gusto at some of the predicaments the racers found themselves in, but Mud Bogg Racing is serious stuff, and several people were keeping careful statistics on all the drivers and their runs, and the announcer readily passed onto their Mud Bogg Racing pedigrees, so to speak.
You have not "seen it all" until you have witnessed Naukati Bay's Mud Bogg Racing, the smell of aviation fuel mixed with water and goo on hot engines, and mud flying every direction imaginable. Mud Bogg Racing is something unique to our experience, and quite probably unique to Alaska. If it isn't there already, it should be immediately added to the personal "Things To Do In My Lifetime" list; you won't be disappointed.
A grand time was had by everyone.
The remainder of the 2007 Mud Bogg Races in Naukati Bay will be held 1 and 15 August, and 2 September, and start at 2 PM. Naukati Bay is on Prince of Wales Island, and is reached by the paved roads from Thorne Bay and Klowock, continuing north from the T Junction and onto the unpaved Forest Highway 20. Continue past the Coffman Cove turnoff, and then watch for the signposts for the Naukati Bay turnoff. Bypass the town turnoff and look for the parking signs for the Mud Bogg Races.
Susan Batho & Bill Hupe are residents of both Ketchikan and New South Wales, Australia. They are a writing and photographic team specializing in photography of Alaska and Australia for 22 years, and best friends for 22 years and a day.
Their website www.beaustud.com features some of their work, and they can be reached through susan_and_bill@hotmail.com

E-mail your news & photos to editor@sitnews.us


Publish A Letter in SitNews Read Letters/Opinions
Contact the Editor
SitNews ©2007
Stories In The News
Ketchikan, Alaska