A Very Special Flight 62 Down the Alaskan Panhandle
By Susan Batho & Bill Hupe
July 09, 2007
Monday

Ketchikan, Alaska - There was nothing unusual when the 7.50 Friday morning Alaska Airlines Flight 62 departed Anchorage on time. Nearly every seat was full for the first daily southbound milk run and it was bright, clear day, with Mt. St. Elias laid out for all passengers to view as the 737 headed in towards Juneau. Flight 62 even pulled into the terminal at Juneau Airport five minutes early under the locally clouded skies.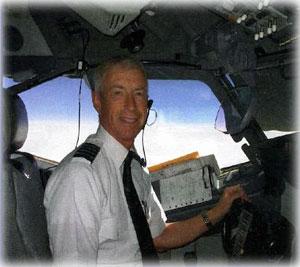 Captain Bill Ferrier
Photo courtesy Alaska Airlines
The majority of the passengers deplaned, to be replaced by what appeared to be an equal number of passengers joining the flight - unusual for Juneau. Whilst the passengers boarded and loaded carry-ons unto the overhead bins, an announcement was made: Today's flight was very special. Flyers were passed out to everyone aboard amidst the laughter and questions about free alcohol.
It was a special flight indeed. This was the final passenger flight captained by eighteen year Alaskan Airlines pilot, Captain Bill Ferrier who had also served 20 years with the United States Air Force. The Captain was joined onboard the aircraft for his final flight by his wife of 38 years, Fran, his two daughters, Brooke and Lauren, as well as a host of his friends helping to celebrate his retirement. As flight 62 taxied out headed for take-off, the Juneau Airport fire crews lined the runaway and sprayed water over the Boeing 737 to honour and say farewell to Captain Ferrier. All aboard the aircraft broke into a spontaneous round of applause.
Not only has Captain Ferrier been a pilot for 38 years combined service between the military and Alaska Airlines, he has also served as an instructor pilot for both employers, as well as a check airman for Alaska Airlines. He also participated in Operation Homecoming (POW's returning from southeast Asia), and Constant Peg, a recently declassified program in which flight crews fly against actual Soviet aircraft and evaluate their performance.
Upon takeoff at Sitka and another round of applause, the cabin crew joined in the festival atmosphere by announcing that caviar, champagne, filet mignon, and other culinary delights would be served during the 37 minute flight to Ketchikan - the coffee, tea, and small treats passed out were certainly enjoyed as if they were the delights promised and the landing at Ketchikan came all too quickly, with the trademark slight bounce of an ex-Air Force pilots at the controls as the landing gear met the runway. As the aircraft slowed, the Ketchikan Fire Department sprayed the jet with water, repeating the honour paid to Captain Ferrier in Juneau, and all applauded the veteran pilot once again.
Captain Ferrier himself greeted each passenger as they entered into the Ketchikan International Airport, allowing each of us to offer our personal congratulations on his achievements. After the luggage was removed and the Seattle bound passengers boarded, Flight 62 and Captain Ferrier taxied for one last take-off. Almost certainly the flight and its passengers were greeted at Seattle with the same fanfare offered in Alaska's Panhandle. Hats off to Alaska Airlines for commemorating this milestone in the career of one of their dedicated pilots. Captain Bill Ferrier should be proud of his achievements and service, and enjoy his well-deserved retirement.
Bill Hupe is a resident of Ketchikan and Faulconbridge NSW, Australia. Most of his writing is with Susan Batho (also a resident of both places). Known by most people as "The Twins", they are a writing and photographic team and specializing in photography of Alaska and Australia. They can be reached through susan_and_bill@hotmail.com


E-mail your news & photos to editor@sitnews.us


Publish A Letter on SitNews Read Letters/Opinions
Contact the Editor
SitNews ©2007
Stories In The News
Ketchikan, Alaska