U.S., U.K. Leaders Say Peacekeeper Needed in Lebanon "Quickly"
July 29, 2006
Saturday AM

Washington -- President Bush said an effective multinational force needs to be dispatched quickly to southern Lebanon in order to help Lebanese government forces establish control there, as well as to help speed the distribution of humanitarian aid and facilitate the return of displaced persons.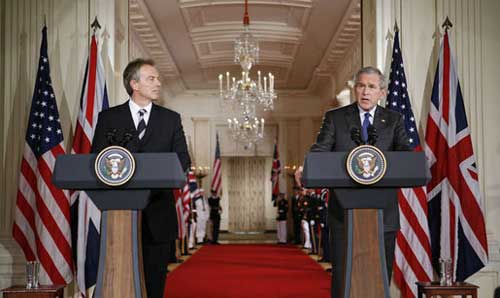 President George W. Bush is joined by Prime Minister Tony Blair of the United Kingdom as he answers a reporter's question during a joint press availability Friday, July 28, 2006, in the East Room of the White House.
White House photo by Paul Morse

Speaking with British Prime Minister Tony Blair at the White House July 28, Bush also said Secretary of State Condoleezza Rice is returning to the region July 29 for discussions with Lebanese and Israeli officials "to seize this opportunity to achieve lasting peace and stability for both of their countries."
The president said the top priorities of the United States and United Kingdom are to provide immediate humanitarian relief, end the violence, ensure the return of displaced people and assist with reconstruction efforts. "We recognize that many Lebanese people have lost their homes, so we'll help rebuild the civilian infrastructure that will allow them to return home safely," he said.
In the coming week, both countries are seeking a U.N. Security Council resolution that sets "a clear framework" for the cessation of hostilities and mandates the multinational force, Bush said.
"Prime Minister Blair and I agree that this approach gives the best hope to end the violence and create lasting peace and stability in Lebanon. This approach will demonstrate the international community's determination to support the government of Lebanon, and defeat the threat from Hizballah and its foreign sponsors," he said, referring to Iran and Syria.
It also would provide for the end of Hizballah's attacks on Israel, the return of kidnapped Israeli soldiers, the suspension of Israel's operations in Lebanon and the withdrawal of Israeli forces from that country, he said.
"Our goal is to achieve a lasting peace, which requires that a free, democratic and independent Lebanese government be empowered to exercise full authority over its territory. We want a Lebanon free of militias and foreign interference, and a Lebanon that governs its own destiny, as is called for by U.N. Security Council Resolutions 1559 and 1680," he said.
The president added that the current conflict could be turned into "a moment of opportunity and a chance for a broader change in the region," including renewed efforts to revive peace talks between Israel and the Palestinians aimed at creating a democratic Palestinian state.
Prime Minister Blair said the current situation has been "a complete tragedy for Lebanon, for Israel and for the wider region" and was provoked by Hizballah's military buildup and activities.
"[N]othing will work unless, as well as an end to the immediate crisis, we put in place the measures necessary to prevent it occurring again," he said, including the full implementation of U.N. Security Council Resolution 1559 that ensures southern Lebanon is "not used as a base for armed militia."
He welcomed Secretary Rice's return to the region and the joint U.S. and British support for the multinational force and a U.N. resolution to allow the end of hostilities, saying it is a "viable plan" to stop the violence.
"The purpose of what we are doing, therefore, is to bring about, yes, the cessation of hostilities, which we want to see as quickly and as urgently as possible, but also to put in place a framework that allows us to stabilize the situation for the medium and longer term," Blair said, and to "take this opportunity to set out and achieve a different strategic direction for the whole of that region."
Both leaders also called on Iran and Syria to end their support for Hizballah and terrorism and to help to end the violence.
Blair said the two countries must make a choice to "either come in and participate as proper and responsible members of the international community, or face the risk of increasing confrontation."
President Bush said during their talks, he and Blair also discussed the situations in Iraq, Afghanistan, and Darfur. They also urged Iran to accept the international offer concerning its nuclear program, adding that the Iranian regime "will not be allowed to develop or acquire nuclear weapons."
On the Web:
The transcript of the remarks by President Bush and Prime Minister Blair
http://www.whitehouse.gov/news/releases/2006/07/20060728-1.html

Publish A Letter on SitNews
Read Letters/Opinions
Contact the Editor
SitNews
Stories In The News
Ketchikan, Alaska