Hospital "grows" its own lab technicians
July 24, 2006
Monday

Ketchikan, Alaska - Separated by 5,000 miles, Ketchikan General Hospital (KGH) and St. Petersburg College (SPC) Medical Laboratory Technology Online Program, collaborate to train "home-grown" lab professionals for Alaska hospitals. KGH lab employee Travis Tacker will enter the program in August. He joins Wrangell student Roxanna "Roxy" Coblentz who is currently doing her clinical work at KGH under the same arrangement.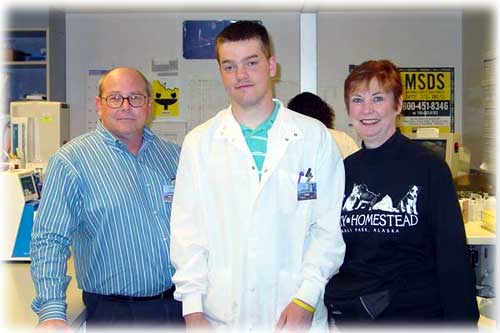 Tom Loughead, KGH interim lab manager; Travis Tacker, MLT student; Valerie Polansky, Program Director for MLT Online, St. Petersburg College.
Polansky visited the KGH Lab during her recent Alaska cruise.
Photo courtesy Ketchikan General Hospital

Medical Laboratory Technicians (MLTs), after completing college prerequisite courses such as biology and chemistry, must complete a two-year Associates Degree of coursework as well as clinical experience. When Coblentz, a clerk/phlebotomist in the lab of Wrangell Medical Center for 19 years, was looking for a way to become certified as an MLT, she discovered the online training available from the Florida college. She then approached the KGH lab about providing the clinical hours and mentorship. She began the program in 2004, and is now very close to finishing. Without SPC's online program and the KGH collaboration, both Coblentz and Tacker would have to travel to Anchorage or the lower 48 states for their classwork.
"It's not always easy to get the right professionals in the right jobs at the right time when you are a hospital in the last frontier," said Joan Nugent, KGH Vice President for Human Resources. In the recent past KGH has set up programs in cooperation with educational facilities where they can train their own registered nurses and imaging technologists in-house "We're thrilled that now we have a way to 'grow our own' lab technologists as well," Nugent said.

On the Web:
Ketchikan General Hospital
http://www.peacehealth.org/SoutheastAlaska/


Publish A Letter on SitNews
Read Letters/Opinions
Contact the Editor
SitNews
Stories In The News
Ketchikan, Alaska