Whale rescue expert teaching - and learning - in Alaska

July 20, 2006
Thursday

NOAA whale disentanglement expert Ed Lyman left the warm waters of Hawaii for a 'summer' with NOAA Fisheries' Alaska Region in Juneau. Lyman's goal in Alaska is to pass on disentanglement techniques that he has learned over more than a decade and 42 separate whale disentanglement efforts.
Lyman is on currently on loan from NOAA's National Ocean Service Hawaiian Islands Humpback Whale National Marine Sanctuary for two months. He has also worked with whales-mostly right whales-off Cape Cod.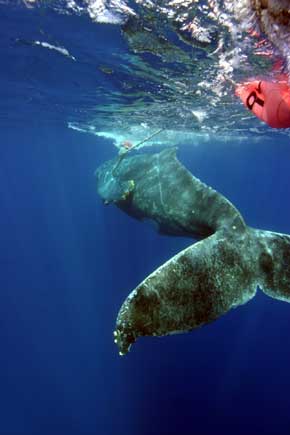 A humpback whale tows Alaska crab pot gear-originally set near Kodiak - through the warm waters off Hawaii. Humpbacks migrate annually between Alaska and Hawaii. Photo: Ed Lyman/NOAA
"Trying to free an entangled, 45-ton animal that is still capable of moving is no easy task. It requires cooperation, coordination, skill, patience, and the right gear" said Lyman. "In addition, disentanglement efforts on large whales require working under a national permit that in itself requires trained, experienced and outfitted response teams to minimize the risk to the animal and to the disentanglers as much as possible."
Last winter in Hawaii, Lyman helped disentangle two humpback whales. One whale had dragged crab fishing gear and buoys all the way from Kodiak, some 2,500 miles.
While in Alaska, Lyman wants to learn more about Alaskan fishing gear, to better to free whales from such gear. Ultimately, Lyman hopes to help the fishing industry modify fishing gear and practices in order to prevent whale entanglements. Like everyone else, he said, fishermen do not want to have whales caught in their gear.
"I'm very interested in working with fishermen on the prevention side," he said. That means he needs to learn-in detail-where, how, when and why whales become entangled and what kind of gear and fisheries management would minimize those situations.
This is not Lyman's first trip to Alaska. He was in Southeast Alaska last summer to teach a whale disentanglement workshop. The training session turned real when Lyman and members of Alaska's Marine Mammal Stranding Network - who are trained and authorized to help disentangle whales - were called to help free a humpback calf entangled in recreational crab gear near Juneau. The U.S. Coast Guard and NOAA Fisheries Office of Law Enforcement supported the Marine Mammal Stranding Network's rescue efforts, as is often the case. Fortunately the calf was able to throw the gear itself as the team was preparing to cut it free.
Whale researchers can tell by scarring that many whales have been entangled, but have shaken free of the gear. "Assessing whether the entanglement is life threatening and whether the animal is likely to get out of the gear on its own is an important part of the rescue effort," said Lyman. "Disentangling a large whale is dangerous to the whale and to the rescue team, and should not take place unless necessary."
Lyman said he has noticed how many of today's disentangling skills overlap with the older skills of hunting and killing whales from long boats, canoes, or skin boats. In both situations, people approach whales and use handling lines for control. For early whalers, control allowed harvest. For the rescue team, it allows safe disentanglement.
"Our goals are different," Lyman said, "but the animals are the same." To provide control in past times a technique called 'kegging' - in which whalers harpooned whales to attach barrels or kegs to the whale - was used to slow the whale down and to keep it on the surface. Rescuers have modified the old whaling technique by using grapples and skiff hooks to attach large buoys as kegs to the gear entangling the whale. "Like the old-time whalers, we attempt to slow the whale down, minimize the movements of its tail--the whale's weapon--and keep it at the surface", said Lyman.
Whale rescuers also attach transmitters to trailing gear. This allows whales to be accurately tracked while the rest of the disentanglement team gathers, or until the animal calms down, or the weather improves, or until the whale moves to a safer location.
NOAA Fisheries' records contain 104 incidents of humpback whale entanglement in Alaskan waters since archiving began in the mid-80's, although many of these reports remain unconfirmed. From 1998-2004, an average of six humpback whales were reported entangled annually. In 2005, NOAA Fisheries received 21 reports of entangled humpback whales in Alaskan waters. Although some of these records likely represent re-sights of the same animal, they may also reflect the increasing number of humpback whales in the Pacific, and greater mariner awareness about reporting entanglements.
Anyone who encounters an entangled whale is encouraged to report the problem to NOAA Fisheries at 800-853-1964. It is illegal to attempt to disentangle a whale without NOAA Fisheries' authorization.

Source of News & Photograph:
NOAA - National Marine Fisheries Service Alaska Region
http://www.fakr.noaa.gov

Publish A Letter on SitNews
Read Letters/Opinions
Contact the Editor
SitNews
Stories In The News
Ketchikan, Alaska