Local Karate Sensei and Student Achieve Black and Green Belts
July 18, 2006
Tuesday

Ketchikan, Alaska - At a two-day Seibukan Karate seminar held in June in Freeland, Washington, Ketchikan dojo student Dustin Shull passed the required test to receive the rank of Yonkyu (4th Kyu) green belt and Ketchikan dojo Sensei Christopher Peabody passed his test to receive the rank of Sandan (3rd Dan) black belt.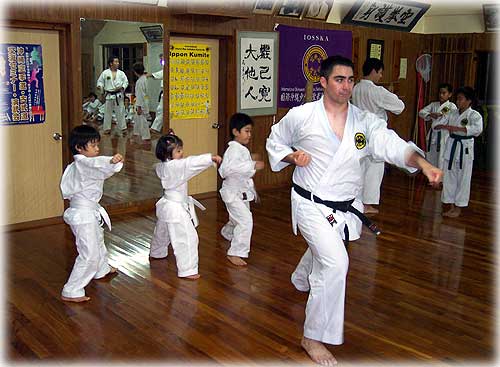 Sensei Peabody leading punching exercises in main Seibukan dojo in Okinawa, Japan.
Photograph courtesy Ketchikan Seibukan dojo

According to Stuart A. Whyte the Secretary/Treasurer Ketchikan Dojo, rank testing in Seibukan is done two to three times per year, or once every four to six months, on average. Testing eligibility of students is determined by the Sensei at each dojo. Tests are done to check proficiency with techniques and kata, knowledge of Seibukan history and lineage, knowledge of current organizational information, and understanding of philosophical concepts said Whyte. In the Ketchikan dojo, Sensei Peabody administers the tests. Sensei Peabody, however, must test with his instructor, Renshi Berto, which prompted the seminar trip to Freeland, Washington said Whyte.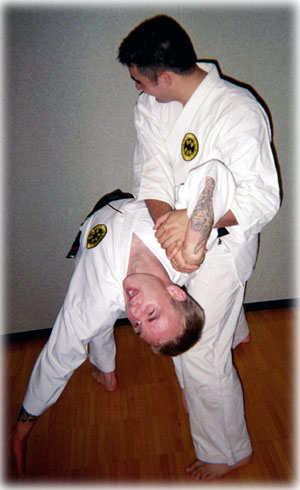 Sensei Peabody applying a wrist lock
to Sempai Merfeld
Photograph courtesy Ketchikan Seibukan dojo
Whyte said, Sensei Peabody has been practicing the traditional Okinawan art of Seibukan Karate for 21 years and has been the Instructor of the Ketchikan dojo since 2003.
Dustin Shull has been practicing Seibukan off and on for nearly as long as Sensei Peabody and most recently has been back with us for a year and a half said Whyte.
The Ketchikan Seibukan dojo meets twice weekly at the KGB Parks and Recreation center. Classes are open to the public and people are always welcome to view a class or sign up said Whyte. Registration can be done normally through Parks and Recreation. Adult classes for ages 13 and up are Tuesday and Thursday evenings at 7pm and kid's class is Thursday evenings at 6pm for ages 5 to 13.
Whyte said the Ketchikan dojo was started in 1980 by Renshi Warren Berto, Nanadan (7th Dan) black belt, with Sensei Peabody as one of his oldest students. Renshi Berto moved to Freeland, Washington in 2003, leaving Sensei Peabody in charge. Renshi Berto opened a new Seibukan dojo in Freeland, Washington on Whidbey Island upon his arrival there, and since then two satellite dojos have opened in Coupeville and Stanwood, Washington respectively said Whyte.
Whyte said the dojos in Freeland, Coupeville, and Stanwood, Washington are tied under the banner of Northwest Seibukan which also includes the dojos in Ketchikan, Craig, and Anchorage. "There are two other dojos under our banner: one in Custer, South Dakota and the other in Lake Havasu, Arizona. Northwest Seibukan is part of the larger international organization known as the IOSSKA(International Okinawan Shorin-ryu Seibukan Karate Association)," said Whyte.
Shorin-ryu Seibukan Karate originated in Okinawa, Japan and has remained one of the few traditional, unchanged martial styles still in existence today. Whyte said, "The art as we know it was founded by Master Chotoku Kyan and passed down to Master Zenryo Shimabukuro, who formed the first formal dojo to hold the name Seibukan in the 1960's. Zenryo passed the art down to his son, Zenpo, who is the current head of the style and President of our Board of Directors."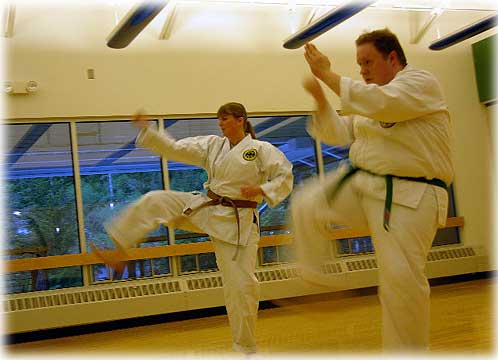 Practice at Ketchikan dojo Kathy Holcomb and Stuart A. Whyte
Photograph courtesy Ketchikan Seibukan dojo

Whyte said, "Members of the Ketchikan dojo make special seminar visits to Freeland to train with Renshi Berto and his students at least twice a year, and Renshi Berto makes trips up to Ketchikan when he is able to work with us on home turf. During his last visit to Ketchikan in November 2005 we held testing for a half dozen of our students including Patrick McAlpin and Bruce Johnstone, Sr., both receiving the rank of Shodan (1st Dan) black belt. "
Next on the plate of events in the Ketchikan dojo is winter training in Washington state or Georgia, and a trip to Okinawa in August 2007 for the international championships said Whyte. Delegates from all the Northwest Seibukan dojos will be attending this event which includes training and competition between all of the traditional Okinawan styles.

Publish A Letter on SitNews
Read Letters/Opinions
Contact the Editor
SitNews
Stories In The News
Ketchikan, Alaska