Manager Talks About Borough's Positive & Challenging Developments
By Dick Kauffman
July 14, 2006
Friday

Ketchikan, Alaska - The shortage of timber and electricity, the re-opening of the veneer mill at Ward Cove, AMHS jobs moving to Ketchikan, the Schoenbar reconstruction project, and the Gravina Access Project were all topics Ketchikan Borough Manager Roy Eckert spoke about Wednesday during the Greater Ketchikan Chamber of Commerce luncheon.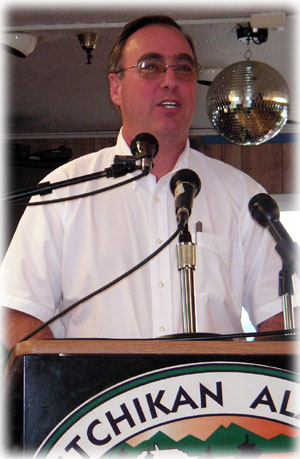 Borough Manager Roy Eckert
Photo by Dick Kauffman
Timber, Electricity & Veneer Mill
Eckert told the Chamber audience Wednesday perhaps one of the biggest things facing the Borough currently is the timber supply issue. Eckert said Renaissance Ketchikan Groups plans to get the veneer mill back into operation at Ward Cove. "Right now they're having to count on the majority of timber supply out of Canada." He said, "Right now we have more timber here than we know what to do with and we have to go to Canada to get it [timber]. It doesn't make sense."
Eckert said the timber issue remains in flux. He said, "The Southeast Alaska Conservation Council and others have filed six different lawsuits too which are now in the Ninth District Court of Appeals with the remainder in the Alaska Federal District Court." Eckert said they are watching these lawsuits. "They all have the same goal which is to limit the annual timber harvest to 50 million board feet annually." He said the veneer mill would use almost all that and would use 60 million if they ran two shifts which they want to do which would leave none for Mr. Sealy or any other timber company. "We just can't have that small amount," said Eckert. The timber issue is very serious he said.
A Chinese firm recently purchased the Skenna pulp mill near Prince Rupert, British Columbia. "It looks like they're going to be putting that [pulp mill] back into operation," he said. "That's going to work very well with the veneer mill here. They're not going to have a veneer operation down there." Eckert said, "It will not affect the timber supply that Mr. [Jerry] Jenkins [President of the Renaissance Ketchikan Group] has already sewn up down in Canada."
Eckert said, "In fact, the Chinese will probably pick out the veneer grade and send it up here."
Another positive development for the Ketchikan veneer mill, said Eckert, is the need by a plywood manufacturer near Kamloops BC to get its veneer on the open market.
"They are already trying to acquire over fifty percent of the veneer that will be made here. So it will be timber up and veneer back," Eckert said. "That's pretty good for the local economy here. Although we'd still rather have local timber, Alaska timber and Alaska jobs and send it south," he said. "Whatever we can do we're going to continue working on it to make it happen," said Eckert.
Eckert said Jenkins' hands are being tied by the availability of electrical power in Ketchikan. According to KPU electric officials, we're maxed out on power said Eckert. He said Jenkins wants to run two shifts back to back. Eckert said, "They're going to have to have a three-hour block of down time between the shifts because that's the peak power time of the night when people are cooking, heating water..." Eckert said, "The power is just not there." He said, "Anybody that says we don't have a power crisis is fooling themselves. We do have a power situation that's not going to get any better." He said, "For community and economic development we have got to have that Swan-Tyee intertie funded."
"Our 2006 State of Alaska capital budget did not provide any funding for the Swan-Tyee intertie," said Eckert. He said this hurts us because, "The plan was to match with federal monies what the state was going to put in and get that thing done." Eckert said it's going to make it very difficult for our Congressional delegation back in Washington to come up with federal money when we have no state money to match it.
Eckert said the power situation is a big concern. He said Jenkins wants to do other things in Ward Cove other than the veneer plant and everything hinges on power.
"We know a lot of cruise ships want to buy shore power because it's cheaper for them to that than run their diesels while they are in port," said Eckert. "The Chamber, I would hope, would take an active role in looking at this issue because it's a very big issue. It's going to affect new jobs, new businesses or anybody that wants to come to town."
Alaska Marine Highway System
Eckert announced that Alaska Marine Highway System (AMHS) will be bringing 14-15 more jobs to Ketchikan and the AMHS has leased the top floor of the administration building at Ward Cove.
According to State Transportation spokesman Mike Chambers, the state ferry reservation office currently located in Anchorage will also be moving to Ketchikan to centralize operations. The Anchorage office is staffed by three employees and will be closed effective August 16th. The state ferry system is already headquartered in Ketchikan. The Anchorage office costs the state approximately $24,000 annually to operate, not including salaries and benefits for one reservation specialist and two clerks.
The movement of more Alaska Marine Highway System jobs to Ketchikan is a positive development said Eckert. He said, "We're seeing some good movement economic development-wise in town and we're happy with that."
Schoenbar
Regarding the Schoenbar Middle School reconstruction project, which began in 2003, the original cost was $9 million which has risen to $16 with an additional $8-11 million needed. Eckert said the project was nearly finished last fall when leaks and mold were discovered in the newly renovated sections of the building which required a significant amount of work to be redone.
"It just continues to be more frustrating, but the good part is we are on schedule and we still plan to have the thing finished by December 1st and have the kids and teachers in there by the start of the second semester," said Eckert.
"We planned on being able to use about eighty percent of the materials that were taken off to check for mold and fix things that we knew were wrong," said Eckert. "Right now it's about exactly the opposite where we can use about fifteen percent of the materials we're taking off."
Eckert said Dawson Construction had ordered materials based on projections of eighty percent reuse. They've pretty much used up their supply he said. "It is coming in. Let's put it this way, they are very good at managing their people and managing the process so they don't have very much down-time."
Eckert said about the Schoenbar project, "It continues to be a constant struggle." He said they opened up the second portion of the roof Wednesday morning. "On that section of the roof right now everything they've taken off according to our project manager over there, one hundred percent is not usable," said Eckert. "They're working hard, they're keeping it on track and on time. We've got more people on the roof this morning than I've seen on the entire site for several years. They're working very very hard."
Regarding the interior, Eckert said it's almost discouraging. It had an almost finished look at one time and now it's all opened up again he said. It had to be done.
"We did what we did, I'm glad I did what I did," said Eckert. "I've been asked would you do it again? Absolutely. Absolutely. Because our kids' health is important, the integrity of that building is important. We want to have a safe building for the teachers, staff and children that are occupying that building," said Eckert. "I wouldn't have it any other way."
About the ongoing work at Schoenbar Eckert said, "The good news is, we're going to make the schedule. The bad news is, it's going to take more money than what we thought."
Gravina Access Project
About the Gravina Access Project, Ketchikan Borough Manger Roy Eckert said, "The long and short of it is that we know Congressman Mark Kirk of Illinois sponsored a bill and just surprised everybody to not allow the money to be spent on the Gravina crossing nor the Knik Arm crossing in the Anchorage area."
Action was taken in November of 2005 to remove the mandate from Congress in the form of earmarks to build the two bridges. However, Alaskan officials later announced that Alaska would use some of its federal transportation money to fund some of the construction costs of Ketchikan's bridge and the Knik bridge.
Then in June of 2006, Illinois Congressman Mark Kirk persuaded the U.S. House Appropriations Committee to pass an amendment that would block the spending of any federal money on Alaska's proposed bridges in Ketchikan and Anchorage.
In June, a spokesperson for the U.S. House Transportation committee said Alaska Congressman Young could challenge the amendment on the grounds that Congress is not allowed to legislate in an appropriations bill. According to to the spokesperson, it would be unusual for Congress to restrict the use of federal funding after the money has already been given to a state.

Eckert said Congressman Don Young has agreed to take on Congressman Kirk and will request to have Kirk's amendment removed during the upcoming Conference Committee. Eckert said Congressman Young could have demanded that Kirk's amendment be removed under 'point of order' but Young has decided instead to take it up in the Conference Committee.
Eckert said the Ketchikan Gateway Borough is concerned about the way federal funding is received with specific earmarks for specific projects such as the bridge. Eckert said, "The use of earmarks is being challenged by a procedural statutory limitation. He said the House of Representatives has been debating this issue and specifically voted against specific curtailments of Congressional earmarks." Eckert said, "It looks like it's going to survive and we'll continue to get earmarks that have direct bearing on all of us here in Southeast Alaska. We hope that survives."

E-mail your news & photos to editor@sitnews.us


Publish A Letter on SitNews Read Letters/Opinions
Contact the Editor
SitNews
Stories In The News
Ketchikan, Alaska