Arts & Entertainment
The Fish Pirate's Daughter
Ketchikan's First City Players
Review by Bill Hupe
July 10, 2006
Monday

Ketchikan, Alaska - The opening night of the 40th Anniversary of the Fish Pirate's Daughter began with a flourish as State Representative, Jim Elkins, read a commendation for the First City Players on being named the number two most active community theatre group in the United States. No mean feat for a theatre group 'from Nowhere'.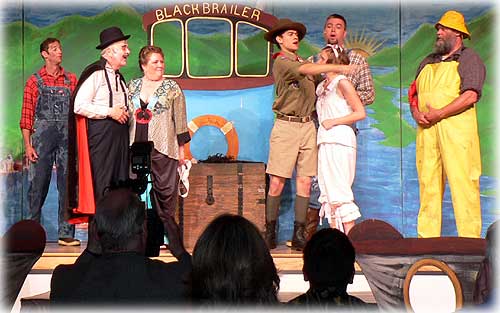 Fish Pirate's Daughter
Photograph courtesy Susan Batho & Bill Hupe


The admission fee included all-you-can-eat fresh crab, corn bread, and coleslaw, and quite honestly, the best crab I've ever eaten. Whilst we dined, Svenson came through seeking his daughter, and the Creek Street Ladies of the Line tempted us with their 'wares'.
As the sound of cracking crab shells started to recede, the director, Elizabeth Nelson, announced the beginning of the evening's production with a flourish on the piano, and the characters were introduced greeted in the time-honoured tradition of the melodrama; the lights dimmed, and the laughter started.
It's been many years since I've seen a melodrama (at an amusement park in Southern California, no less), and I had forgotten how much fun they could be. All of the character elements were present to perfection: the Boy Scout hero, the damsel in distress, the scorned woman, and the dastardly, villainous villain. Joel Galli as Sweet William Uprightly and Kelly Zientek as Little Nell were clearly channeling Dudley Do-Right and his Sweet Nell, and were a perfect fit for the script. Misty Franklin (who played Vergas in the recent production of "Much Ado About Nothing") as Maypole clearly enjoyed her role "trying to Seduce a Boy Scout", and Jack Shay (also seen in "Much Ado About Nothing") as the evil, ne'er do well Kurt Von Ohlsun was outstanding. Of special note is the fact that Jack Shay played the same character the in the original production 40 years ago.
Deb Turnbull though, as The Madame, Violetta LaRosa, was the highlight of the evening, bouncing (literally) from a woman of ill-repute, to the role of a scorned woman; to the keeper of "The Secret", and back again and again and again. Her Ladies of the Line providing the 'Support' as required.
All the performers were in fine voice, and even though a forty year old production, Fish Pirate's Daughter has aged very little.
As a recent resident Ketchikan, this was my first time seeing The Fish Pirate's Daughter. I found myself very thoroughly entertained, and my only disappointment was that the production ended so quickly. It provided a wonderful, humourous glimpse into Ketchikan's seedy past, and I look forward to seeing it again, and bringing lots of visitors as well.
Related Photographs:
Related Feature Articles:
THE FISH PIRATE'S DAUGHTER: How Did It Happen? By JUNE ALLEN - Ketchikan's First City Players' long-running melodrama The Fish Pirate's Daughter was written and debuted in 1966. The hilarious spoof on Prohibition, Creek Street and fish pirating was a little bit of history, a few naughty characters and a lot of laughs. It was a natural continuation of the First City Players' first year of productions. The mid-'60s were also a time when Ketchikan's leaders were doing some serious thinking about attracting some of the tourism dollars that other towns in Alaska were enjoying. A popular play with a universal plot was a natural for both locals and visitors. - More...
June 27, 2002

FISH PIRATES & FISH TRAPS; Ketchikan's Real Melodrama! By JUNE ALLEN - There's something romantic and exciting about the word "pirate." That high-seas occupation called piracy must go way back, because the word itself is from Latin, and that borrowed from the Greek. The young Caesar was good at piracy, called it war in those days. The history of the new-world Atlantic and Caribbean is one of piracy in the name of the Queen!. whichever sovereign. - More...
August 30, 2002


Bill Hupe is a resident of Ketchikan and Faulconbridge NSW, Australia. Most of his writing is with Susan Batho (also a resident of both places). Known by most people as "The Twins", they are a writing and photographic team and specializing in photography of Alaska and Australia. Their website www.beaustud.com features some of their work, and they can be reached through susan_and_bill@hotmail.com

Publish A Letter on SitNews
Read Letters/Opinions
Contact the Editor
SitNews
Stories In The News
Ketchikan, Alaska