McClory Crowned 4th of July Queen
By M.C. Kauffman
July 04, 2006
Tuesday

Ketchikan, Alaska - Sixteen-year old Aimee Marie McClory was crowned the 4th of July Queen Monday evening at the Southeast Alaska Discovery Center. Serving in her court will be First Princess Karlee Olsen and Second Princess Katrina McCollough. There were three young women participating this year in this annual event sponsored by the Ketchikan Lions Club.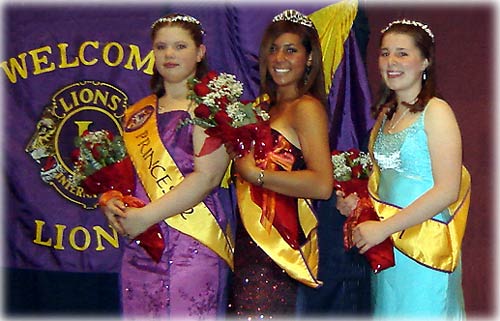 Aimee Marie McClory 4th of July Queen (center)
First Princess Karlee Olsen (right);
Second Princess Katrina McCollough (left)
Photo by Kerry Rasmussen; Photo Enhancement by M.C. Kauffman

Judges select the Queen based on points earned by the participants in three categories. In order to earn the Queen's crown the participants are judged on their volunteer efforts in the community and their participation in a public presentation forum. They are also required to participate in a fundraiser by selling raffle tickets. The funds raised benefit the Ketchikan Lions Club and selected community organizations.
The public presentation forum was held Friday evening. Katrina McCullough demonstrated her musical skills playing the saxophone, Aimee McClory performed a modern jazz dance, and Karlee Olsen played the piano and presented a slide show.
This year's 4th of July Queen Aimee McClory has been involved in Ketchikan Theatre Ballet and is a Senior Company member. She has served as an assistant teacher, is a member of the Kayhi drill team and a Gigglefeet performer. She attends Ketchikan High School and will be a senior this fall. McClory will serve as senior class secretary, yearbook editor and will be a mentor to incoming freshman through Class Act. After graduation, McClory plans to pursue a nursing career.
McClory's stated reason for entering the 4th of July Queen's contest: "After knowing that the money goes into three organizations that help the community, I thought it would be a good idea. It was a fun way to use my time."
The 4th of July Queen is the daughter of Ketchikan residents Emily and Robert McClory. She has one sister, Patricia.
First Princess Karlee Olsen will be a Junior at Ketchikan High School this fall. Sixteen-year old Olsen is also involved in many community activities. She attends the Church of the Nazarene and is involved in several church youth groups. She plays softball for Ketchikan High School, sings in school concert choir and plays piano at her church. Olsen plans to attend college after graduation at Washington State University. She plans to become an architect.
Olsen's stated reason for entering the Queen's contest: " ...I believe it is an awesome opportunity to give back to the community of Ketchikan that has helped me to become a better person."
Olsen is the daughter of Ketchikan residents Dennis and Korry Olsen. She has one brother, Eric. She is the grand daughter of Ketchikan residents Jim and Kerry Rasmussen.
There will be another opportunity to see Olsen perform. She will be singing the National Anthem at the Great Alaska Timber Show on the 4th of July.
Second year participant in the Queen's Contest Katrina McCollough was crowned Second Princess. Sixteen-year old McCollough also attends Ketchikan High School where she will be a Junior this fall. McCollough participates in symphonic band, concert choir, and McPherson's Wind Jammers Jazz band. McCollough was selected the Boys and Girls Club Youth of the Year.
After graduation, McCollough plans to go into forensic science or teach high school chemistry.
McCollough stated as her reason for entering, "Since it was so much fun last year, I thought that I could do it again. I hope it won't rain during the parade this time." McCullough's wish was granted, as the 4th of July was blessed with blue skies.
Announcing the judges' selections, Lisa Machado of the Ketchikan Lions Club said the 4th of July Contest is all about community. Machado said she was thankful that the selection comes down to points because if it came down to personality, all three young women would be queens.
The event is a fundraiser for the Ketchikan Lions Club and the funds raised this year will benefit Boys Scout Troop 3 and the Boys and Girls Club. The funds raised will also assist the Lions Club in providing the 4th of July fireworks Tuesday evening. This year the three contestants raised a total of $3,298.
A special prize of $50 was presented to the participant who collected the first $500 selling raffle tickets. Karlee Olsen won the $50 special prize.
The Queen and her Court also participated in the 4th of July Parade today.

Kerry Rasmussen contributed to this story.
Conctact M.C. Kauffman at mc@sitnews.us
Publish A Letter on SitNews
Read Letters/Opinions
Contact the Editor
SitNews
Stories In The News
Ketchikan, Alaska