Arts & Entertainment
The First City Players: Much Ado About Nothing
Review By Bill Hupe
July 03, 2006
Monday

Ketchikan, Alaska - The First City Players' performance of Shakespeare's comedy, Much Ado About Nothing was held June 25th at the Higgins Point Amphitheatre against the beautiful backdrop of Higgins Point, cloudy grey skies, and the occasional bald eagle. Even though it had rained continuously for most of the weekend, the rain let up as the performance started, and held for the duration of the play, promising a very special performance.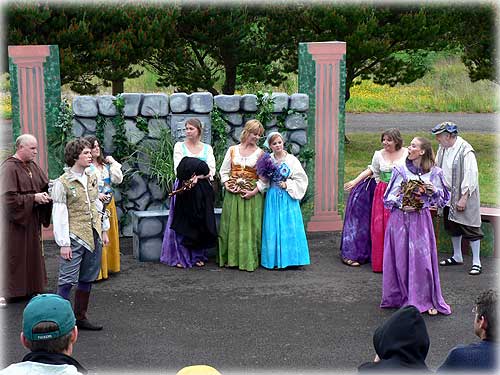 The First City Players: Much Ado About Nothing
Photograph courtesy Susan Batho & Bill Hupe

Period music, provided by the aptly named Rainy Day Recorders, took us away from the present day, and into the world of Shakespeare's comedy. The sparcity of props was not noticeable, the company making the most of the backdrop of the ampitheatre itself and when the 'team of horses' appeared, itwas one of the most priceless moments of the production.
The performances, some by first time actors, ranged from very good to excellent. With only one or two exceptions, the voices were easily carried to the back of the amphitheatre so that it was easy to hear and understand the entire performance. The lead characters, especially Erin Jakubek in the role of Hero, the slandered bride to be, were excellent. The two scheming, charming, humorous fathers, played by Terry O'Hara and Hakan Sebcioglu [Leonato and Balthasar] balanced their roles just right.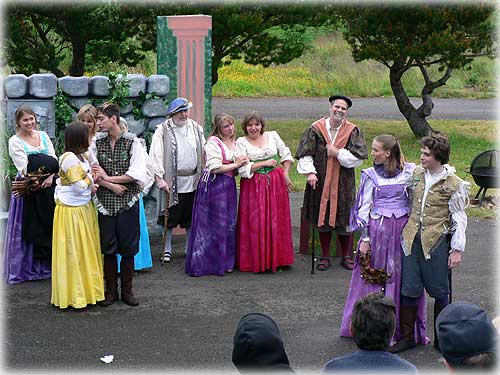 The First City Players: Much Ado About Nothing
Photograph courtesy Susan Batho & Bill Hupe

Of special note is Clare Bennett in the role of Dogberry. Although a minor character in the play, she stole the scene a couple of times, and rightly so - she was absolutely hilarious attempting to explain the previous night's events to Leonato and Balthasar, 'his' buddy. Also, Verges (Misty Franklin) providing the perfect foil to the Constable's impossible logic.
Special credit also needs to be given to the costumers - the ladies' costumes displayed an amazing array of colours that complemented Nature's surroundings. Did anyone else notice the use of retired computer pieces in the costuming? A good codpiece is hard to find
Overall, an excellent production, especially suited to the outdoors. Certainly bring your picnic lunch for Shakespeare's long performances, and enjoy the music as well as the best of our local scenery, not to mention the considerable talents of our First City Players. Well worth visiting again in future productions.

E-mail your news & photos to editor@sitnews.us


Publish A Letter on SitNews Read Letters/Opinions
Contact the Editor
SitNews
Stories In The News
Ketchikan, Alaska