July Marks Seventh Year For Ketchikan Youth Court
July 01, 2006
Saturday

Ketchikan, Alaska - Ketchikan Youth Court, a non-profit program, celebrates it seventh year of community service this month. Gretchen Klein, Ketchikan Youth Court Director, said Ketchikan Youth Court is based on the principle of restorative justice.
The Ketchikan Youth Court program helps the community by allowing District Court or Juvenile Probation first-time youth offenders' cases to be heard by a panel of youth said Klein. In the past seven years, "We are proud to have trained 180 students to handle first-time offenders, and have handled 260 cases since starting to handle cases in 2000," said Klein.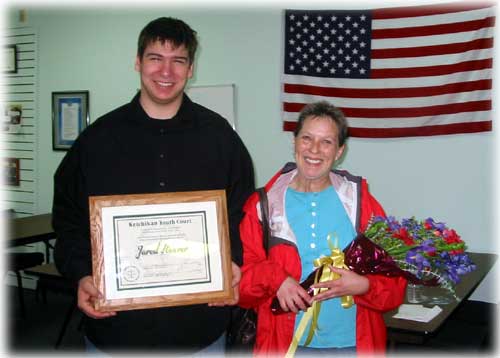 Jared Hoover, pictured with his mother Trish,
received a special award for his six years of KYC service.
Photo by Gretchen Klein

Over the years, members of KYC have been recognized for their contributions to the community and to the Youth Court. Klein said this year Jared Hoover received a special award for his six years of service. Hoover was one of the first graduates of Ketchikan Youth Court in 2000. Alejandro Chavarria, who recently graduated from Ketchikan High School, received KYC's $500 Senior Award for 2006.
And on June 29th, the 12th graduating class was inducted. Klein said, "Judge Stephens once again produced an awesome class." Klein encourages those 12-18 years of age to sign up for the next class which will begin in September. The classes are fee and taught by Judge Trevor Stephens. When completed successfully, graduates become members of the Ketchikan Youth Court.
"We are constantly trying to improve our program, and proudly encourage youth members to have say in what we do. It truly is a youth drive organization," said Klein.
Klein said, "We are looking at sustaining the program with a possible Foundation Endowment Fund to help us strengthen our program." She said, "Anyone wanting to help us can contact the KYC office. We are truly continuing to think out of the box, to make our program strong and sustainable."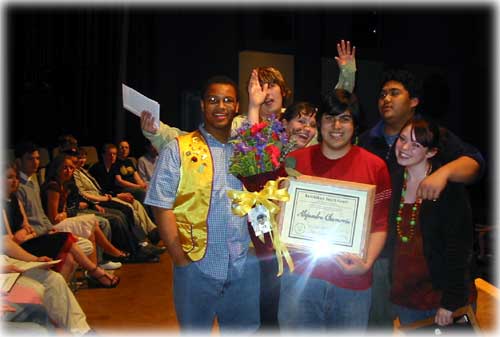 Bryce Timm, Jordan Phillips, Ian Rodgers, Jessica Bernard,
Jon Makua, and Alex Chavarria at senior awards.
Photo By Gretchen Klein

Klein said, "We know that not everyone [clients/first time offenders] completes service successfully, but we do know that our clients and members have completed 12,000 hours of service in the last 7 years."
Service work has been performed at Safe Haven-KFYF, Rendezvous Center, Big Brothers Big Sisters, Easter Egg Hunt, Halloween at Plaza, Pioneers Home, Rotary 2000 Roadside Clean-up, Saxman Community, Boys and Girls Club, PatchWORKS, Ketchikan High School, City of Ketchikan, and Running Club events just to name a few said Klein.
Ketchikan Youth Court is currently in need of two adult board members to join the KYC Board this month said Klein. Interested adults can contact the Ketchikan Youth Court Office at 2417 Tongass Suite 221.

E-mail your news & photos to editor@sitnews.us


Publish A Letter on SitNews Read Letters/Opinions
Contact the Editor
SitNews
Stories In The News
Ketchikan, Alaska