Viewpoints
The rumors are true
By Rebecca Brown
July 01, 2006
Saturday

Dear Editor:
I am writing to tell you that the rumors you have heard are true: the nurses at Ketchikan General Hospital and Dr. Donna Smith rock!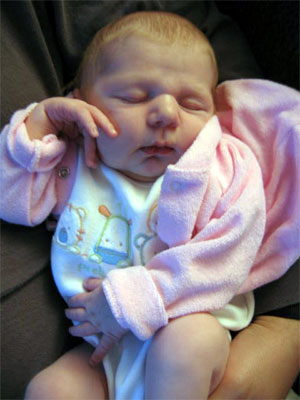 Baby Kate
My daughter just celebrated her one-week birthday and I wanted to use this day as reason to publicly praise the staff involved with her birth. I had always heard from other women in town that the nurses in the OB ward are awesome, and that Dr. Smith is incredible in the delivery room. I got to experience this very thing first hand.
It is dangerous for me to name names for fear I will likely forget someone, but I wanted to mention specific folks: Nurse Margo, for holding my hand during that first hour that I arrived at the hospital, and encouraging me with precisely the words that I needed to hear; Nurse Diana, for letting me wring her hand silly while I was delivering our child; Nurse Katrina, for being so wonderful after I fainted my first time being on my feet; Nurses Donna and Jen, who gave me unbelievably helpful advice about how to feed this little one; and Nurse Judy for being so approachable and forthright about what to expect once we got home with our wee one.
And of course, the most excellent Donna Smith, who was simply fantastic during the delivery. When things got a little dicey at one point, she was the coolest cucumber imaginable. Her calm made ME calm and made me feel like I was safe and everything was going to be OK. She is just the best and our community is absolutely blessed to have her and all these other women available to help bring new Ketchikanites into the world.
Thank you, Sitnews, for the opportunity to express these sentiments - this website is another great thing about Ketchikan!
Most sincerely,
Rebecca Brown
Ketchikan, AK - USA



Note: Comments published on Viewpoints are the opinions of the writer
and do not necessarily reflect the opinions of Sitnews.
Send A Letter -------Read Letters

E-mail the Editor

Sitnews
Stories In The News
Ketchikan, Alaska