Unemployment rate shows predictable June increase
July 28, 2005
Thursday

Ketchikan, Alaska - Ketchikan's unemployment rate rose one-tenth of a percentage in June to 6.0 percent according to the latest report released by the Alaska Department of Labor and Workforce Development. Preliminary wage and salary employment estimates for June 2005 reported Ketchikan's labor force to be 8,335. Of that number, 7,856 people were reported employed in Ketchikan.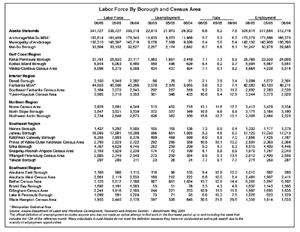 Alaska Labor Force by Borough & Census Area
Click on graphic to view a larger chart...
Statewide, Alaska's unemployment rate rose four-tenths of a percentage point in June to 6.6 percent. A higher rate is typical for June as the labor market takes some time to absorb schoolage summer job seekers, according to Dan Robinson, Economist with the Alaska Department of Labor. Robinson noted that statewide unemployment is down significantly from June 2004's rate of 7.8 percent.
Anchorage, Fairbanks and Juneau all mirrored the state in registering small monthly increases in unemployment for June, but lower rates than in June 2004. At 5.4, 5.8 and 5.3 percent, respectively, all three cities also have unemployment rates noticeably lower than the state as a whole.
The Denali Borough had the state's lowest June unemployment rate at 2.1 percent and the Bristol Bay Borough followed close behind at 3.3 percent. Both areas see dramatic swings in employment and unemployment because each is dominated by a single highly seasonal industry. The state's highest unemployment rate in June was in the Wade Hampton Census Area at 30.5 percent.
Statewide, preliminary wage and salary employment estimates for June show an increase of more than 12,000 jobs since May. Seafood processing accounted for 4,000 of that number, while construction contributed 2,400 and accommodations 2,300.
The state's 323,400 wage and salary jobs in June constitute an over-the-year increase of 4,400, or 1.4 percent. Health care, construction, retail trade and restaurants/drinking places continue to lead the way, combining to provide 3,000 of the new jobs. Nine of the state's 11 major economic sectors have grown over the year. Government employment is at the same level as a year ago and the miscellaneous category known as "other services" is down 400.
Regionally, the Anchorage/MatSu region has supplied the bulk of the job growth. Since June 2004 the region has added 3,700 jobs, producing the state's strongest growth rate at 2.2 percent. Despite concerns in Fairbanks about the potential closure of Eielson Air Force Base, healthy economic activity over the last year has created 700 new jobs. The remainder of the state is largely maintaining the status quo, although there have been signs of improvement for the fishing industry and employment in the North Slope oil fields has increased marginally from last June.
Source of News & Charts:
Alaska Department of Labor & Workforce Development
http://www.dol.state.ak.us

E-mail your news & photos to editor@sitnews.us


Publish A Letter on SitNews Read Letters/Opinions
Submit A Letter to the Editor
SitNews
Stories In The News
Ketchikan, Alaska