A "Thriller" of a Ride!
by Chris Wilhelm
July 27, 2005
Wednesday

Ketchikan, Alaska - A new powerboat has been seen in the Tongass Narrows in recent days. It is the Thriller, a 50 foot sightseeing vessel owned by Ketchikan brothers Martin and Axel Svenson. The boat was brought up from Florida in June and will be operating sightseeing excursions near Ketchikan. The brothers offer a popular daily excursion to the Annette Island Reserve for a traditional Native welcoming ceremony and dance. Visitors tour the Tsimsian clan house and community of Metlakatla. Once the Thriller has cleared the no wake zone in the Tongass Narrows, it makes the trip to Metlakatla in a jaw-dropping eighteen minutes!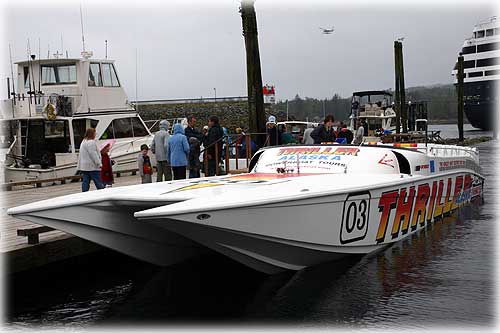 The Thriller powerboat boards for departure...
Photo by Chris Wilhelm©2005

Similar to the open water racing boats of the Florida coast, the Thriller has twin Yanmar diesel motors that generate 1,000 horsepower. Its top cruising speed exceeds 50 knots.

Tuesday afternoon an occasional excursion was offered which featured wildlife viewing in Carroll Inlet on Revilla Island where the city of Ketchikan is located. Each guest received full rain gear and speed goggles for the 3-hour trip, as rain was expected and indeed continued for most of Tuesday's excursion.
Captain Martin drew on his many years experience as a commercial fisherman and steered on several excellent viewing sights. A boat-wide gasp was heard from all passengers as the boat passed rocks alive with over fifty seals.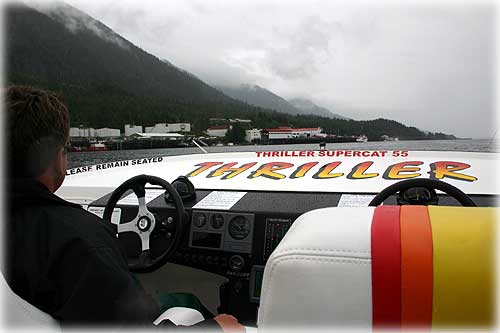 The trip begins as Captain Martin steers out the Tongass Narrows...
Photo by Chris Wilhelm©2005

An excellent reward for those accepting the weather was a close encounter with a Sitka black tail deer which stood, as one guest remarked, 'Like one of those Styrofoam target deer', for many minutes not 100 feet from the boat before shaking its tail and foraging further along the beach .
One could easily have waded ashore as the boat can operate in less than 5-feet of water. An active eagle's nest, eagles, and many other waterfowl were easily seen throughout the cruise of the inlet's beaches.

The Thriller is easily identified by its distinctive lettering and colorful logo. Look for this "Thriller" of a ride on the water near you.
Wildlife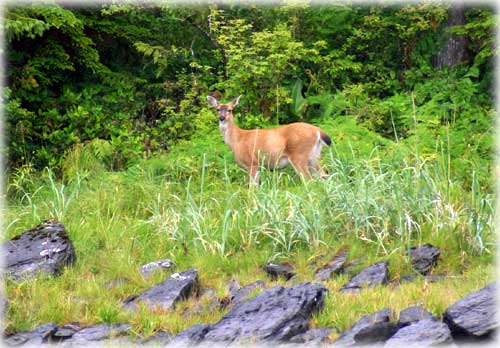 Sitka black tail deer
Photo by Chris Wilhelm©2005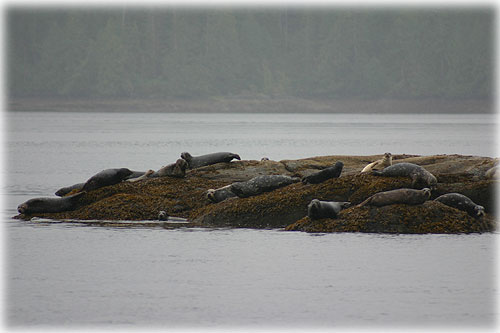 Seal group...
Photo by Chris Wilhelm©2005
Chris Wilhelm is a freelance writer & photographer living in Ketchikan, Alaska.

Publish A Letter on SitNews
Read Letters/Opinions
Submit A Letter to the Editor
SitNews
Stories In The News
Ketchikan, Alaska