Coast Guard Base Ketchikan Changes Command
By Lisa Thompson
July 24, 2005
Sunday

Ketchikan, Alaska - On Wednesday, July 20th, Command of the Ketchikan Integrated Support Command (ISC) changed hands. Captain Catherine M. McNally has been the commanding officer of ISC Ketchikan for the past three years. She is now moving on as an advisor to the Naval War College. She was relieved by Captain Karl H. Calvo who was previously assigned as the commanding officer of the Civil Engineering Unit in Juneau.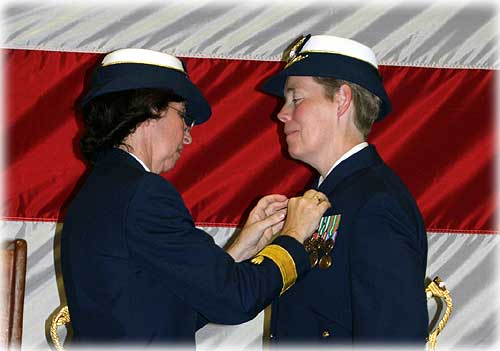 Rear Admiral Jody A. Breckenridge presents Catherine M. McNally,
Outgoing Commander of ISC Ketchikan, the Meritorious Service Award.
Photograph by Lisa Thompson

The guest speaker was Rear Admiral Jody A. Breckenridge Commander Maintenance and Logistics Pacific. She was present to award Captain McNally the Meritorious Service Award & to officiate the change of command.

Governor and Mrs. Frank H. Murkowski, as well as Ketchikan Borough Mayor Mike Salazar and Ketchikan City Mayor Bob Weinstein were in attendance along with numerous members of the community, friends, and family, some, from as far away as New York.
Chaplin Grant Smith; Captain Karl H. Calvo (Incoming Commander of ISC Ketchikan);
Rear Admiral Jody A. Breckenridge officiated over the ceremony;
and Captain Catherine M. McNally (Outgoing Commander of ISC Ketchikan)
Photograph by Lisa Thompson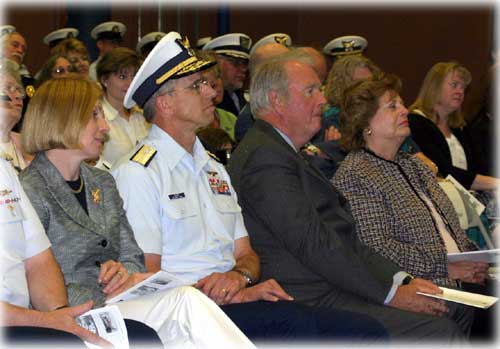 Governor Frank H. Murkowski and First Lady Nancy Murkowski were
among the many guests attending the Change of Command Ceremony.
Photograph by Lisa Thompson

Publish A Letter on SitNews
Read Letters/Opinions
Submit A Letter to the Editor
SitNews
Stories In The News
Ketchikan, Alaska