Invasive Plant Tansy Ragwort Blooming in Ketchikan
July 22, 2005
Friday

Ketchikan, Alaska - While some may think the Tansy Ragwort flower is attractive with its yellow star-like appearance, this weed is poisonous as well as destructive to rangeland and crop productivity in the lower 48, and now it has found a home in Ketchikan.
All plant parts of the Tansy Ragwort are toxic, with the highest amount of alkaloids in the flowers, followed by the leaves, roots, and stems.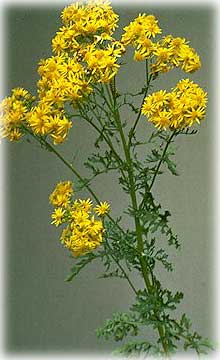 Tansy Ragwort
Introduced from Europe and Western Asia, this non-native plant has taken over thousands of acres of valuable crop and rangeland in the lower 48, and has taken root along roadsides and on private properties in Ketchikan, particularly north of town. Tansy Ragwort reproduces by seed and also vegetatively through root and crown sprouts. Each plant can produce between 5,000 and 200,000 seeds per season. Tansy Ragwort is an aggressive invasive weed that will establish itself in disturbed sites such as roadsides and vacant lots.
The Forest Service is interested in keeping the Tansy Ragwort from spreading into National Forest System lands around Ketchikan. For now, it seems to be established primarily on state and private property. Only private landowners have the authority to eliminate it from their property.
"Our goal is to participate with the community to control the spread of this plant before the population becomes unmanageable," said Tongass National Forest Invasive Species Coordinator Pam Fletcher.
According to Fletcher, to eliminate Tansy Ragwort, the entire root system must be pulled up. It may help to loosen the soil with a shovel first. Gloves and protective clothing should be worn before handling the weed, since the plant toxins may be absorbed through the skin. The best time to pull the weed is just as its beginning to flower, but definitely before it begins producing a new crop of seeds.
The flowering head should be cut off and placed in a plastic bag before pulling the plant, to avoid any potential seed dispersal. Plants should be disposed of by either burning, or by placing all plant parts in a plastic bag before disposing to prevent further spread of this invasive weed.
According to the Forest Service, the Ketchikan landfill has offered to incinerate plants contained in a plastic bag. Call ahead at 225-2370 to check on the incinerator schedule. Usually the incinerator runs on Wednesdays.
Here are a few reasons why the Forest Service views invasive plants, such as the Tansy Ragwort, as more than just nuisances, but real threats:
Invasives cost American taxpayers about $137 billion per year in total economic damages and associated costs.
In ecological terms, invasive weeds tend to crowd out the natives.
Invasive plants are found on 133 million acres (as big as California and New York combined), in federal, state, and private ownerships.
Invasives are choking 3.6 million acres of the national forests, an area the size of Connecticut.
Each year, invasives advance by 1.7 million acres per year across the land in all directions, an area that is two-thirds bigger than the state of Delaware.
Invasive species are a factor in the decline of 49 percent of all imperiled species.
To help educate Ketchikan residents about local invasive plants, Sarah Moore, Integrated Pest Management Technician with the Cooperative Extension Service at the University of Alaska, Fairbanks, is presenting a talk at 6:30 p.m., Aug. 10 at the Southeast Alaska Discovery Center, 50 Main Street, in Ketchikan.
On the Web:
Forest Service's Invasive Species Program website
www.fs.fed.us/invasivespecies

Source:
United States Forest Service - Tongass National Forest
http://www.fs.fed.us

Publish A Letter on SitNews
Read Letters/Opinions
Submit A Letter to the Editor
SitNews
Stories In The News
Ketchikan, Alaska