New Enforcement Vessel Officially Commissioned Into Service
By Dick Kauffman

July 22, 2005
Friday

Ketchikan, Alaska - As Alaska's First Lady Nancy Murkowski prepared to cracked a champagne bottle on the Patrol Vessel Enforcer, she wished the crew and the vessel " Fair skies and fair seas and God bless all those who travel on her." And with a crack and the sounding of the ship's whistle, the P/V Enforcer was officially commissioned into service to protect the citizens and resources in the State of Alaska.
At a cost of $1.2 million, the Alaska State Troopers/Wildlife Enforcement's new 69.9 foot Patrol/Vessel Enforcer is replacing the retired 65-foot P/V Enforcer which was built in 1953 for the United States Navy.
Governor Frank H. Murkowski speaks from the deck of the Enforcer...
Photograph by Jessica Mathews

Speaking from the deck of the Enforcer in Ketchikan Wednesday afternoon, Governor Frank H. Murkowski said, "It's important for us to recognize the significance of this vessel. Part of the responsibility of government is enforcement of laws and enforcement of regulations.
Murkowski said, "We're very fortunate in Alaska this year in recognizing a successful fishing season that we're having. We're having that successful fishing season because we manage our fisheries and we enforce our fisheries. We allow for the maximum return of the resource and the renewability of the resources. So whether it be fish or game, enforcement is necessary. Our Alaska state is second to none."
" In order to enforce those laws these men and women have to have the best equipment and that's the significance of this vessel. This vessel replaces another vessel that was retired and taken out of service," said Murkowski.
The Governor said, "This vessel will be home ported in Ketchikan but it will serve all of Southeast Alaska." The vessel will be cruising to other Southeast communities such as Wrangell, Petersburg, Haines, Skagway, and Sitka.
"As governor, I'm very pleased to be here today and to join with all the folks from Ketchikan on this occasion which I think represents a commitment by our administration and the legislature to provide those on the front line of enforcement with the best equipment, best training and best personnel."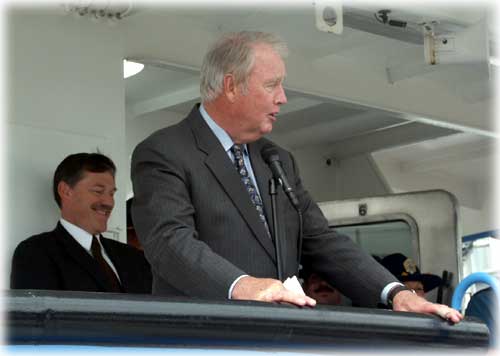 Gov. Murkowski and William L. Tandeske,
Commissioner of the Alaska Department of Public Safety...
Photograph by Dick Kauffman

Murkowski said he was very proud of William L. Tandeske, Commissioner of the Alaska
Department of Public Safety, and Colonel Julia P. Grimes, Director of the Alaska State Troopers, for their accomplishments in meeting this effort. Tandeske and Colonel Grimes also attended and participated the christening ceremony.
Speaking briefly, Tandeske said, "Often times I reflect back on the time I met Gov. Murkowski and we spoke and he told me public safety, education and transportation are the priorities of government, and I'm standing on one of the proofs of that."
The new P/V Enforcer is equipped with twin 3406 E 550-horse power Caterpillar engines and has a maximum speed of 11.3 knots. She also has two John Deere 6 cylinder 99 KW generators and carries 10,647 gallons of fuel giving it a range of 3,000 nautical miles or 13 days underway. The Enforcer carries a 17 foot NAIAD inflatable skiff to conduct vessel boardings and carries 350 gallons of gasoline for the patrol skiff, which provides another 2,180 miles of patrol coverage.
She is equipped with the latest in navigational technology including a complement of marine radios, satellite phones, police radios, weather fax, e-mail system, RADAR, infrared detection camera and chart plotting system.
The Enforcer has sleeping accommodations for eight persons. She has four staterooms that berth two personnel in each, two complete heads with showers and a washer/dryer compartment.
According to information provided by the Alaska Alaska Department of Public Safety, the P/V Enforcer will be available to provide for public safety needs throughout Southeast Alaska. Enforcement of commercial fisheries and commercial hunting activities will be the main focus for its patrol efforts. The P/V Enforcer can be used throughout the Region, which will provide a stable platform for emergency responses, search and rescues, investigations, village visits and providing public safety education.
The Patrol Vessel Enforcer is capable of completing long range and lengthy duration patrols. At its present duty station it will provide service fro Dixon Entrance at the Canadian border, north to Yakutat and out to the Fairweather grounds. During the course of a patrol year, this vessel and its patrol skiff will generally cover approximately 9,000 miles of coastline. The vessel will be utilized an average of 120 days of the year and is underway at least a few days almost every month of the year. Over the course of a year, the Troopers who are assigned duty aboard the P/V Enforcer will visit or make contacts in every community within Southeast Alaska.
The P/V Enforcer was designed and built by Kennedy Ship and Repair in Galveston, Texas. Her main focus will be patrolling commercial fisheries and hunting activities. She will also be used for emergency responses, search and rescues, investigations, village visits, and public safety education. Her crab pot puller, deck cranes, 17 foot skiff and fire fighting capabilities provide her with all the tools necessary to conduct resource enforcement and search and rescure missions as needed.
The P/V Enforcer's permanently assigned civilian crew are: the Vessel Skipper, Boat Officer III Laurance Nagy, and a Vessel Technician I, Ray Streitmatter. A Public Safety Technician II, Wade McClennan, is periodically assigned to various patrols as needed. At least one commissioned State Trooper is assigned as crew during her various patrol missions.
Also attending the commissioning ceremony Wednesday were Ketchikan Borough Mayor Mike Salazar, Ketchikan City Mayor Bob Weinstein, Rep. Tom Anderson (R-Anchorage), Rep. Leslie McGuire (R- Anchorage), Jim Van Horn (Legislative Aide for Rep. Jim Elkins), Captain Randal N. Hahn, two Royal Canadian Mounted Police, Chaplain Dale Bakkela and members of the public.
Following the Patrol Vessel Enforcer's dedication, an open house and building dedication ceremony was held at the new Alaska State Troopers A Detachment headquarters north of Ketchikan.
E-mail your news & photos to editor@sitnews.us


Publish A Letter on SitNews Read Letters/Opinions
Submit A Letter to the Editor
SitNews
Stories In The News
Ketchikan, Alaska