UAS Faculty Completes Six Sigma Quality Management Certification
July 19, 2005
Tuesday

Ketchikan, Alaska - University of Alaska Southeast Ketchikan Campus Assistant Professor of Business Tim Ewest successfully completed an eight-week course in the Six Sigma quality management discipline.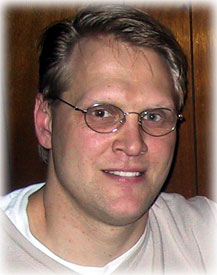 Tim Ewest - University of Alaska Southeast Ketchikan Campus Assistant Professor of Business
Photo courtesy UASK
Six Sigma is a measurement standard in product variation that was first referenced in the 1920's by Walter Shewhart who showed that three sigma from the mean is the point where a process requires correction. Many measurement standards in production have followed this finding. In the 1980's Motorola coined the term "Six Sigma" as a way to measure defects in greater detail than previously available. Motorola developed the new standard and created the methodology. Motorola improve their bottom-line results with more than $16 billion in savings documented as a result of the Six Sigma efforts.
Business schools around the country are now teaching the principles of Six Sigma in the classroom. Ewest teaches a wide variety of business courses as well as economics and philosophy courses for UAS each semester. Ewest felt it was important to understand Six Sigma fully to teach it effectively. As a result of his training, he received the Six Sigma "Green Belt" designation from Villanova University.
Businesses around the world have also adopted the Six Sigma discipline. It is used by businesses to focus and measure quality improvement methodology structured in a way that reduces product or service failure rates to near perfection. It uses a disciplined, data-driven approach to work to eliminate defects across every business area, including management, service delivery, design, production and customer satisfaction and emphasizes producing better, faster, and lower cost product and services than the competition.
Ewest has been the Assistant Professor of Business Administration in Ketchikan since 2003. He has worked in a both profit and not for profit settings as a supervisory manager as well as an administrator. He holds a Bachelors of Arts; Masters of Art (Wheaton Graduate School) and a Diploma (University of British Columbia, Regent College) in philosophy and theology. He also holds a Masters of Business Administration (George Fox University) with a management and leadership emphasis. He has earned a graduate certificate in online instruction from Simon Frasier University and a Six Sigma certification (Green Belt) from Villanova University. He is currently pursuing a Masters of Arts in Rural Development from the University of Alaska Fairbanks and the Six Sigma "Black Belt" certification from Villanova University. He is a member of the Chamber of Commerce Economic Development Committee, serves as the Director for the Certified Public Manager program in Ketchikan and is also the UAS Ketchikan Director for the Heath Care Supervisory Management Certificate. He is also an honorary member of EC-council Board of Directors. He consults not-for-profit businesses in leadership and management issues and is a volunteer at Mercy Corps Northwest.
The University of Alaska Southeast Ketchikan Campus provides a wide variety of educational courses and programs to Ketchikan and the surrounding communities throughout the year. Many course offerings are available both locally and through distance avenues including web-based, audio conference and satellite offerings. Through these offerings, students can achieve certifications, associate, bachelor and master degrees.

Source of News & Photograph:
University of Alaska Southeast Ketchikan
http://www.ketch.alaska.edu/

E-mail your news & photos to editor@sitnews.us


Publish A Letter on SitNews Read Letters/Opinions
Submit A Letter to the Editor
SitNews
Stories In The News
Ketchikan, Alaska