Bush Condemns Terrorist Attacks In London

"We will not yield to terrorists," president says
July 07, 2005
Thursday

President Bush condemned the terrorist attacks in London July 7 saying, "We will not yield to these people, will not yield to the terrorists."
"We will find them, we will bring them to justice, and at the same time, we will spread an ideology of hope and compassion that will overwhelm their ideology of hate," Bush said in a prepared statement from Auchterarder, Scotland, where he is attending the annual Group of Eight Summit.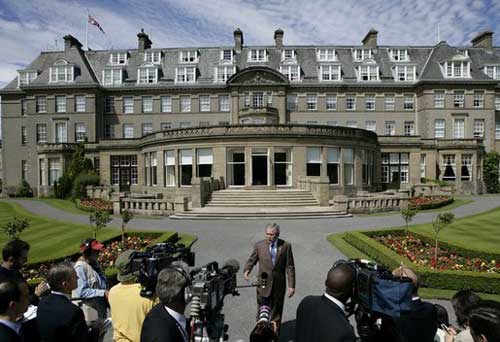 President George W. Bush delivers a brief statement to the media outside the Gleneagles Hotel in Auchterarder, Scotland Thursday, July 7, 2005, regarding the terrorist attacks in London that occured earlier in the day.
White House photo by Eric Draper

On the morning of July 7, four blasts in London killed at least 37 and injured more than 700 people, according to figures released by Scotland Yard, the British agency coordinating the investigation. British officials confirmed three blasts on the London subway and an explosion that tore open a double-decker bus at Russell Square in central London. As of 4:30 p.m. local time, the London Metropolitan Police had opened a Casualty Bureau to coordinate release of information on victims and potential victims.
At 8:49 a.m. local time, an incident was reported to the British Transport Police on the subway line between Liverpool Street and Aldgate station. At 8:56 a.m., there was another incident on the subway at King's Cross and Russell Square in North London. At 9:17 there was an explosion on a train coming into Edgware Road subway station. At 9:47 a.m. there was an explosion on a bus in Tavistock Square.
Bush said he met briefly with British Prime Minister Tony Blair after learning of the attacks and offered condolences to the people of London and Britain.
Blair left Scotland to return to London and to speak to the British people, Bush said.
"He'll carry a message of solidarity with him," Bush said.
Bush also said he has spoken with the U.S. Department of Homeland Security and instructed the agency to alert state and local officials about the facts and what has taken place in London. He urged state and local governments "to be extra vigilant."

Publish A Letter on SitNews
Read Letters/Opinions
Submit A Letter to the Editor
SitNews
Stories In The News
Ketchikan, Alaska