Borough & Fire Officials Lift Open Burning Ban
July 01, 2005
Friday

Ketchikan, Alaska - With the recent rainy weather dampening the area enough to lower the fire danger in all regions, the request for a curtailment of open burning has been lifted. North Tongass Volunteer Fire Department Chief Dave Hull said, "The National Weather Service is calling for a chance of showers through the Fourth of July weekend, but we all know it won't rain on the parade." In spite of the weather prediction, the danger is not completely past, said Fire Chief Hull.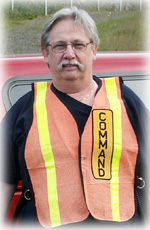 Dave Hull, Chief of the North Tongass Volunteer Fire Department
Photo by Dick Kauffman
Borough Manager Roy Eckert, along with Fire Chief Scott Davis of the South Tongass Volunteer Fire Department and Fire Chief David Hull of the North Tongass Volunteer Fire Department, thanked all the residents of the Borough who heeded the request to curtail open burning recently because of the drought like conditions the area was experiencing.
Fire Chief David Hull of the NTVFD said, 'People are asked to continue to be very careful with all types of fires especially open burning and cigarettes. Make sure that your cigarette butts are completely out before discarding them." He said, "Many fires are started by simply flicking a still burning cigarette into a dry, grassy ditch or onto a dock." The smoking ban on the City docks remains in place in those areas posted by the City Fire Department. Now is a good time to catch up on burning that brush or trash that has been piling up around the house, said Hull.
However, before you start burning, you are asked to call Central Dispatch at 225- 9616. Central Dispatch will let the fire department in your area know you are going to burn. Chief Hull said, "Make sure you are prepared to deal with your fire should it get out of hand by having water and tools on hand to quickly deal with a shift in the wind direction or speed. Also dress appropriately to prevent burns in case you have to act fast to knock your fire down. Keep fires at least 50 feet away from any structures, 25 feet if it's in a burn barrel. Above all, do not leave the fire unattended. If you have trouble, call 911 immediately."
Also, with the Fourth of July weekend upon us, don't forget that under Title 27 of the KGB Code of Ordinances fireworks are not legal for sale or use within any area of the Borough. The cost of a citation for possessing fireworks starts at $100 and can be up to $500. Chief Hull said, "Please understand the intention is not to take the fun out of the holidays, the intention is to help prevent a tragedy from occurring. The recent Point Higgins brush fire is thought to have been started by a bottle rocket, cost thousands of dollars to put out and came dangerously close to the school."
For those electing to camp out over the holidays, camp fires are okay and Fire Chief Hull provided a few simple safety tips:
Locate the fire in a dirt area;
In a fire ring away from vegetation, including moss and peat.
Water for extinguishment should be on site, and the fire must be attended to until it is completely out.
Never light a fire during dry, windy conditions.
Hull said, "Forestry officials continue to get reports from hikers and campers of campfires that were left burning. The reporting individuals have usually taken steps to put out these fires, but if no one finds the fire, there is a high potential for it to smolder until winds send sparks into dry vegetation. Since the campfires are often in remote areas, the wildfire may get large before it is reported. Please make every effort to extinguish your campfire before leaving it."
Borough and fire officials thanked everyone for their support and understanding during the recent dry weather. Hull said willingness to be fire safe resulted in not a single wildland fire call being reported after the ban was called for. "Prevention is the key to fighting a fire. Your actions helped us prevent another fire from starting," said NTVFD Chief Hull.
On the Web:
For more information on what you can and cannot burn, refer to the following link on the Department of Environmental Conservation (DEC) web site: http://www.dec.state.ak.us/air/ap/docs/obrguide.pdf
E-mail your news & photos to editor@sitnews.us


Publish A Letter on SitNews Read Letters/Opinions
Submit A Letter to the Editor
SitNews
Stories In The News
Ketchikan, Alaska