Viewpoints
The Slobs are at it again!
By Jerry Cegelske
July 30, 2005
Saturday

The Slobs are at it Again!

After several months of little activity by some of the low lifes of the community, things are picking up again! They decided you should pay for towing a junk vehicle from the junction of Revilla Road and the road to Lake Harriet Hunt. This is about mile 7 on Revilla Road, and about 7.75 miles from the entrance of the mill site where they could get rid of it for free at no cost to you. Of course dumping the car wouldn't be fun unless they could have the obligatory pallet fire to celebrate with a beer or two.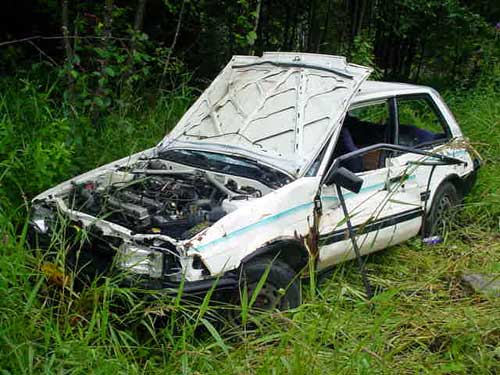 Junk car at Revilla Road and Lake Harriet Hunt Road

Then we have the shooters- they should join the Army EOD (explosive ordiance and demolition). These are the guys that like to take their tv's and other trash that should go to the dump out on Revilla Road and blast away at it, then leaving the mess for someone else to clean up. What a bunch of slobs that want you to take care of their mess. I guess their mothers didn't raise them correctly or tell them to clean up after themselves.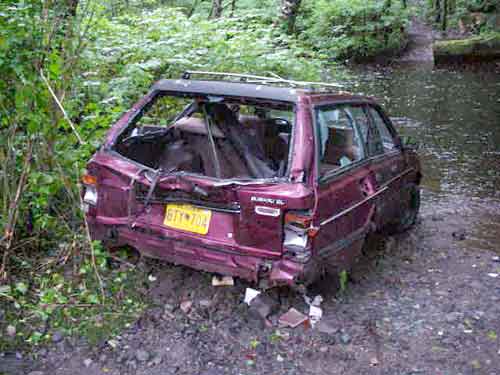 Subaru pulled from Whipple Creek by Alaska State Troopers

Then we have the brilliant minds that flunked out of NASA's spacecraft designing program, or at least Ecology 101. These geniuses decided to leave a Subaru at Whipple Spur to be hauled away. What is worse is that they wanted it to be clean when it was crushed so they had to push it into Whipple Creek to wash the dirt, oil and old grease off the car. Really helps the ocean environment. The Troopers had to pull it out of the Creek.

Makes you wonder what they are thinking about when they do that stuff. Do they get a rush from it? Are they stimulated by endorphins and get a "trashers high"? Do they feel a great sense of satisfaction such as when you have helped a neighbor who desperately needed help? Do they feel that they have had a great adventure? Pulled one over on us? Gotten the urge to destroy something out of their system? Do they THINK at ALL?

Jerry Cegelske
Code enforcement
Ketchikan Gateway Borough
jerry.cegelske@borough.ketchikan.ak.us
228-6621
Ketchikan, AK - USA
On the Web:
Junk and Abandoned Vehicle Program
http://www.borough.ketchikan.ak.us/works/junk_vehicle.htm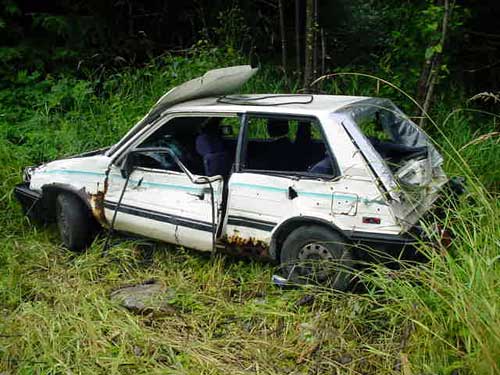 Junk car at Revilla Road and Lake Harriet Hunt Road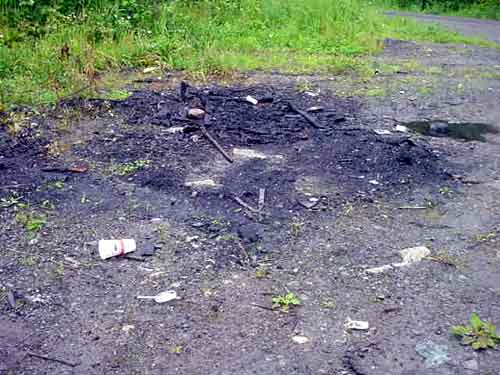 Pallet fire remains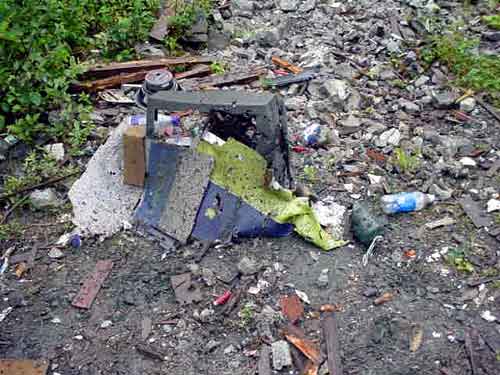 Shot up TV at Mile 5 Revilla Road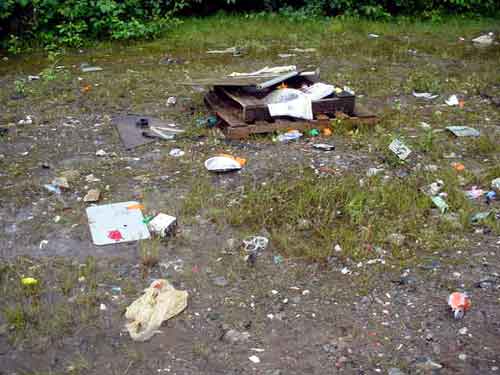 Trash left by shooters Mile 4.2 Revilla Road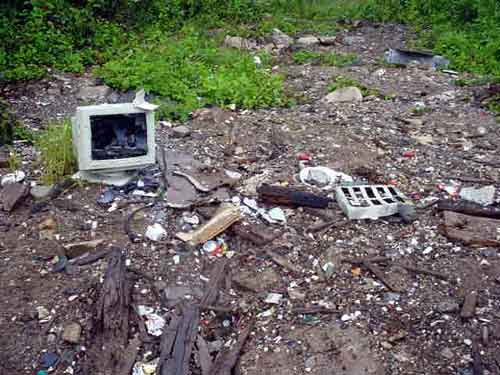 Trash left by shooters Mile 4.2 Revilla Road
Note: Comments published on Viewpoints are the opinions of the writer
and do not necessarily reflect the opinions of Sitnews.
Write a Letter -------Read Letters

E-mail the Editor

Sitnews
Stories In The News
Ketchikan, Alaska