Viewpoints
Thanks Again!
By Jerry Cegelske
July 26, 2005
Tuesday

"Thanks" again to the Society of American Foresters for cleaning up their mile of the N. Tongass Highway. It amazes me what they pull out of the ditches and from the road. This time they picked up steel cable, a downspout and a sheet of random strand fiber board that probably blew out of someones truck. Keep up the good work, we appreciate the clean roadsides.

On a negative note, there was a slob that threw out a M'D's bag along N. Tongass. By the time it was done, the bag was torn open and instead of one piece of litter, there was 28 pieces scattered around for someone to clean up! Napkins, fries boxes, ketchup packets, drink cups and other trash.

While checking out the trash I find along the road, I frequently wonder what Slob or Slobett dumped the stuff. Last week I was able to see one in action but I missed the license plate, but can identify the vehicle if I see it again. I was driving in the 1700 block of Tongass when I saw a late 80's or early 90's black or dark blue Toyota pickup coming in the opposite lane. The driver was laughing while throwing trash out the window. Apparently a friend was following him and he was throwing the trash out to amuse his friends. I'm sure you would also be amused when we observe his trash along Tongass, I was-NOT. So if you see a black or dark blue Toyota pickup let me know where it is at and a plate number so I can check it out. I would like to see the 20 something driver be rewarded for his entertaining antics!
Jerry Cegelske
Code enforcement
Ketchikan Gateway Borough
E-mail: jerry.cegelske@borough.ketchikan.ak.us
228-6621
Ketchikan, AK - USA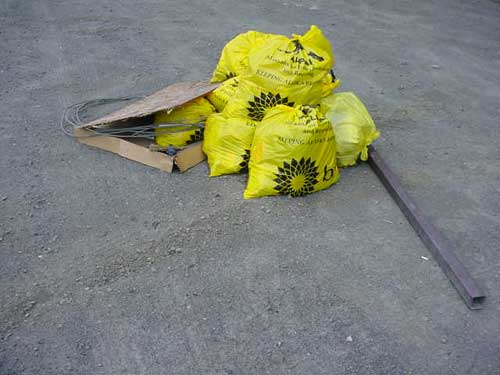 Trash cleaned up by the Society of American Foresters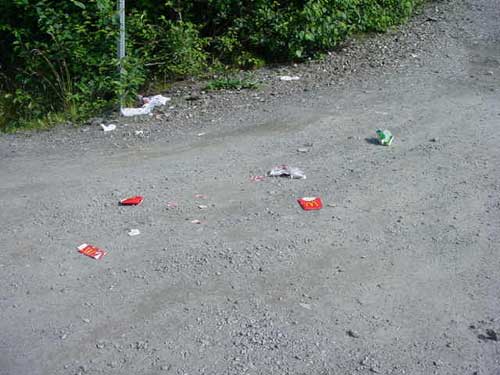 McDonalds trash dumped West of Don King Dr.


Note: Comments published on Viewpoints are the opinions of the writer
and do not necessarily reflect the opinions of Sitnews.
Write a Letter -------Read Letters

E-mail the Editor

Sitnews
Stories In The News
Ketchikan, Alaska