June Unemployment Holds Steady
July 22, 2004
Thursday

Ketchikan, Alaska - Ketchikan saw a decrease in unemployment rates from 7.1 percent in May to 6.4 percent in June. Anchorage and Juneau saw no change in unemployment rates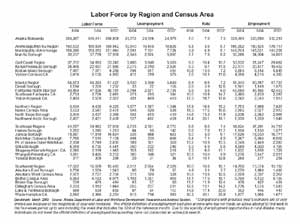 Labor Force by Region - Click to Enlarge...

in June, while Fairbanks saw a small increase from 5.6 percent to 5.8 percent.

Statewide Alaska's unemployment rate was unchanged in June, remaining at 7.0 percent. The comparable national rate (not seasonally adjusted) rose five-tenths of a percentage point to 5.8 percent. Dan Robinson, an economist with the Alaska Department of Labor & Workforce Development, reported the numbers.

According to the Alaska Department of Labor, because of two competing influences, the state's unemployment rate typically changes very little from May to June. On the one hand, the number of seasonal jobs increases, putting downward pressure on the unemployment rate. On the other hand, a significant number of students enter the labor force in June looking for summer work, or for new graduates, permanent employment. Until they find work, the students are counted as unemployed.

Nationally, the June influx of students into the labor market is large enough to create a seasonal increase in the unemployment rate, which occurred this year as expected according the Alaska Department of Labor. Alaska is one of the few states with enough seasonal job creation in June to counteract the effect of the student job seekers.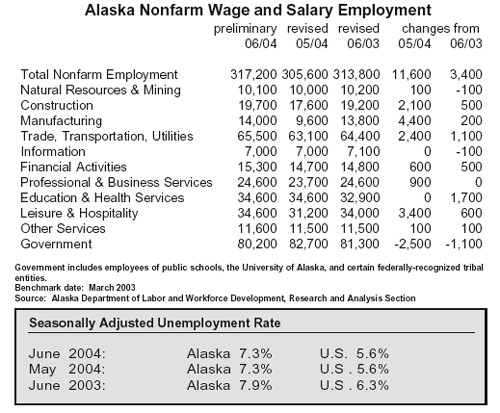 Preliminary wage and salary employment estimates for June show over-the-year growth of about 3,400 jobs statewide. The education and health services sector has added 1,700 jobs over the twelve-month period. Most of the growth within the category has come from the health care and social services industries. The trade, transportation, and utilities sector has added 1,100 jobs.
To fight this years' fires, which have already burned 2.3 million acres in Alaska, the state has hired about 600 temporary workers in the Interior, but most won't show up in the employment numbers until July.
Source of News & Charts:
Alaska Department of Labor & Workforce Development
Web Site

E-mail your news & photos to editor@sitnews.org


Post a Comment View Comments
Submit an Opinion - Letter

Sitnews
Stories In The News
Ketchikan, Alaska