Goucher Crowned Ketchikan's Fourth of July Queen
by M.C. Kauffman
July 05, 2004
Monday

Ketchikan, Alaska - After competing for over eight weeks in three different categories, Chelsa Goucher was crowned Ketchikan's Fourth of July Queen Saturday evening at the South East Alaska Discovery Center.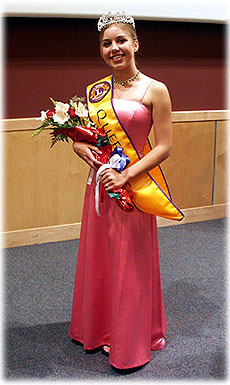 2004 Fourth of July Queen
Chelsea Goucher
Photo by Dick Kauffman
Six young women competed for the crown in the categories of 1) presentation, 2) community involvement and 3) raffle ticket sales. According to information provided by Lisa Machado for The Lions Club, the presentation forum was held at the Discovery Center on Friday, July 2nd. The six women vying for the crown had opportunities to present speeches, dances and slide shows to earn points.
Community involvement including volunteerism, leadership and membership in organizations also earned points for the contestants. According to the Lions Club, all the young women were very involved in the community and the scores were tight in this category.
The third category, and the one that carried the most weight was the individual raffle ticket sales by each contestant.
Master of Ceremonies Jack Shay said, "The girls are all fine young women who give back to their community in numerous ways and their hard work in this contest has raised $15,000 to be divided between the Fourth Fireworks and Special Olympics." The Lions Club's Fourth of July Fireworks fund is the recipient of half the ticket sales.
After consideration of all the points earned in the three categories, the 2004 Fourth of July Queen and her court were announced by Master of Ceremonies Jack Shay.
Lauren Elerding the 2002 Fourth of July Queen crowned the new 2004 Queen Chelsea Goucher and the members of her court. Jamie Fitzgerald was chosen as 1st Princess, Dawn Reno was chosen as 2nd Princess and Heather Keller, Vicky Pilcher and Jessica Graham were named members of the Queen's Court.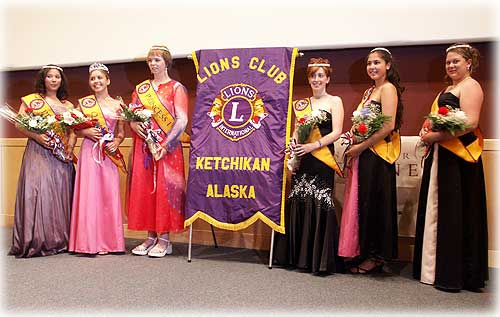 (L-R) 2nd Princess Dawn Reno; Queen Chelsea Goucher; 1st Princess Jamie Fitzgerald
Members of the Court: Heather Keller, Vicky Pilcher and Jessica Graham...
The Queen & her Court at the SE Alaska Discovery Center Saturday evening....
Photo by Dick Kauffman
After the crowing ceremony, the ticket raffle drawing was held in the Salmon Landing mall. The Lions Club announced the winners - Robert Rose was the winner of $500; Tyson was the winner of $200 (No full name given, the Lions Club noted they do have a phone number...); and Joyce Kloehn was the winner of $50.
Queen Goucher, wearing the Queen's crown and the ermine lined cape, and her Court had their photographs taken at Czars Treasures on the Fourth of July. The Queen and her Court then rode in the parade in trucks provided by Lewis Chevrolet.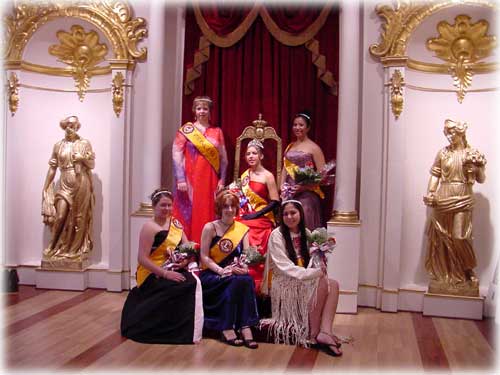 Queen Goucher and her Court pose for a photogaph at Czars Treasures on Sunday before the start of the parade....
Photo by Gigi Pilcher ©2004

The Queen and her Court all received gift baskets. The Lions Club would like to thank the following sponsors for their overwhelming donation of prizes:

AK Broadcast Comm.
Alaskan Heritage
Authentic Alaska Craft
Alaskan Collections
Alaskan & Proud
Annabelle's
Barnaby's
Bernard Passman
Bernie's
Blockbuster
Blue Herron
Burger Queen
Bar Harbor
Cedar Chest
Country Cellar
Creekside Trading
Czars Treasures
Cedars Lodge
Carribbean Gems
Clover Pass Resort
David Green Furrier
Del Sol
Diamonds Direct
Diamonds Intl
Discovery Center
Duck Tours
The Edge
Trinkets
Royal Carribean Jewelers
The Cleaners
Deer Mt. Hatchery
Donna's Sunchasers
Downtown Drug
EFFY
Golden Eagle Jewelry
Golden Eagle Gifts
Great Alaskan Lumberjack
Godfathers Pizza
Heavenly Creations
His & Hairs
House of Gold
Ivory Outpost
Image North
J & M's
Jalina's
Jim & Judy s Place
Julies Fine Gifts
KAAHC
Ketchikandies
Lewis Chevrolet
Market Place Outlet
Mary Kay
McCloud Nine
Mecham, Richardson
Moggies Mocha's
Mail Boxes Etc.
Tom Sawyer
Wal-Mart
McDonalds
Walden Books
Narrows
Northern Sales
Ocean View
Orca Corn
Parnassus Books
Perfect Partners
Poker Creek Gold
Salmon Etc.
Subway
Steamers
Sea Imports
Special Olympics
Salmon Falls Resort
Sam McGees
Scanons
Schallerer's
Seaside Trading
Silver Basin
Sockeye Sam's
Soho Coho
Soni Jewelers
Stenfjords Hallmark
Tall Tale Taxidermy
The Bead Shop
The Day Spa
The Landing
Tongass Trading
Wells Fargo
Ward Cove Market
Tongass Business
E-mail M.C. Kauffman: mc@sitnews.us

E-mail your news & photos to editor@sitnews.org


Post a Comment View Comments
Submit an Opinion - Letter

Sitnews
Stories In The News
Ketchikan, Alaska