4th Annual Family Day Celebration;
Kids learn celebrations can be alcohol and drug free
by M.C. Kauffman
July 01, 2004
Thursday

Ketchikan, Alaska - The Fourth Annual Family Day Celebration held Saturday at Ward Lake was attended by more than 70 adults and children. According to one of the organizers Patti Fay Hickox, the event was started originally by Women In Safe Homes in an effort to show kids that celebrations with adults can be alcohol and drug free.
Hickox, who no longer is on staff at WISH, said she continued working with others in the community to keep the "Family Day Celebration" event going. Hickox said, "I feel it is very important in Ketchikan to have an alcohol free picnic with games and prizes. This helps show the children in Ketchikan that adults can have a good time without alcohol and drugs."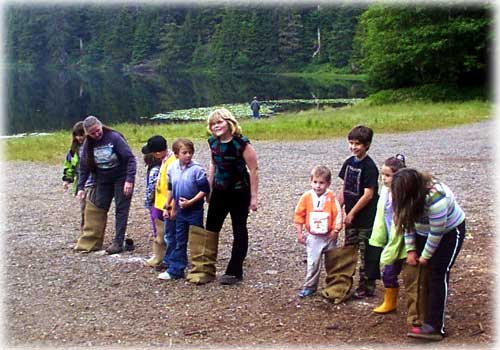 Susan Walsh helps organize the kids for the start of the sack race event...
Photo by Mary Fay

Describing some of the activities for the children and adults, Hickox said, "We had a bean bag toss, ring toss, sack races and tug of war." Of course, no picnic is complete without food! She said, "We had hot dogs and hamburgers and salads donated to the picnic."
Hickox said the organizers received money through an American Seafood Grant for the picnic. With the money they were able to rent the picnic area at Ward Lake, get equipment from the Recreation Center, buy prizes and buy some of the food. Hickox added, "Some of the food was donated by Northern Sales, Tatsuda's, Carrs, A&P and Wal-Mart."
The Fourth Annual Family Day Celebration also received money from KJ Harris of the Raven's Roost to provide helium balloons and pop. Hickox said, "We had lots of balloons." KJ has helped many times when we plan events for children, she said.
Eric Riley provided a PA system and they had CD music along with live music from "Janel and Brian." Hickox said, "The hit song of the day was Union Maid by Arlo Guthrie." She added, "Even Jack Shay joined in the chorus." Helping with the entertainment, Tyler's Rental provided a generator.
In addition to the game activities, Jasmine and Tony Nelson provided children rides around the lake in canoes for the Recreation Center.
Hickox said we hope to keep this alcohol free family fun day going every year. Helping with the event were Women In Safe Homes and Ketchikan Indian Community and the Tongass FASD Community Support Team who did a lot of the work.
Also contributing to the Fourth Annual Family Day Celebration were Tongass Conservation Society and RID Alaska of Child Abuse. Vans and volunteers provided rides to the "Family Day Celebration" from the Library and White Cliff School.
"And nothing would have gone smoothly if I did not have help from Susan Walsh with the children's games," said Hickox.
E-Mail MC Kauffman: mc@sitnews.us

E-mail your news & photos to editor@sitnews.org


Post a Comment View Comments
Submit an Opinion - Letter

Sitnews
Stories In The News
Ketchikan, Alaska