Viewpoints
Thank You Ketchikan
by Christina Routt
July 10, 2004
Saturday

Ketchikan residents Jessica Mathews, Cheyenne Mathews and Hunter Mathews made the long trip from Ketchikan to Kentucky to visit with family. And as the sign says, Ketchikan is 2057 miles (as the crow flys) away.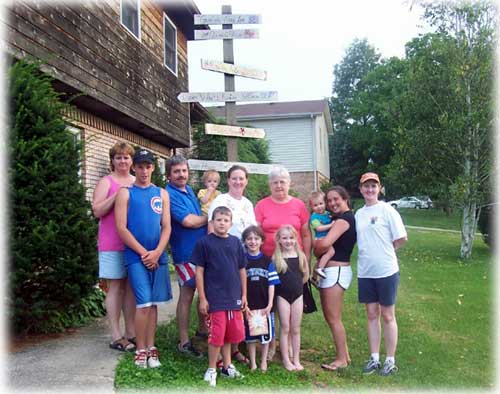 Chistina Routt, Jacob Routt, Gary Watts, Hershey Watts, Cory Routt, Ginner Watts, Garrison Watts, Millie Campbell, Cheyenne Matthews, Hunter Mathews,
Summer Southworth, Jessica Mathews
Photo by Christina Routt

Thank you Ketchikan for taking care of my family while they are so far away in Alaska. We appreciate it very much here in the lower 48.
Christina Routt
Kentucky - USA
Note: Comments published on Viewpoints are the opinions of the writer
and do not necessarily reflect the opinions of Sitnews.
Post a Comment -------View Comments

Submit an Opinion - Letter

Sitnews
Stories In The News
Ketchikan, Alaska