Mountaineering and Science Meet on Mt. McKinley
by Ned Rozell

July 17, 2003
Thursday - 1:25 pm

Japanese mountaineer Yoshitomi Okura returned to Denali National Park and Preserve for the 14th consecutive year in 2003 and accomplished two goals-he reached Mt. McKinley's summit and modified a weather station high on the mountain.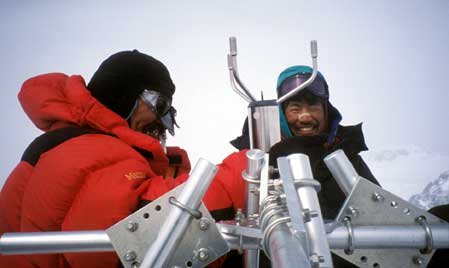 Yoshitomi Ukura, left, of the Japan Alpine Club, and Tohru Saito
of UAF's International Arctic Research Center, work on a weather station installed high on Mt. McKinley.
---
I had the privilege of joining Okura on a trip up Mt. McKinley's West Buttress route in June 2003. Our main goal was to service a weather station, which Okura and other members of the Japan Alpine Club installed in 1990, and donated the station to UAF's International Arctic Research Center in 1999. Okura remains the driving force behind the station's upkeep and maintenance, which is often needed because of its location.
Wired to rocks just south of Denali Pass, the weather station consists of six aluminum poles bolted together in the shape of a teepee with a crossbar at the top. Climbers taking the West Buttress route to Mt. McKinley's south peak travel within a few yards of the station, which clings to the rocks with the help of pitons and wires. Jutting into the thin air at 18,733 feet (5710 meters), the weather station is perched in one of the windiest spots in North America. Okura has installed several sets of spinning-cup anemometers on the station since 1990, and has often returned to find the cups blown off by extreme winds.
"In winter months the jet stream, +100 mph (160 km/h), will often descend over the mountain's upper flanks," Park Service mountaineering rangers wrote in a guide to the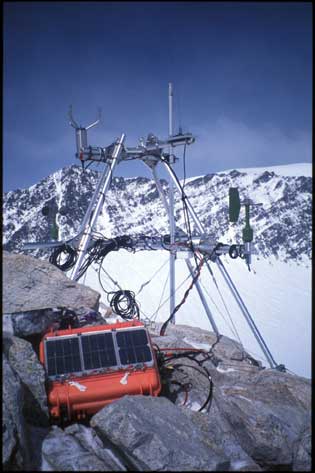 The weather station owned by the International Arctic Research Center installed above 18,000 feet on Mt. McKinley.


mountain given to each climber. "Combine this wind with the naturally caused venturi effect that doubles wind velocity in such areas as Denali Pass and you will find one of the most hostile places on this planet."

Okura climbed to the station on June 18, 2003 with a sense of nostalgia, saying he felt as if he was visiting a child. He chose that particular spot for the stand on Mt. McKinley for the high-elevation weather station after researching the idea for five years. As a specialist on winter climbs in the Himalayas, he was intrigued by the unpredictable nature of high-altitude wind gusts. As he was trying to decide where to install a weather station, three of his friends died on Mt. McKinley during a winter attempt on the mountain in February 1989. They might have been blown off the ridge by a sudden gust of wind; a rescue team found their bodies not far from Denali Pass.

"They were the strongest climbing team in Japan in those days," Okura said through Tohru Saito of the International Arctic Research Center, who also made the 2003 climb. "That's when I made up my mind that the weather station had to be on Mt. McKinley."

Okura received permission from the National Park Service to install the temporary station, and set it up at the spot where he believes his friends fell.

Okura recorded temperature and wind speed and direction at the site using data loggers he would swap out during his annual summer climbing expeditions. In June 2002, Okura and a team that included UAF student Vincent Autier installed an infrasonic wind gauge system designed by Kevin Abnett of the Geophysical Institute's electronic shop. The gauge, which featured no moving parts, worked until January 2003. When Okura arrived at the station this year, he found that the whip antenna had disappeared, possibly blown away by strong winds.

Through a satellite hookup, Abnett and others at the Geophysical Institute recorded an uncalibrated wind speed of 188 miles per hour at the station three days before it stopped working. They designed an even newer system to record higher wind speeds in 2003; Okura and others installed the new equipment in June. That station also stopped working shortly after installation. The satellite hookup for the weather information won't be available until next year, because reaching the station is difficult.

Story & Photo Courtesy Of:
Geophysical Institute - University of AK Fairbanks
Web Site

Post a Comment View Comments
Submit an Opinion - Letter
Sitnews
Stories In The News
Ketchikan, Alaska