Work Continues On New Taxiway
July 16, 2003
Wednesday - 1:30 pm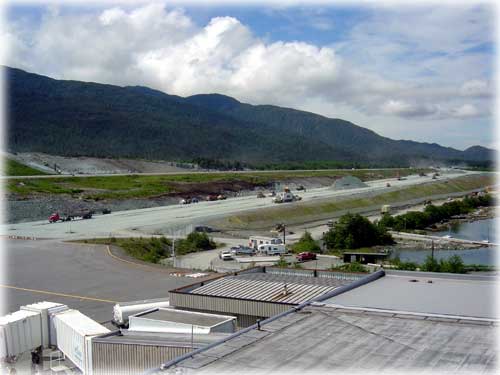 Taxiway C - Ketchikan International Airport
Photo by Dan Hart - July 11, 2003
Ketchikan, AK - The contractor, Glacier State Construction Company of Juneau, has completed the dynamite blasting for rock fill for the new taxiway at the Ketchikan International Airport and will be working on the drainage and electrical next. Glacier State Contractors hauled between 900,000 and one million yards of fill from the rock pit to the taxiway.
The final stages of construction will include paving and lighting. Erickson Electric, Inc. of Ketchikan is the sub-contractor for the electrical work and will be installing the underground electrical cables and the new taxiway lights.
According to Lance Mertz, Assistant Manager of Ketchikan International Airport, the new taxiway C is expected to be completed and ready for use by late October or early November of 2003.
The Federal Aviation Administration's 'Airport Improvement Fund' will pay the $8,000,000 construction cost.
Post a Comment View Comments
Submit an Opinion - Letter
Sitnews
Stories In The News
Ketchikan, Alaska