Big whales eat tiny fish at hatchery buffets
By LAUREN FRISCH
June 15, 2019
Saturday PM

(SitNews) - At the Hidden Falls Hatchery in Chatham Strait, three whales have tapped into a yearly all-you-can-eat buffet. The whales have learned that the hatchery releases juvenile salmon in the same place each summer, providing a reliable snack for the roaming predators.
Researchers at the University of Alaska Fairbanks College of Fisheries and Ocean Sciences and the University of Alaska Southeast have spent nine years studying the impact of this predation on hatchery fish. Now, CFOS graduate student Madison Kosma wants to understand how the predation contributes to each whale's diet.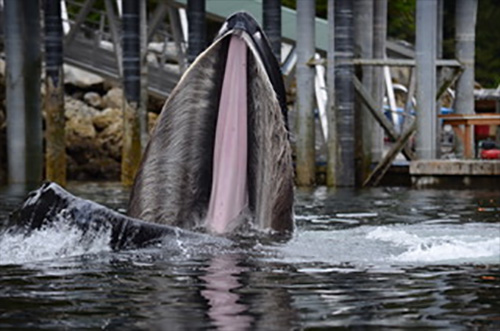 A humpback whale feeds on hatchery juvenile salmon. NOAA permit #18529.
Photo By Madison Kosma
"Our goal was to go out before, during and after releases to get tissue samples from these individual whales to see what proportion of each whale's diet is made up of hatchery salmon during the spring and early summer," Kosma said. "This is important because it will help us determine how much these animals rely on hatchery fish, which could key us in to the potential impact they are having on the hatchery returns."
Kosma is using stable isotopes in whale skin to identify and track hatchery fish in each whale's diet. Isotopes refer to the number of neutrons carried by an element such as carbon or nitrogen. As reflected in the saying "you are what you eat," plants and animals each have a unique balance of isotopes, called an isotopic signature, based on what they eat and the environment they live in. Studying the ratio of different isotopes in a predator's skin and body can help reveal what that animal ate. When a humpback whale in Chatham Strait eats different kinds of fish, its isotopic signature reflects the individual signatures from all of those prey fish.
Fish released from hatcheries have a unique isotopic signature because they are fed wheat products, an ingredient not found in wild fish diets. That makes the fish easy to identify in diet-related analyses.
So how do the researchers collect whale skin samples? "We use a crossbow," Kosma said. The crossbow launches a modified arrow that contains a yellow float (so they don't sink underwater) and a hollowed-out tip for collecting tissue samples. When the bolt launched from the crossbow hits a whale, it removes a small plug of skin and blubber, bounces off and floats in the water where it can be easily retrieved.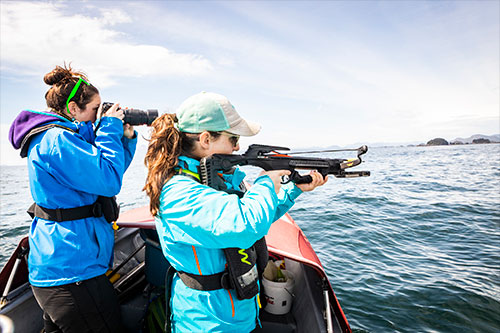 Lauren Wild and Madison Kosma prepare to tag a whale. NOAA permit #18529.
Photo By JR Ancheta
The sampling technique has no adverse health effects and the sample is very small compared to the large animal. "Most whales don't even react to being sampled," Kosma said.
Kosma is studying both the incorporation rate of hatchery fish — how long it takes the isotopic signature of the fish to work its way into a whale's skin — and the percentage of the whale's diet that is made up of hatchery-released juvenile salmon. For many species, researchers can do controlled diet experiments in a lab. "We obviously can't do that with a whale. This is pretty much the closest we can get to a controlled feeding experiment since we know exactly when and where the hatchery fish are released," Kosma said.
Kosma collects samples before, during and after whales visit the hatchery-release buffets. She collects tissue samples from the hatchery fish as well. The timing of these samples is important, Kosma explained, because you need to see what a whale's stable isotope signature looks like before the hatchery fish are incorporated into their diets to understand what is changing.
As Kosma is processing her isotope data, she is also thinking about why these hatcheries are beneficial locations for whales. "It's a consistent food source," Kosma said. "We don't know exactly why the whales are feeding at these spots, but knowing where to consistently find food each year is beneficial especially when competition is high or resources are low."
Kosma's work is funded by a graduate mentor and research assistantship from the university's Biomedical Learning and Student Training program, the Alaska Whale Foundation and Mark Kelly Photography. The Northern Southeast Regional Aquaculture Association has provided on-site support.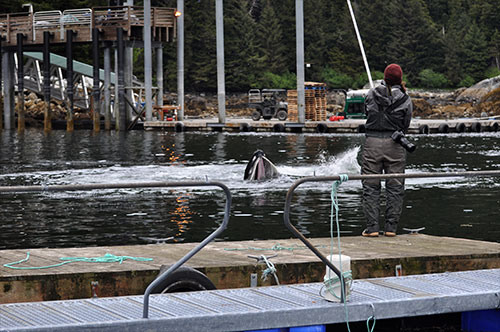 Madison Kosma gets aerial video footage of feeding events at the hatchery with a pole and GoPro. NOAA permit #18529.
Alaska Whale Foundation Crew photo
In addition to her isotope work, Kosma is also working to document predation techniques in the whales she studies. "I have gotten to know the three whales super well over my years studying them," Kosma said. "Sometimes I feel like I know them better than my own family."
Kosma recently became one of the first researchers to document pectoral herding, where whales use their pectoral fins to corral fish.
"Since the 1930s, researchers have believed that whales use their pectoral fins to assist in hunting prey," said Kosma. "But without great aerial imaging technology, actually documenting this behavior has not been possible."
During the 2019 Alaska Marine Science Symposium, Kosma explained her innovative method for collecting aerial imagery on pectoral herding. In her first attempt, Kosma zip-tied a GoPro camera to a 3.5-meter stick and held it out over a whale as it was lunging. Kosma quickly realized she needed to upgrade to a drone to collect her imagery. Three years later, she has a drone and the footage she needs to confirm this predatory behavior.
"Madison gave a fantastic talk and presented the use of new technology to answer a question that has been puzzling researchers for decades," said University of Alaska Southeast researcher Jan Straley, who serves as Kosma's co-advisor and manages the Sitka Whale Lab.
Kosma said the small discovery is one of the many benefits of her ongoing relationship with the whales of Chatham Strait. "Although this didn't start as the main focus of my work, it has become a really fun side project to work on, and it's great to finally provide some video evidence for our community about this behavior," Kosma said.
This article is provided as a public service by the University of Alaska Fairbanks' College of Fisheries & Ocean Sciences.
Lauren Frisch [lcfrisch@alaska.ed] is a writer & informational officer with the
College of Fisheries & Ocean Sciences.
Representations of fact and opinions in comments posted are solely those of the individual posters and do not represent the opinions of Sitnews.
Contact the Editor
SitNews ©2019
Stories In The News
Ketchikan, Alaska

Articles & photographs that appear in SitNews are considered protected by copyright and may not be reprinted without written permission from and payment of any required fees to the proper freelance writers and subscription services.

E-mail your news & photos to editor@sitnews.us

Photographers choosing to submit photographs for publication to SitNews are in doing so granting their permission for publication and for archiving. SitNews does not sell photographs. All requests for purchasing a photograph will be emailed to the photographer.