Alaska House Passes $11 Billion Budget Plundering One-third of the Permanent Fund Earnings Reserve
By MARY KAUFFMAN
June 15, 2017
Thursday PM

(SitNews) Juneau, Alaska - Tonight, to avoid a government shutdown at the beginning of the month, the Alaska House of Representatives passed a combined Capital and Operating Budget for Fiscal Year 2018. The House budgets reverse the Senate's $69 million cut to K-12 education and most of the cut to the University of Alaska. Additionally, the Capital Budget restored the full amount of expected Permanent Fund Dividends, which will be paid in the fall to eligible Alaskans.
"We were surprised by the House Majority's actions tonight. They did not get the job done for Alaska. A compromise is required to protect Alaskans and put the state on a stable fiscal path," said Governor Bill Walker in a prepared statement.
Alaska Senate President Pete Kelly (R-Fairbanks) responded what he described as the House Majority's failure to compromise on an operating budget. Kelly said in a prepared statement, "We are deeply disappointed in the House Majority's actions tonight."
Kelly said, "In one fell swoop, the House Majority's $11 billion budget plunders one-third of the Permanent Fund earnings reserve, forcing the fund's managers to sell off high-earning assets in exchange for a quick political 'fix' that solves nothing. This is the same fund that pays out dividends to Alaskans."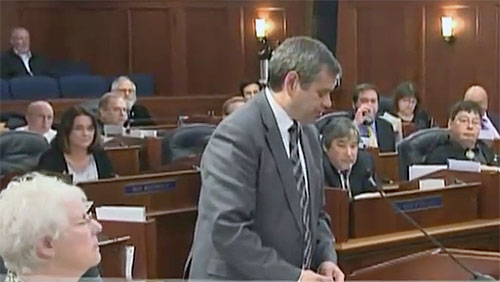 After a vote 22-18 and passage of budget by the Alaska House, the Alaska House Majority Coalition Leader Chris Tuck (D-Anchorage) moved to adjourn the Special Session on June 15, 2017.
Photo capture from live session.
"Contrary to the House Majority's rhetoric," said Kelly, "their budget and adjournment tonight does not avert a government shutdown, but forces the Legislature into an additional special session that adds costs, grows uncertainty for the public and private sectors, and further hampers the ability of the two bodies to reach a compromise."
"Our actions tonight were not taken lightly. We simply had to remove the threat of a government shutdown from over the heads of Alaskans and our already struggling economy," said Speaker of the House Rep. Bryce Edgmon (D-Dillingham). "We negotiated in good faith for a comprehensive and evenhanded fiscal plan, but the Senate Majority refused to consider anything other than their plan to cut Permanent Fund Dividends. Such a plan is simply unfair and places the sole burden of filling the over $2 billion budget gap on every man, woman, and child in Alaska without balanced contributions from the oil industry or the thousands of out-of-state workers."
The members of the Alaska House Majority Coalition organized with two goals, to pass a responsible budget and to enact a fair and comprehensive fiscal plan. The Alaska Senate Majority's refusal to negotiate on the components of a complete fiscal plan has pushed the State of Alaska to the brink of a government shutdown. Tonight's action by the Alaska House of Representatives to combine the FY 2018 Operating and Capital budgets ensures there will be not need to be a government shutdown and that essential state services like public education and public safety are adequately funded.
"The Senate Majority seemed unmoved by the prospect of a government shutdown and refused concede on their cuts to public education and anything other than cuts to PFDs as new revenue," said House Finance Committee Co-chair Rep. Paul Seaton (R-Homer). "The members of this Coalition believe in good governance and we tried to reach fiscal solutions this year on a plan that we believe is good public policy. However, we simply could not allow the Senate to deepen the recession and jeopardize the jobs of thousands of Alaskans by pushing the state to a government shutdown."
Tonight's unusual move to combine the Capital and Operating budgets shows the determination of the Alaska House Majority Coalition to keep Alaska up and running, especially during the vital commercial fishing and tourism seasons. The members of the Coalition urge their Senate colleagues to accept the budget so that Alaska's airports stay open, sport fishing, commercial fishing, and tourism can continue uninterrupted, and thousands of hard-working state employees stay on the job serving the people of Alaska.
"I support what we did tonight. It's time to fulfill our only Constitutional obligation to pass a fully funded budget, because a government shutdown is not acceptable. I am disappointed that the inflexibility of the Senate Majority prevented passage of a fair and comprehensive fiscal plan that gives economic certainty to families and small businesses throughout Alaska," said House Majority Leader Rep. Chris Tuck (D-Anchorage).
Senate Bill 23, which includes the combined Operating and Capital Budget, was passed tonight by a vote of 22-18 (Voting names not yet avialable online, refer to vote board photo). The bill will now be sent to the Alaska State Senate for consideration.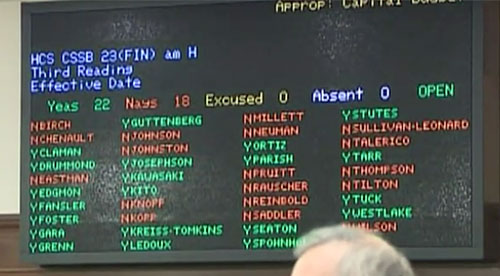 The combined Operating and Capital Budget, was passed tonight by the Alaska House with a vote of 22-18. Voting Yes was Rep. Dan Ortiz (I-Ketchikan). Also voting yes was Rep. Jonathan.Kreiss-Tomkin (D-Sitka)
Photo capture by SitNews from Voting Board (live video)
After the House passed the combined Operating and Capital Budget tonight, the Alaska House of Representatives ended the First Special Session of the 30th Alaska State Legislature Sine Die.
Alaska Senate President Pete Kelly said, "Alaskans should know tonight's decision was unnecessary, and unprecedented. For weeks, the Senate urged the House Majority to negotiate a budget. The House Majority walked away from negotiations last week – then canceled four public negotiation sessions this week, while leading the Senate to believe they remained interested in a compromise. As late as Thursday at 6 pm, Senate leaders were still reaching out to the House Majority in hopes of reconciling the two bodies' differences."
"Tonight's House floor action was a betrayal of many conversations between the two bodies in an attempt to compromise," said Kelly.
"Time allowed for a compromise with the Senate on this budget," said Kelly, "The House and Senate could have reached an accord at any time tomorrow – t.e last day of special session – and passed a budget, together, for all Alaska. Instead, the House Majority chose to reject compromise, placing the state at risk for a government shutdown," said Kelly.
Kelly said, "The Senate Majority will be responsible with Alaska's reserves, and will not support this budget that jeopardizes the financial future of our state. We remain committed to a fully funded FY18 operating budget in sufficient time to avoid a government shutdown."
Quoting a news release from the Alaska House Republicans, with less than ten minutes notice and no public availability, the Alaska House Democrats flipped on their passage of the Capital Budget and passed an unprecedented 89 page amendment that jams an un-vetted version of the state's total operating budget into the bill. A cloaked, rushed process superseded the trust and duties afforded to legislators. Rules that have governed the Legislature for decades have been broken, and the public process has been deeply violated.

"I echo colleagues who say that this is heartbreaking, to see the people's process defiled and their trust broken," said Rep. Charisse Millett (R-Anchorage). "How can we go back to our districts and defend this complete betrayal?"

"Maybe the House Democrats can sleep at night thinking that secrecy and back-room deals govern our state, but I absolutely cannot," said Rep. Chenault (R-Nikiski). "Their attitude is 'no matter the consequences, we will get our way' and I hope Alaskans remember that."

House Republicans say that to fund this budget, House Democrats are pulling over $5 Billion from the Permanent Fund Earnings Reserve Account, which is the state's highest yielding savings and thus far, has never seen a draw of this magnitude.

"I cannot vote on something I haven't been allowed to read first, simple as that," said Rep. Pruitt (R-Anchorage). "This is a mockery of the democratic process and my constituents and Alaskans deserve better."

Representative Dan Saddler (R-Eagle River/JBER) said, "A famous president once said, 'December 7, 1941 was a day which will live in infamy.' I believe that June 15, 2017 will live in near-equal infamy in the history of the Alaska House of Representatives."
After 150-days, Alaskans still do not have a budget that protects essential services, reform to cash credits paid to oil and gas companies, or a fiscal plan that protects the quality of life for Alaskans and the health of our economy.
Source of News:
Alaska Majority Coalition
www.akleg.gov

Alaska House Republicans
www.akleg.gov

Alaska Senate Majority
www.akleg.gov
Representations of fact and opinions in comments posted are solely those of the individual posters and do not represent the opinions of Sitnews.

Contact the Editor
SitNews ©2017
Stories In The News
Ketchikan, Alaska

Articles & photographs that appear in SitNews may be protected by copyright and may not be reprinted without written permission from and payment of any required fees to the proper sources.

E-mail your news & photos to editor@sitnews.us

Photographers choosing to submit photographs for publication to SitNews are in doing so granting their permission for publication and for archiving. SitNews does not sell photographs. All requests for purchasing a photograph will be emailed to the photographer.