19,000 State Workers Receive Pink Slips
By MARY KAUFFMAN
June 01, 2017
Thursday PM

(SitNews) Juneau, Alaska - Today, nearly 19,000 State of Alaska employees will receive pink slips. Unless the Alaska Legislature passes a budget in the next month, all non-essential state services will shut down July 1st.
The Alaska Legislature is currently in a 30 day Special Session called by Governor Bill Walker to address the FY 2018 budget, oil and gas tax credit reform, several revenue measures, and a bill to help respond to the opioid epidemic in Alaska. The Special Session is scheduled to end on June 16th. A possible government shutdown in Alaska would occur on July 1st if a budget compromise is not reached.
Governor Bill Walker commented on the layoff notices in a prepared statement saying, "This action is not just about government jobs; it affects the overall economy and will hit the private sector as well as public services."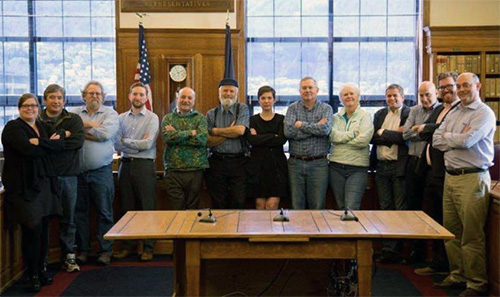 Some members of the Alaska House Majority Coalition pose for a photo last week with arms crossed showing their resolve for their proposed Education Tax aka State Income Tax plan.
Pictured is Dan Oriz (i-Ketchikan), third from right.
Photo courtesy Alaska House Majority Coalition
Walker said, " The government employees who will be forced to stop work are the people who process your fishing permits, business licenses, driver's licenses, and record home sales - among many other services they provide. They also have families to feed, and mortgage and car payments to make."
"I'm disappointed these layoff notices had to go out - -but legislative leadership in both the House and the Senate have assured me they are actively working toward a compromise, and have asked that I give them one more day to reach a solution. I have honored that request, and will address tomorrow what they have accomplished. We must have a complete fiscal plan before July 1st. Alaskans deserve no less."
According to the Alaska Senate Majority, the Democrat-led House continues to block progress in the second week of the special session in a political game to win support for their tax plans, making losers of everyday Alaskans facing the growing threat of lost services and economic disruption.
If an operating budget isn't passed by July 1, all state government operations will come to a halt, putting more than 15,000 state workers out of work and depriving thousands of Alaskans access to public services they use daily.
Alaska House Republicans say they remain firmly opposed to allowing a government shutdown, and to wasting any more time or public money. According to the House Republicans, Alaska House Democrats hold the power to schedule conference committee meetings that can move Alaska forward and pass a budget that Alaskans can afford.
In the face of the unfortunate and unnecessary threat of a government shutdown hanging over Alaskans' heads, House Republicans are urging residents to take action now to complete any business dependent on state services prior to July 1.
"This is the third year in a row that extended budget negotiations have threatened thousands of hard-working state employees' jobs. Our Coalition is seeking long-term fiscal solutions to prevent this scenario playing out year after year," said Speaker of the House Rep. Bryce Edgmon (D-Dillingham).
Edgmon stated in a press release, "Protecting vital state services remains a core principle of our Coalition. We understand how disruptive the ongoing budget negotiations are to people's lives, not just for state employees, but for anyone who wants to buy a home, renew a driver's license, or engage in any of the multitude of other transactions or activities in which the State of Alaska plays a role."
"I want to stress that we are committed to passing a budget as soon as possible because a government shutdown is not an acceptable outcome to this legislative session," saud Edgmon.
The Alaska Senate's fiscal solution calls for a spending cap to limit future government growth, uses Permanent Fund earnings to help pay for government and a dividend and makes about $200 million in operating budget reductions. The Senate protected working Alaskans from an income tax proposed by the House Democrats. And, the Senate concurred with the House and Governor in eliminating cash payments for tax credits to the oil industry, a move that will save the state up to $200 million per year.
On April 15, 2017, the Alaska House of Representatives passed the "Education Funding Act" [State Income Tax] to set up a stable revenue stream to help pay for Alaska's constitutionally mandated public education system. House Bill 115 was the final piece of the Alaska House Majority Coalition's comprehensive fiscal plan to pass the Alaska House of Representatives.
HB 115 will raise an estimated $687 million through a state income tax for the Public Education Fund once fully implemented, including $80 million from nonresidents who come to Alaska to earn a living but don't contribute to essential state services. The bill includes a $4,000 personal exemption that applies to every person in a household. Permanent Fund Dividends are also exempt from state taxation, and the bill allows Alaskans to choose to apply some or all of their PFD to pay the school tax.
HB 115, which the House Republicans say should more aptly be called the "Tax Working Alaskans Act," would tax Alaskans' income, including pensions of elder Alaskans, ANCSA Corporation shareholder dividends, and trusts. Sixty new state employees, at an estimated annual cost of over $7.5 million, would need to be hired to impose this tax.
The four pillars of the he Alaska House Majority Coalition's comprehensive fiscal plan proposed include: 1) budget cuts; 2) using the earnings of the Permanent Fund to pay for a portion of government; 3) a cap on the amount of the Permanent Fund Dividend; 4. a broad-based tax [Education Tax aka state income tax].
Despite significant budget reductions over the last four years, the state faces a $2.8 billion deficit this fiscal year. While the House, governor, and Senate agree the solution must include responsible use of Permanent Fund earnings to help pay for government and dividends, there is a difference in how to fill the remainder of the gap.
The Alaska Senate proposes capping government spending at today's levels, and drawing from the Constitutional Budget Reserve to cover the deficit – without depleting those reserves and without imposing new taxes on individuals. According to the Senate, the Alaska House and governor do not support a spending limit to prevent government from growing, and want to implement a substantial new income tax on Alaska's wage earners, businesses and retirees to supply government with more money.
State departments potentially impacted by a shutdown include:
Department of Transportation and Public Facilities: Oversees critical safety projects; maintains roads
Department of Fish and Game: Provides subsistence and sport fishing and hunting licenses, tags and permits
Division of Motor Vehicles: Issues driver's licenses, ID cards, vehicle registration and license tabs
Department of Health and Social Services: Provides for family and child welfare, mental health treatment, and senior and disabilities services
Source of News:
Office of Governor Bill Walker
www.gov.alaska.gov

Alaska Senate Majority
www.akleg.gov

Alaska House Majority Coalition
www.akleg.gov
Representations of fact and opinions in comments posted are solely those of the individual posters and do not represent the opinions of Sitnews.

Contact the Editor
SitNews ©2017
Stories In The News
Ketchikan, Alaska

Articles & photographs that appear in SitNews may be protected by copyright and may not be reprinted without written permission from and payment of any required fees to the proper sources.

E-mail your news & photos to editor@sitnews.us

Photographers choosing to submit photographs for publication to SitNews are in doing so granting their permission for publication and for archiving. SitNews does not sell photographs. All requests for purchasing a photograph will be emailed to the photographer.