Do We Have To Go Broke Before We Fix Alaska? Gov. Walker Asks the Legislature
By MARY KAUFFMAN
June 06, 2016
Monday PM

(SitNews) Juneau, Alaska - During a press conference last Wednesday, Governor Bill Walker (I) accused Alaska Legislators of not accepting their responsibilities in addressing the difficult fiscal challenges facing Alaska.
The Governor said he hears a lot of discussions about these difficult fiscal decisions, and yes they may be difficult but they are fiscally responsible. "That's why we are elected, to come and make these difficult decisions," Walker said.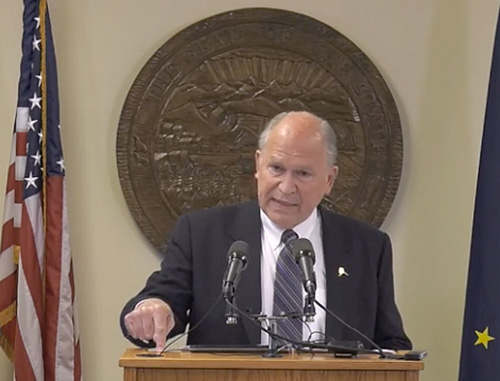 Governor Walker askes the Legislators,
"Do we have to go broke before we fix Alaska?"
Photo from press conference video.
"I've hear lots of discussions about 'let's get through this next election'" Walker said. It is time for legislators to stop taking about the next election and re-election and do what's best for Alaska right now said the Governor. "Alaskans will embrace that kind of leadership," said Walker. What ever it takes to get the job done is what has made Alaska a great state, difficult decisions have been made before and we need to do it again said Walker.
To those Legislators who say "Le's start over fresh next year" - Walker said legislators said that last year and "here we are this year and here we will be next year".
Governor Walker askes the Legislators, "Do we have to go broke before we fix Alaska?"
Last Tuesday, the Alaska State Legislature passed HB 256, the Alaska statewide operating budget; HB 257, the mental health operating budget; and SB 138, the capital budget. After a conference committee appointed to address discrepancies in the House and Senate versions of the operating budget bills closed negotiations late Tuesday night, the bodies passed a fully funded budget Tuesday afternoon, achieving $418 million in budget reductions for FY 2017. In addition to the $777 million in reductions achieved in last year's operating budget, the 29th Alaska State Legislature announced they reduced the budget by $1.2 billion over two years.
Pink-slip notices will not go out as a result of what took place Tuesday. Walker said this is a good thing but a long way from being over and a single step in a journey that began over a year ago to put Alaska on a sustainable budget going forward. It's a little unusual doing it the way said the Governor but it's been done — doing the budget first, then addressing how you are going to fund the budget but that's the way the Legislature chose to do so we will accommodate accordingly.
As of last Wednesday, there were 21 more working days for this special session and the Governor said he will continue advocating for his sustainable budget plan for Alaska.
The Governor said, "We can't continue with business as usual. Last year, we did the exact same thing, reached into the savings account and pull out about $4 billion and we did the same this year of about $3 - 3.5 billion. That is not the answer."
Addressing comments that the Governor and his administration have not engaged enough with Alaskans nor engaged enough with the Legislature the Governor said he was "offended" by these comments because he has watched his team travel the state, thousands of miles to sit down with community after community, with Legislative group after group to present the plan. If someone doesn't understand the plan at this point or a legislator feels we haven't done enough, the Governor said they have not paid enough attention. Walker's Administration fiscal plan engagement noted 400+ meetings with Legislators, 120+ Legislative Hearings, and 65+ Town Hall meetings with Alaskans.
Alaska Department of Revenue Commissioner Randal Hoffbeck spoke about the work that has been done by Walker's administration to move the fiscal plan forward. Hoffbeck said he and his staff, the Attorney General, and consultants brought in, walked the halls and spoke with every legislator that would talk to them about the Permanent Fund Protection Act. Hoffbeck said there were 19 hearings of the Permanent Fund Protection Act. The number one firm in the world on sovereign wealth funds McKinsey & Company were brought in to review the Permanent Fund Protection Act for viability. McKinsey & Company reviewed and testified before the Legislature. Commissioner Hoffbeck said they worked very closely with the Alaska Senate in developing a plan that would work for both the administration and the Senate particularly working with Senator [Anna] MacKinnon and Senator [Lesil] McGuire in taking the plan from a fixed draw to a POMB [Program Objective Memorandum (POM) / Budget ] structure for the plan.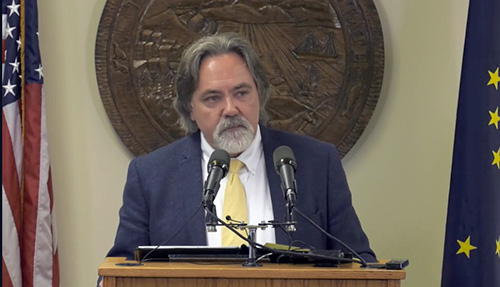 Alaska Department of Revenue Commissioner Randal Hoffbeck
Photo from press conference video.

Hoffbeck said there were over 60 hearings on the oil/gas/tax credits. He said they worked closely with all the committees even the ones that did not particularly like the plan to help them develop a structure around the plan that would mathematically work. Hoffbeck said they had 30+ meetings with industry before the administration rolled out the plan to make sure the administration fully understood the impacts on industry.
Addressing the state income tax, Hoffbeck said there were not very many meetings - 3 or 4 hearings. He said the administration provided the Legislature a 92-page report from ISER [UAA Institute of Social & Economic Research] of the various impacts of the fiscal plan. A big piece of the report addressed income tax and was broken up by income, by regions, the impacts on the state, flat tax, progressive tax. Hoffbeck said Dr. Gunnar Knapp testified numerous times on the income tax. Knapp is the Director and a Professor of Economics with the University of Alaska's Institute of Social and Economic Research.
Now, Hoffbeck said, what the administration is hearing is a "push back" that if the administration can't tell the Legislature exactly what the economic impact of what a particular tax is going to be, the legislators are incapable of voting on that particular tax. Hoffbeck said this is "disingenuous" and does not reflect the work that has been presented or the work that has been done by the administration. "And, quite frankly, does not reflect the impact of the taxes as well," said Hoffbeck.
Hoffbeck said all the taxes are increases to existing taxes - except the proposed state income tax. With a $4 billion shortfall everything we do said Hoffbeck is going to have an impact. Hoffbeck said they did something unique, rather than bring in consultants with fancy power-point graphics and charts, they went out and talked to industry and asked them what it was they could and couldn't tolerate as far as tax increases. He said the administration couldn't meet all industries' desires in some of the taxes but to the extent it could be done. the administration tried to incorporate some of those meetings into the plan put forward.
The taxes are significant to the fiscal challenges. The last motor fuel tax increase was in 1970. Hoffbeck said the average price of gas in 1970 was 36 cents a gallon and the nation had an 8 cent tax. Currently Alaskans have the lowest motor fuel tax in the nation. Alaskans pay 4.7 cents state tax per gallon on gasoline and 3.2 cents states tax per gallon on jet fuel. The proposed Alaska motor fuel tax increase is 8 cents per gallon and Hoffbeck said Alaska would still be the second lowest tax in the nation if the proposed motor fuel tax is passed.
Speaking to the proposed mining tax, the last full year of statistics on mining for Alaska was in 2014 reporting a $2.3 billion in gross income with $570 million in net income. The administration is proposing a $7 million tax increase. Hoffbeck said gold, silver and zink in the last decade has fluctuated from 300 percent to 500 percent. Mining is a commodity driven industry, the tax will not impact the industry said Hoffbeck.
Addressing the fishing industry, in a 2015 Institute of Social & Economic Research report, it cost $26 million more to manage the fisheries program in Alaska than the state collects in taxes. Hoffbeck the administration is proposing a tax to collect $20 million more in taxes which is not even enough to fully manage the program.
Hoffbeck said a 2012 study by NOAA reported $1.7 billion in value to fishermen from the fisheries in Alaska and the administration is proposing a $20 million tax. "And they [legislators] are saying they can't vote on it because they don't know what the economic impact will be," said Hoffbeck.
"Economics of these various industries is driven by the commodity price. These taxes are not going to have a significant impact on these industries," said Hoffbeck.
Hoffbeck said the three points for the funding structure of the Legislature's FY17 budget:
The bond markets will see this as status quo. It is a budget drawing off savings with no fiscal plan structure around it. Although the budget is smaller than in past years, it will be seen as status quo which will result in a reduction in Alaska's bond rating.
There is not enough money in the CBR [Constitutional Budget Reserve] do this a second time. Hoffeck said at best, Alaska will get a one year reprieve that comes with significant penalties.
A large amount of the FY17 budget is being funded with FY16 funds. Hoffbeck said although that works for this year, when the FY18 budget is put together, those funds which will no longer be available will have to be accounted for. That could be up to a billion dollars depending on the ultimate solution is on the oil and gas tax credits.
Pat Pitney, Alaska Office of Management and Budget Director, said the Legislure reported last week they had significantly reduced the deficite down to $1.2 to 1.3 billion but the Legislature moved over $600 million in retirement funds, operating expenses, capital expenses and the oil and gas tax credits from FY!6 to FY17. These are the major monies not reported by the Legislature in their FY17 total.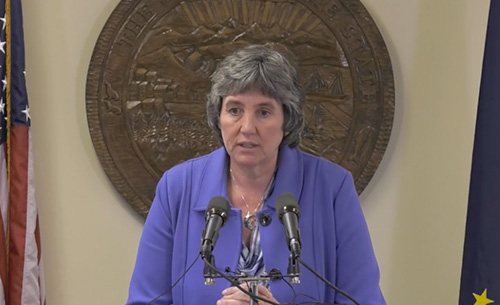 Alaska Office of Management and Budget Director Pat Pitney
Photo from press conference video.

Pitney said when you include the $600 million, Alaska's deficit is back up to $3.8 billion. Pitney said we have not substantially moved the dial and without a fiscal plan the Constitutional Budget Reserve will not be able to fund the budget going into FY18. This is the last year Alaska has with that tool of moving monies from one budget year to another.
Governor Walker said the polls taken statewide have consistently said to fix the budget now. Kicking the can down the road for another year leaves a cloud of uncertainty over Alaska said the Governor.
The bond markets have already warned Alaska several times what they will do and there is no question that the Permanent Fund Dividend will be in jeopardy if the budget is not fixed this year said the Governor.
The governor warned that individual taxes will be much higher if Alaska goes through another year without fixing the fiscal problem. Walker said the companies that we want to invest in Alaska's economy will just sit back another year because of the uncertainty. Walker said real estate values will drop and job markets will be impacted without a fix. "The economic uncertainty will continue as long as we choose not to fix this problem," said Walker.
Walker said he thinks about what the previous Governors Hammond, Egan, and Hickle would do in this situation and he thinks they would do exactly what Alaskan are telling him to do, "fix the problem, fix it now, don't kick the can down the road, don't delay this for another year".
Walker said Alaska does not have to go through these difficult financial times because all the tools are available if elected officials have the "poliltical courage" to step up and use the tools available. It's not about taxes, this is about fixing Alaska said the Governor and asked the Alaska Legislature last Wednesday to stand with him and fix Alaska now.
In response to the administration's statement Wednesday that the Alaska State Legislature did not significantly reduce the budget, "This budget did not use smoke and mirrors to artificially show cuts to the budget," said Sen. Pete Kelly (R-Fairbanks), co-chair of the Senate Finance Committee.
"In fact, one of the challenges we had in constructing this year's budget was overcoming the smoke and mirrors that were built into the budget the administration gave us in the first place. We delivered a straightforward budget for the people of Alaska, which made actual cuts to state government," said Sen. Kelly.
The Senate Majority clarified the $418 million in real budget cuts for FY17 (7.1% reduction over FY16) that the legislature approved with its passage of HB 256, 257 and SB 138 on May 31st, Tuesday:
Operating budget cuts – $336.2 million for FY17 in state agency reductions, and PERS/TRS annual costs which are lower due to the $3 billion cash infusion made in FY15 – a strategic financial decision made two years ago that will result in continued cost reductions.

Capital budget – funded $38 million less than in FY16 budget, and $96 million less than the Governor proposed. These minimum funds are critical for leveraging federal match dollars and putting money into local economies.

Reform measures – $43.8 million in cost savings for FY17 including $10 million from Medicaid reform; $3.8 million from criminal justice reform; and $30 million from community assistance fund restructuring.
Governor Walker would not say last Wednesday when asked if he would sign the budget passed by the Legislature on May 31st or veto parts of it.
On the Web:
Press Conference video
https://vimeo.com/168999109
Related News:
Budget Compromise Prevents Threat of Government Shutdown By MARY KAUFFMAN
SitNews - May 31, 2016
Source of News:
Office of the Governor - Press Conference 06/01/16
www.gov.state.ak.us

Office of Alaska Senate Majority
www.leg.state.ak.us
Representations of fact and opinions in comments posted below are solely those of the individual posters and do not represent the opinions of Sitnews.

Contact the Editor
SitNews ©2016
Stories In The News
Ketchikan, Alaska

Articles & photographs that appear in SitNews may be protected by copyright and may not be reprinted without written permission from and payment of any required fees to the proper sources.

E-mail your news & photos to editor@sitnews.us

Photographers choosing to submit photographs for publication to SitNews are in doing so granting their permission for publication and for archiving. SitNews does not sell photographs. All requests for purchasing a photograph will be emailed to the photographer.