Legislative Hearing Held for Landless Native Communities of Southeast Alaska
By MARY KAUFFMAN
June 19, 2015
Friday PM

(SitNews) Ketchikan, Alaska - Alaska Congressman Don Young (R-AK), Chairman of the Subcommittee on Indian, Insular and Alaska Native Affairs, held a hearing Wednesday on legislation he introduced to resolve the longstanding issue facing "landless" Alaska Natives from the southeast communities of Haines, Ketchikan, Petersburg, Tenakee and Wrangell.
The Unrecognized Southeast Alaska Native Communities Recognition and Compensation Act (H.R. 2386) would provide Alaska Native residents of these Southeast Alaska Native communities the same 23,000 acres granted to other Alaska Native communities in Southeast under ANCSA.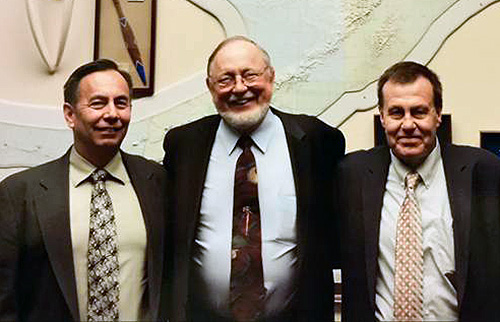 Congressman Young poses with Leo Barlow, Wrangell representative for the Southeast Alaska Landless Corporation (SALC) pictured on the right, and Sealaska Director Richard Rinehart (Seattle) pictured on the left.
Photograph courtesy Sealaska

"These Alaska Natives were denied the opportunity to establish village or urban corporations under the Alaska Native Claims Settlement Act (ANCSA) process in 1971," said Congressman Don Young in his opening statement. "Natives who enrolled in these communities became at-large shareholders in their Southeast Alaska regional corporation, but were denied aboriginal rights to land and local resources that other village and urban corporations received under ANCSA. Unfortunately, ANCSA prohibits these communities from obtaining an administrative or judicial solution, which is why I've made legislative efforts to provide these groups with the lands and rights they deserve."
The Unrecognized Southeast Alaska Native Communities Recognition and Compensation Act, would recognize five Southeast Alaska communities under ANCSA, establish urban corporations for these communities, and provide a process for the newly established urban corporations to negotiate with the Department of the Interior to select surface estates of federal land that would be conveyed to the corporations as compensation —the same amount of land that other native villages received under ANCSA.
The Obama Administration claims that, because these five communities were originally deemed ineligible for receiving land under ANCSA, the issue should be closed despite the unjust determination. Congressman Young contends that the Administration's opposition to H.R. 2386, based on the idea it would set bad precedent for aboriginal land claims, is entirely misguided. He says it is Congress' authority to pass, review and update laws.
"You use the word precedent, but is there any good reason to deny the aboriginal land claims of these five native communities?" Congressman Young asked. "Only we can open it up. You see, there is no precedent. Only the Congress can do it… We passed [ANCSA] and what we pass, we can rectify. That's our role as this Committee."
Leo Barlow, Wrangell representative for the Southeast Alaska Landless Corporation (SALC), testified on H.R. 2386 urging members of Congress to recognize the five "landless" communities. "The 3,425 Natives who originally enrolled to Haines, Ketchikan, Petersburg, Tenakee, and Wrangell comprised over 20 percent of the shareholders of Sealaska Corporation in 1972," said Barlow. "Over the years we have received revenue-sharing distributions from Sealaska to section 7(j) of ANCSA, but have not enjoyed the social, economic and cultural benefits of owning shares in a Village, Urban, or Group Corporation."
Asked by Congressman Young why he believes these five communities were excluded from the ANCSA land conveyance, Leo Barlow – testifying on behalf of the Southeast Alaska Landless Corporation – said there is no definitive answer on record.
"There has been much speculations over the years, and there's certainly no record why there was not a conveyance to the five affected communities," Barlow said. "There are a lot of suspicions, of course the timber contracts that you mentioned, as well other activities… but we really don't know why we were not included. All we know is that the University of Alaska report confirms this, there is nothing on the record. Therefore, we will continue to pursue resolution of this issue because the battle isn't over yet."
"Many of the Village or Urban Corporations in Southeast are bringing significant economic benefits to their communities," said Sealaska director Richard Rinehart who also testified. "We have been deprived of the significant cultural benefit of owning an interest in lands located within and around our traditional homelands."
In 1993, Congress directed the Secretary of the Interior to prepare a report examining the reasons why the five communities had been denied eligibility under ANCSA. The report concluded that the five communities meet the requirements to form Native Corporations. The report noted that, with the exception of Tenakee, the communities appeared on early versions of Native village lists and the subsequent omission was never clearly explained in any provision of ANCSA or in the accompanying conference report.
While in Washington, D. C, Barlow and Rinehart meet with the Alaska Congressional Delegation and committee offices advocating for the passage of H.R. 2386 as well as S.872. "We need our landless community to reach out to congress and show support for these bills," said Barlow.
U.S. Senators Lisa Murkowski (R-AK) and Dan Sullivan (R-AK) introduced a similar bill, S.872, on March 26, 2015.
"Unfortunately, 44 years have passed and the Native people of these five 'landless communities' are still waiting to receive the same benefits granted to the rest of Alaska Natives under ANCSA," said Sen. Murkowski said on March 26th when the legislation was introduced. "The legislation we are introducing today is an important step toward ensuring that the Native residents of these communities are made whole."
"This legislation would right the wrong of excluding Ketchikan, Wrangell, Petersburg, Tenakee and Haines from forming village or urban corporations under ANCSA," Sen. Sullivan said when introduced in March. "This effort has been long in the making and I am dedicated to working with all stakeholders to ensure that justice is served."
The Alaska Native Lands Claim Settlement Act (ANCSA) was passed in 1971 and settled Alaska Native land claims in exchange for $966 million and 44 million acres of land issued to 13 regional corporations and more than 200 village or urban corporations. However, Alaska Natives in Ketchikan, Wrangell, Petersburg, Tenakee and Haines were not allowed to form urban corporations and therefore were ineligible for the town site lands. The legislation introduced in the Senate and House would rectify that oversight.
The legislation would permit the formation of local Alaska Native urban corporations in each of the five communities so that they could each receive title to the surface rights to 23,000 acres. Subsurface rights to ANCSA lands went to the larger regional corporations created under the 1971 law.
A 1994 study by the University of Alaska's Institute of Social and Economic Research found that these five Southeast Alaska Native communities should have qualified under ANCSA for local corporation status.

Landless community leadership in SE Alaska:
Joseph Reeves (Ketchikan)
James Llanos (Ketchikan)
Leo Barlow (Wrangell)
Myrna Torgramsen (Wrangell)
Brenda Louise (Petersburg)
Cecilia Tavoliero (Petersburg)
Al Hill (Tenakee)
Tom Paddock (Tenakee)
Sue Folletti (Haines)
Harriet Brouillete (Haines)
On the Web:
A Study of Five Southeast Alaska Communities - February 1994 (105 pages)
http://www.iser.uaa.alaska.edu/Publications/StudyOf5-SE-AK-Communities.pdf

H.R. 2386, the Unrecognized Southeast Alaska Native Communities Recognition and Compensation Act
http://naturalresources.house.gov/uploadedfiles/2386hearingmemo.pdf

S.872
http://www.energy.senate.gov/public/index.cfm/
files/serve?File_id=c4e4d759-ddff-4258-8fff-d1211f456603
Sources of News:
U.S. Rep. Don Young
www.donyoung.house.gov

Sealaska
www.sealaska.com

U.S. Sen. Lisa Murkowski
www.murkowski.senate.gov

U.S. Sen. Dan Sullivan
www.sullivan.senate.gov
Contact the Editor
SitNews ©2015
Stories In The News
Ketchikan, Alaska

Articles & photographs that appear in SitNews may be protected by copyright and may not be reprinted without written permission from and payment of any required fees to the proper sources.

E-mail your news & photos to editor@sitnews.us

Photographers choosing to submit photographs for publication to SitNews are in doing so granting their permission for publication and for archiving. SitNews does not sell photographs. All requests for purchasing a photograph will be emailed to the photographer.