Thanks to the Naushon
By Jerry Cegelske
June 08, 2011
Wednesday

For those of us who frequently get out on the water close to the Bar Harbor marina, we get to see some of the material that the wind and tides have deposited on the breakwater as well as the shoreline around the harbor. For many, the area didn't look bad as seen from the harbor or shore as the material was deposited on the windward side of the breakwater, but it was very visible from the water.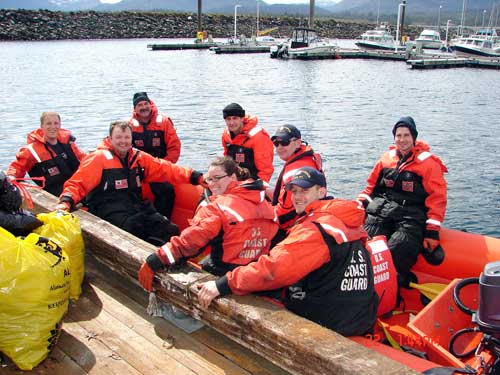 Some of the Naushon crewmembers with a little of the
marine debris collected on April 22nd.

That area is now cleaner thanks to the work of the crew of the USCGC Naushon who spent April 22nd cleaning up the area. They collected over 700 pounds of marine debris which may not sound like much, but it was enough to make two pickup truck loads. The terrain they had to walk on didn't make it easy to collect the material.
I previously observed the Styrofoam blocks, strapping material and other items collected around the boulders. We tried to remove some of it with little success.
I would like to extend my "Thanks" to the following crewmembers of the Cutter Naushon for their dedication and hard work:
CO Lt. Jeff Rasnake, XO Ltjg. Tara Schendorf , MKC Greg Thrush Eng. Off., BM1 Jason Fowler, Ops Off., BM1 Doug Sigman, EM1 Adam Rogerson, MK2 Randy Lawson, BM2 Max Uberstine, BM3 Alex Ward, Bm3 Jacob Rawlins, Mk3 Steve Sugar, SA Billy Weinold, and SA Nick Callison, for helping make Ketchikan a better, more beautiful place for resident and visitor alike.
A special "Thank you" to Scott Isaacs, Keep Alaska Beautiful Director, for transporting the collected marine debris to the landfill in his truck and assisting in the cleanup.
Jerry Cegelske
Ketchikan, AK