Worman Holds Lead To Win 2011 Derby
Sanderson's 11th-hour entry wins youth ladder
June 13, 2011
Monday

(SitNews) Ketchikan, Alaska - The fish was only the second entry of the entire derby, but Kyle Worman's 49.7-pound king bested 1,118 other entries to win the 64th Annual Ketchikan CHARR King Salmon Derby. After a shout of excitement following the notice he'd hung on to win, Worman followed with, "I'm pretty relieved it is over, to be honest." Worman's winner is the biggest fish to win the Ketchikan CHARR derby in more than 5 years.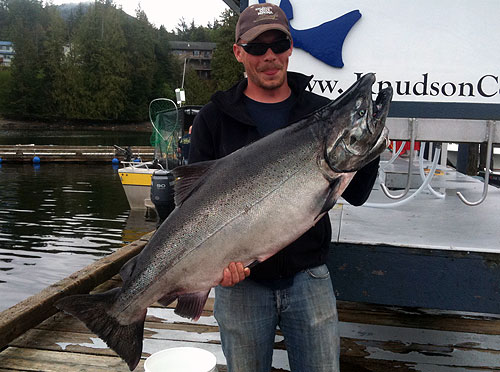 64th Annual King Salmon Derby:
Kyle Worman's 49.7 lbs King Leader in Week 1, 2 & 3
Photo courtesy Ketchikan CHARR King Salmon Derby

The fish came early on the first day of the derby in an area just north of Knudson Cove. Worman said he felt like the fish took an hour to reel in, but in actuality the fight probably lasted more like 20 minutes. Even after getting the fish into the boat he didn't know he was staring at the eventual winner.
"I'd caught a couple kings in the high 30's before and thought this one was slightly bigger than those, but I didn't think it would almost hit 50 pounds." Worman then had to sit through the torment of three full weekends of fishing by over 1,000 participants to see if his fish would hold the top spot. To his relief it did. "I thought that since I had caught one that big there was certainly another one out there that could beat it. I'm just glad no one found it before the derby ended," Worman said. His fish will fetch him the $10,000 cash grand prize, which he said will likely go to paying bills, after which he joked that some of the prize money was going to have to go towards a mount.
The derby's final weekend saw nearly 700 anglers out on the water catching a combined 345 fish, weighing 6275 pounds. The weekend's catch put the total derby catch at 1,188 fish, 400 more than were checked in during the 2010 derby.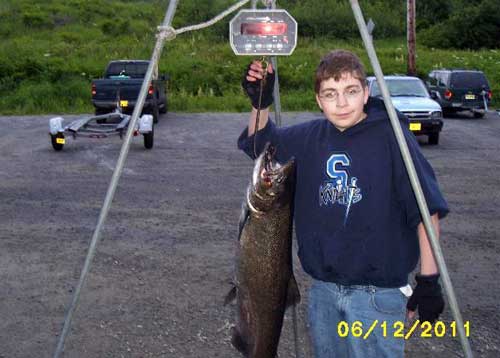 Keenan Sanderson won the 2011 Youth Ladder with a 30.1-lb king at 8:00 PM on Sunday night.
Photo courtesy Ketchikan CHARR King Salmon Derby

In a surprise finish, Keenan Sanderson defended his 2010 Youth Ladder title by posting a 30.1-lb king at 8:00 PM on Sunday night. Keenan's 27.8-pounder won the youth ladder in 2010. Sage Mirsky, who 27.9-lb entry had been at the top of the youth ladder since the second weekend ended up taking second place.
"This year's derby was another smashing success," said derby coordinator Russell Thomas. "We had a lot of participation, the weather cooperated pretty nicely, and there were a lot of fish turned in." Thomas also thanked the many volunteers that make the derby successful. "This event would not be possible without the hard work and effort of a lot of people. From the non-profits that run the weigh stations, to the derby committee, to the many businesses that donate prizes, the success of the event is a result of their collective effort."
Participants vied for more than $90,000 in cash and prizes over the three-weekend derby.
Derby results remain unofficial until June 20th when the derby committee meets to certify the results. Anyone may contest an entry in writing to the derby committee prior to certification.
The awards ceremony will take place on June 24th at the Ted Ferry Civic Center, beginning at 6:30 PM. Derby contestants choose their prizes during the awards ceremony based on their placement on the derby ladder.
On the Web:
Leader Board
http://www.fishingderbyonline.com/DerbyLeaderboard?prizeCategoryID=271

Official Rules
http://www.ketchikankingsalmonderby.com/rules.html

Prize Categories
http://www.ketchikankingsalmonderby.com/prizes.html
2010 King Salmon Derby Winner:
Cunningham Holds On Through Week Three To Win 63rd Annual Derby - Robert Cunningham had to wait from his home in Nampa, Idaho, unable to participate in the final weekend of the 63rd Annual Ketchikan CHARR King Salmon Derby, and just hoping that no one would best his 42.4-pound king caught during the second weekend. He breathed a sigh of relief at 11:01 pm Mountain Standard Time as the derby ended with him on top. - More...
SitNews - June 15, 2010
Source of News & Photograph:
Ketchikan CHARR King Salmon Derby
www.ketchikankingsalmonderby.com
E-mail your news & photos to editor@sitnews.us


Publish A Letter in SitNews Read Letters/Opinions
Contact the Editor
SitNews ©2011
Stories In The News
Ketchikan, Alaska

Articles & photographs that appear in SitNews may be protected by copyright and may not be reprinted without written permission from and payment of any required fees to the proper sources.