32-year-old Coast Guard icebreaker breaks down,
will not support 2010 Arctic mission
June 30, 2010
Wednesday

(SitNews) - The U.S. Coast Guard announced Friday unexpected engine casualties aboard the Coast Guard Cutter Polar Sea, one of the service's two large polar icebreakers, will eliminate their fall patrol providing Arctic support to Alaska this year.
The Polar Sea was scheduled to support operations in the Arctic as well as Arctic Crossroads 2010 operations in August but will likely be in a maintenance status and unavailable for operations until at least January 2011.
"It is disappointing the Polar Sea will be unable to support Coast Guard Arctic tasking this summer," said Rear Adm. Christopher Colvin, commander of the 17th Coast Guard District. "Arctic Crossroads is an important Coast Guard operation demonstrating presence and enforcement of sovereign rights in the U.S. Arctic maritime. Additionally Polar Sea was to provide critical search and rescue standby during a period of increased human activity in the U.S. Coast Guard's search and rescue coordination area of the Arctic Ocean."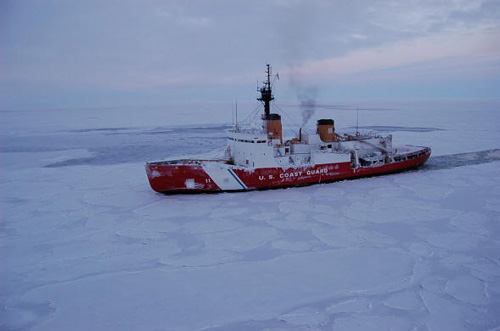 Coast Guard Cutter Polar Sea, one of the service's two large polar icebreakers...
U.S. Coast Guard Photograph

Polar Sea was also preparing to conduct oil spill recovery exercises and extending community outreach activities to rural Alaskans Natives in the high latitudes.
The Polar Sea last patrolled Alaskan waters in February during a two-month deployment in support of Bering Sea Ecosystem Study. The BEST spring scientific cruise is part of a six-year study of the Bering Sea ecosystem supported by the National Science Foundation and the North Pacific Research Board centrally focused on examining the impacts of changing ice conditions on food web structure.
The Coast Guard's other large polar icebreaker, the Polar Star is in the process of being reactivated for service, but will not be ready until 2013. The Coast Guard Cutter Healy, with lesser icebreaking capabilities than the polars, remains operational and is currently conducting global warming research for NASA in the arctic.
The Coast Guard said a recent inspection of the Polar Sea's main diesel engines revealed premature excessive wear in 33 cylinder assemblies. The Coast Guard said an analysis into the cause of the excessive wear is underway and will be completed by mid-August. Depending on those results, the Coast Guard said additional repairs may be required, which could further extend the repair period beyond next January.
U.S. Sen. Lisa Murkowski, R-Alaska, was informed Friday that the U.S. Coast Guard Icebreaker POLAR SEA, the nation's only functioning heavy icebreaker, will be unavailable for service until at least January 2011 due to engine problems. She said in a prepared statement, "On a national level, this eliminates the nation's only heavy icebreaking capability and seriously imperils our ability to respond to emergencies in ice-covered and ice-diminished waters. This could clearly impact our ability to preserve and protect U.S. interests in the Arctic."
"The loss of the POLAR SEA is all the more reason for Congress and the Administration to refocus on the deteriorated state of the nation's icebreaker fleet," Murkowski said. "Ice-breaking capability is critical to our national security and America's energy security."
Murkowski has introduced legislation to fund construction of two new Polar class icebreakers and improve mapping, navigation and maritime infrastructure in the Arctic.
There are only two Polar class icebreakers - the POLAR SEA and POLAR STAR - along with the icebreaker HEALY, which is primarily used to support scientific research. The POLAR STAR, however, is currently in a 'caretaker status' and is undergoing extensive repairs and won't be available for operations until 2013.
The Polar Sea was commissioned into service on Feb. 23, 1978, and has exceeded its intended 30-year life; in 2006 the Coast Guard completed a rehabilitation project that extended its service life to 2014. The Polar Star was placed in a caretaker status in 2006 and is currently completing a seven to 10 year, service life, extension project that is expected to return it to an operational status in early 2013.
Sources of News:
United States Coast Guard
www.uscg.mil

Office of U.S. Senator Lisa Murkowski
www.murkowski.senate.gov
E-mail your news & photos to editor@sitnews.us


Publish A Letter in SitNews Read Letters/Opinions
Contact the Editor
SitNews ©2010
Stories In The News
Ketchikan, Alaska