Alaska Science
Alaska heavy with summer insects
By NED ROZELL
June 24, 2010
Thursday

In these days of endless sunshine and air that doesn't hurt to breathe, life is rich in the north, from the multitude of baby birds hatching at this instant to the month-old orange moose calves restocking the Alaska ungulate population. Less seen are the millions of insects now dancing across the tundra and floating in air.
Because of they come to us, mosquitoes are perhaps the most noticeable of Alaska's insects. Peter Adler, a professor of entomology at Clemson University who does work in Alaska, reported the possibility that more than 12 million adult mosquitoes may live above each acre of the worst-infested northern tundra. He also quoted other scientists who measured more than 600,000 black fly larvae in about three square feet of streambed.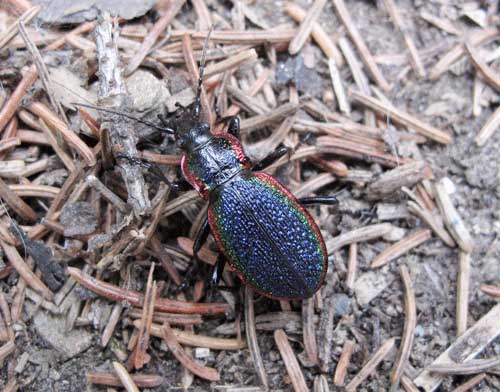 A beetle, species unknown, in a Fairbanks backyard.
Photo by Ned Rozell

The floor of the boreal forest is often so alive you can almost see it move. Biologist Stephen MacLean once did the math - about one-half million soil mites, eight-legged relatives of the spiders, occupy each three-foot square of soil by the end of summer.
"To convert that to more meaningful units, I drew a line around my size 11 boot and found that each step on the forest floor covers about 44 square inches," MacLean wrote in this same column in 1980. "Thus, by August, each footstep pads down on more than 10,000 individual mites, the largest of them about the size of a pinhead."
MacLean also calculated he stepped on 2,000 springtails per footfall. Springtails are tiny, six-legged relatives of insects that catapult their way out of trouble using an appendage that folds under their abdomen like a jackknife blade. People sometimes see springtails hopping on the snow in early spring.
"Together, the soil mites and the springtails form a mass of about 34,000 pounds per square mile," MacLean wrote. "That is equal to 43 moose."
If crushing a few of these creatures bothers your conscience, you might try walking the snowfields of the high country, but that seems only slightly better. John Edwards, a scientist from the University of Washington, took a good look at snow beds at Eagle Summit north of Fairbanks and found them crawling with insects, as Stephen MacLean again reported here, also in 1980.
On the snow, Edwards found dozens of large carpenter ants, even though the winged creatures didn't live on the nearby tundra. The ants were blown up from spruce forests far below; downdrafts over the snowfields grounded them and made them available to other creatures.
"Small flies and aphids also contributed large numbers of insects to the snow surface," MacLean wrote. "Eight species of birds, ranging in size from small Lapland longspurs and water pipits to common ravens, were observed feeding on the feast, neatly removing and eating the fat-filled abdomens of carpenter ants while leaving behind the head and thorax, with their unpleasant dose of formic acid."
Though larger life forms like the nervous moose in the roadside ditch get all our attention, the real biomass in Alaska is hovering in the air and crawling the tundra and icefields. In Alaska and elsewhere on the planet, home to about 10 quintillion living insects, most species - including 300,000 types of beetle - wear their skeletons on the outside.
This column is provided as a public service by the
Geophysical Institute, University of Alaska Fairbanks, in
cooperation with the UAF research community.
Ned Rozell [nrozell@gi.alaska.edu] is a science writer at the institute.
E-mail your news & photos to editor@sitnews.us


Publish A Letter in SitNews Read Letters/Opinions
Contact the Editor
SitNews ©2010
Stories In The News
Ketchikan, Alaska