Alaska pathway seems free of deadly bird flu
By Ned Rozell
June 20, 2008
Friday

Asian bird flu and its connection to Alaska was big news a few years ago, when dozens of Alaska scientists started checking birds migrating from Asia. So far, the news from the field is good.
"There are strains of avian flu here, but not of the deadly stuff-thank goodness," said Greg Wilkinson of the Alaska Department of Health and Social Services.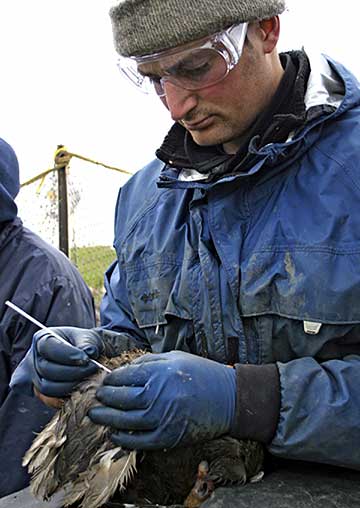 U.S. Geological Survey biologist Dan Rizzolo swabs an emperor goose to test for avian influenza on the Yukon Delta National Wildlife Refuge in 2006. Alaska scientists have performed this action on multiple thousands of birds migrating through Alaska.
Photo by Donna Dewhurst
The U.S. government spent millions in the last few years to enable biologists to capture migratory birds and swab their rear ends to search for signs of a deadly virus first found in Hong Kong in 1997. Since 2003, the Asian H5N1 virus has spread west across Asia to Europe and Africa, and has killed more than 240 people.
Alaska, so far, is clean.

"All agencies collectively sampled over 20,000 wild birds in Alaska, and the bottom line is that in 2006, we found garden-variety avian flu in 1.7 percent of those birds, and we didn't find any of the Asian H5N1," said Tom Rothe, the statewide waterfowl coordinator for the Alaska Department of Fish and Game. "In 2007, we sampled over 12,000 birds and 0.7 percent had common, low-pathogen influenza. Nationwide, over 100,000 birds were sampled (in 2006 and 2007) and nobody found any Asian H5N1."

In 2008, Alaska researchers will again test about 12,000 birds, most of them waterfowl that can pick up flu viruses by ingesting water fouled with the feces or other bodily fluids of birds.

Jon Runstadler, a veterinarian and an assistant professor at UAF, is part of a team that has sampled 4,000 birds in Alaska since 2005 and 4,000 in the Russian Far East, Japan, and Mongolia since 2006.

"We found a lot of viruses, mostly in waterfowl, and most of those have come out of ducks in Minto Flats, which seems to be a relative hotspot for influenza," he said. "But we've not found any viruses that are highly pathogenic, and no H5N1."

This year, Runstadler and his colleagues are sampling birds at Minto Flats all summer, rather than just convenient periods to catch birds, such as when they are molting and lose their flight feathers.

"It's fading away in the media," Runstadler said of the hubbub over the H5N1 virus, but "most people studying influenza feel like there will be a pandemic, or a pandemic-like situation, at some point due to the fact that it's a virus that does unique things in the way it evolves and exists in the natural world."

The 1918 influenza virus that killed 50 million people-and wiped out entire villages in Alaska-was a bird flu that jumped to humans, which is why those in the know have paid attention to H5N1. Flu viruses are so mysterious that researchers think it's worthwhile to keep tabs on them, no matter that the present danger seems small.
"While H5N1 is currently the most likely candidate because it's out there causing problems and moving around, we don't really know whether H5N1 is going to cause a problem, or whether (a similar type of virus will cause a problem)," Runstadler said.

Why haven't Alaska scientists been finding infected birds here? The Pacific Ocean and Bering Sea might be acting as barriers to the deadly strain of flu that might be present in birds while they winter in Vietnam, Thailand, or Indonesia.

"Maybe they can't carry (the virus) that long," Rothe said. "Maybe they die before they get here, or the virus runs its course."

Whatever the reason the deadly virus isn't showing up here, scientists will keep checking birds as long as the funding arrives to do so.

"If Congress thinks it's still an important enough project, we'll keep testing birds," Rothe said.
This column is provided as a public service by the Geophysical Institute, University of Alaska Fairbanks, in cooperation with the UAF research community.
Ned Rozell [nrozell@gi.alaska.edu] is a science writer at the institute.
E-mail your news & photos to editor@sitnews.us


Publish A Letter in SitNews Read Letters/Opinions
Contact the Editor
SitNews ©2008
Stories In The News
Ketchikan, Alaska