1st Annual Ketchikan Youth Initiatives Fun(d)Raiser a Success
June 18, 2008
Wednesday

Ketchikan, Alaska - Approximately one-hundred gathered to take part in the first annual Ketchikan Youth Initiatives (KYI) Fun(d)Raiser event held at Skinner's Sales and Services show room and grounds on May 17th. The event showcased several activities that KYI is involved in supporting or promoting, such as Paintball, Skateboarding, and a Youth Community Center.
Throughout the evening, skateboarders were grinding and jumping, paintballers were popping away at targets, younger kids were enjoying a cupcake walk, face painting, shaving cream art, puppet making, and a fishing booth (for candy and other snacks).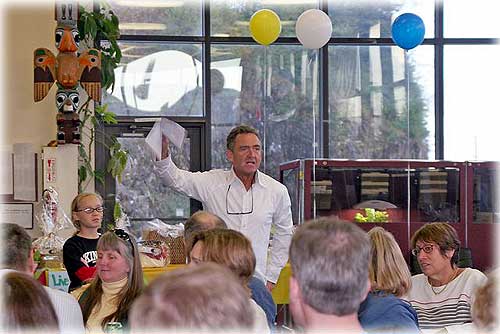 Auctioneer Rob Skinner describes the listed auction items.
Photograph by Ty Rettke, President of KYI

The Duckworths (John, Danielle and Austin) came out in force and provided a delicious feast of barbeque pork sandwiches, baked beans, hot dogs, salad, and other goodies.
The main event was the auction and the pie-eating contest. There were many donations made to create over 30 auction baskets with themes such as gardening, a romantic night out, fishing fun, movie night, tourist for a day, health and beauty, family fun, and many more. Rob Skinner, as the auctioneer, brought humor and wit to the crowd of approximately 100 adults and children.
Through the auction, ticket sales, and donations, the event raised nearly $4,000 to support Ketchikan Youth Initiatives' projects and programs.
Ketchikan Youth Initiatives extended a heartfelt thank you to the participants, the bidders and the donors for all their work in making KYI's first event a huge success.
Contributors:
Alaska Glass, Rick Alford, Dawn Allen-Herron, AmeriCorps NCCC Gold3 Team, Bernie's Sales, Boys & Girls Club, Business Computer Systems, Steve & Cynthia Calhoun, Kelly Chick, The Cleaners, Nancy Coggins, Carolyn Dixon, Michael Dixon, Danielle and John Duckworth, Jack Duckworth, Jim Eakes, Everyday Alaska Gifts, Tom Ferry, First City Players, Food Services of America, Frontier Shipping & Copyworks, Kevin Gadsey, Gateway Shoe & Vacuum Repair, GCI, Get Fit Stay Fit Gym, Joy Davis Greene, Kay Gundersen, H&R Block, Holistic Family Care (Joann Flora), Amos Hopkins, Hubbard Construction, Hummingbird Services, Inspirations Hair Salon, Bea Jones, Jud's Office Supply Inc, Ketchikan General Hospital, Ketchikan Lock & Key, Ketchikan Youth Court, KFMJ, DruAn Kindred, DC Mac, KRBD, KTKN, Roxanne Larson, Cathy LeCompte, Shauna Lee, Lessons a'Lallette, Bobbie McCreary, More Than Carpets, Narrows Inn Restaurant & Marina, New York Hotel & Café, Newman's Own, Northern Sales, Northland Services Inc, Ocean View Restaurante, Orca Corn, Petro Marine Services, Gigi Pilcher, Radio Shack (Videl), Rainskates (Pete Halvorsen), Ralph's Home Repair, Ty Rettke, Rose's Caboose, Rx Massage & Spa, Safeway, Salon Park Avenue, Jose Sambrano, Kevin Sarber, Carlos and Danielle Sepulveda, Rick Serpa, SitNews, Skinner Sales and Service, South Tongass Service, Debbi Steele, Tongass Business Center, Totem Take Out, Tovya Fishing Charter (Ray Kolean), Wal-Mart Stores Inc, Waldenbooks, Susan Walsh, Ward Cove Deli & Liquor, Ward Creek Industrial Supply, Sharyl Whitesides, Denise Whitton, Ron Whitton, Wilderness Exploration & Crab Feed, Wind & Water Charters and Scuba
Volunteers:
AmeriCorps NCCC Gold3 Team, Nancy Coggins, Denise Whitton, Roxanne Larson, Joy Davis Greene, Jose Sambrano, Kevin Sarber, Ron Whitton, Pete Halvorsen, KYI youth, and Rob Skinner and his staff
E-mail your news & photos to editor@sitnews.us


Publish A Letter on SitNews Read Letters/Opinions
Contact the Editor
SitNews ©2007
Stories In The News
Ketchikan, Alaska