Efforts to Build New South Tongass Fire Station Continue
by M.C. Kauffman

June 21, 2007
Thursday

Ketchikan, Alaska - The South Tongass Volunteer Fire Department (STVFD) continues in their efforts to build a new fire station that will meet the current needs of the community. The new fire station would be located on Borough owned property between the Mountain Point wastewater plant and the Seawatch subdivision.

STVFD Fire Chief Scott Davis said, "To date, several meetings have happened along with an open house of the residents around the proposed fire station location." He said, many more meetings and opportunities for comments and suggestions are planned in the near future.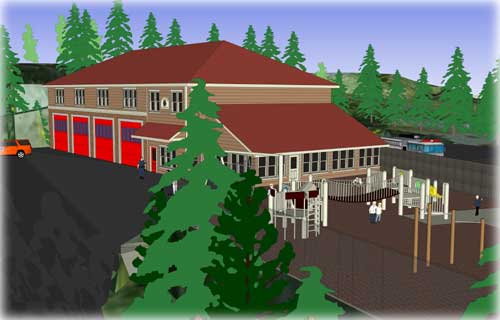 Proposed South Tongass Volunteer Fire Station by Kyan Reeves
Graphic courtesy STVFD


Davis said the next meeting scheduled for June 27th at Fawn Mountain Elementary School will be a Board of Directors meeting at which time the future fire station for the South Tongass Volunteer Fire Department will be discussed. "Everyone is encouraged to attend," said Davis.
Then on July 10th, Davis said the Borough Planning Commission will consider a request for a rezone of the Mountain Point property to facilitate a fire station. With approval of the rezone of property request, it would then be forwarded to the Ketchikan Borough Assembly for their consideration and for public comment on August 6th and August 20th 2007 said Davis.

Chief Davis said, "The South Tongass Volunteer Fire Department encourages public comment and suggestions as this fire station will incorporate many community functions..."
In addition, he said, the playground that is planned needs parental comments and suggestions. Participation on the "playground committee" is also needed. The playground committee, comprised of four department members and one resident from Seawatch, needs your input and participation, said Davis.
Since its formation in 1981, South Tongass Fire Chief Scott Davis said department members have increased 800%. When the current South Tongass Volunteer Fire station was built in 1981 there was little or no consideration of building standards and codes, and no room for the addition of new areas said Davis. With numerous regulatory items and equipment required of a fire station today, the square footage to house this equipment does not exist in the current STVFD facility said Davis.

"We're extremely excited about the possibility of realizing a new fire station for the residents of the South Tongass Area and are working diligently to make this facility a reality," said Chief Davis.
Related Article:
South Tongass Volunteer Fire Department In Need of Adequate Station - The square foot challenged South Tongass Volunteer Fire Department has increased its membership over the years and additionally has seen an increase in the various firefighting equipment needed to serve the South Tongass community. - More...
January 17, 2007
E-mail your news, photos & letters to editor@sitnews.us


SitNews ©2007
Stories In The News
Ketchikan, Alaska