Viewpoints
It's working! July 4th Paintball Tournament
By Bobbie McCreary
June 27, 2007
Wednesday

If you want to see our youth at work, come out to the Ketchikan Hot Shots Paintball Park...choose a day when they are hosting a group of crew members from a cruise ship or COME OUT ON JULY 4th-to play in the season opening TOURNAMENT (4-person teams, reg fee is $5 per person--see flyer attached.) CALL 617-0102 for info.

The Hot Shots may be the only youth led and operated, non profit paintball park in the US. With the community's support, this venture is now getting off the ground and you should be really proud of our youth leaders. Selling to groups, like cruise members off the ships, greatly reduces the cost to the HOT SHOTS members. Now youth can join the League for just $5 a year, have access to equipment at no charge and earn free paint by working at the field.

They have a paid field manager, Bill Pearson, a Kayhi student who oversees a group of helpers who work for paint (expensive stuff--a single bag costs $12). These youth take the full responsibility for managing the people at the site, keeping the sport safe, and keeping the equipment in good shape.

Ketchikan Youth Initiatives (KYI), the oversight organization, helps with the financial and administrative aspects and promotion of the program (again with talented youth at work...I hope you have heard the Tournament PSA on KRBD recorded by Forrest Townsend or have seen the recent interview on KTKN with Austin Duckworth and Tara Wilhelm.)

Come on out, lend a helping hand, have some fun. The tournament runs from 4 to 7pm with free play following. Musicians welcome. CALL 617-0102 to register your 4 person team for the tournament, to offer to play music that afternoon/evening, or to offer a scheme for providing food at the site. See you on July 4th!
Bobbie McCreary
kyi[at]kpunet.net
Ketchikan, AK


Received June 26, 2007 - Published June 27, 2007
About: "A youth advocate and one of the founders of Ketchikan Youth Initiatives. KYI serves youth and young adults ages 14 to 24"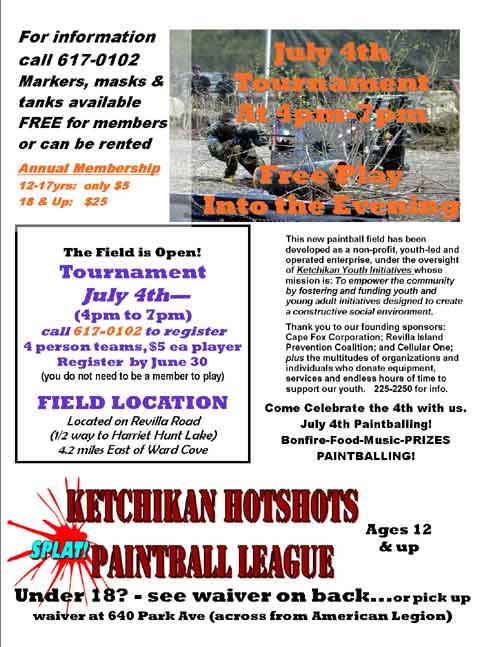 Viewpoints - Opinion Letters:
Webmail Your Opinion Letter to the Editor
Note: Comments published on Viewpoints are the opinions of the writer
and do not necessarily reflect the opinions of Sitnews.
E-mail your letters & opinions to editor@sitnews.us
Your full name, city and state are required for publication.


SitNews ©2007
Stories In The News
Ketchikan, Alaska