Iraqi Security Forces Making Significant Progress
By David McKeeby
June 29, 2006
Thursday

Washington - The new Iraqi security forces are making significant progress and are on track to have most of the administrative systems required to field even more robust operations in place by the end of the year, says a top coalition general.
"The performance of the Iraqi units in the field, given what they're facing, has actually been quite remarkable in my view," U.S. Army Lieutenant General Martin Dempsey told journalists at a June 27th Pentagon press briefing.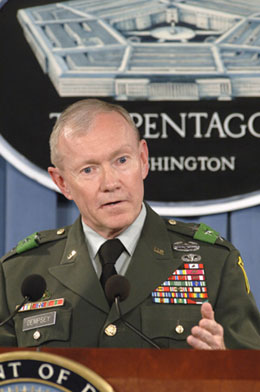 Commander of the Multi-national Security Transition Command in Iraq Lt. Gen. Martin Dempsey, U.S. Army, updates reporters on the transition of Iraqi forces assuming the duties and responsibilities which U.S. forces are currently providing during a Pentagon press conference on June 27, 2006.
Photo courtesy DoD: Photo by Helene C. Stikkel
Dempsey heads the Multinational Security Transition Command, responsible for supporting authorities as they build the new Iraq's army and police forces.
The challenge of building a modern military from scratch, Dempsey said, requires attention to the complex and "inextricably interwoven" diplomatic, information, military and economic issues that contribute to the security situation in Iraq.
His command's efforts, he said, are composed of training bases, the coalition's 4,000-strong Military Transition Teams and partner units that mentor new Iraqi army and police forces as they enter the field.
While his command serves as chief training advisers to the new Iraqi government, "everybody in Iraq right now, at some level, is involved in trying to help Iraq become more capable of [running] their own operations," Dempsey said.
"This is an army that's being built while in contact with the enemy and has been in some horrific fights, has taken some significant casualties and has demonstrated a certain courage and resilience that, frankly, having been in the region for four or five years, I was very encouraged to see," Dempsey said.
Building an independent Iraqi army requires more than attention to training combat forces, Dempsey said. With the recent naming of defense and interior ministers in Iraq's unity government, coalition forces now are focusing on helping the defense ministry build up the defense establishment required to sustain operations, such as contracting processes to procure supplies and distribution systems for fuel, supplies and ammunition.
"There is a pay system, there is a promotion system, there is a personnel accountability system, there is a contracting system -- and I could go on and on. In any ministry-level endeavor, there's probably 18 or so processes that have to be functioning in order for the institution to be supportive of what's in the field," Dempsey said.
Over the past 18 months, Dempsey said, Iraqi authorities have taken complete control of pay and personnel systems for the army and police. While the army has also taken over most "life support" functions, the police are still developing this capability.
Despite the Iraqis' rapid progress, Dempsey predicted that the ministries will need at least two years of close partnership with their coalition counterparts to optimize army and police performance. While the fundamentals for an effective force will be in place, Dempsey said, it will take time for the institutions to mature and for a new generation of leaders to develop.
"Until they have these institutions and these institutional processes in place ... [such as] life support, contracting, distribution of fuel [and] provision of supplies and ammunition, then it'll be some time before they're absolutely independent," he said.
Dempsey said that Prime Minister Nouri al-Maliki's unveiling of a national dialogue on reconciliation might help accelerate the army and police's progress by improving the overall security situation and giving the defense and interior ministries more time to strengthen their institutional processes.
As part of the reconciliation, Dempsey said, his command is ready to assist with the development of a reintegration program that would welcome militia members into the army and police, once they complete an intensive screening process. Several of the command's training facilities, he said, may be offered to the Iraqis to be used as reintegration centers for eligible individuals.
"I see huge opportunity in Prime Minister Maliki's stated interest in national reconciliation," said Dempsey. "I find their approach to be right on the money and I'm cheering them on."
On the Web:
Full Transcript of U.S. Army Lieutenant General Martin Dempsey's briefing
http://www.defenselink.mil/transcripts/2006/tr20060627-13349.html

Publish A Letter on SitNews
Read Letters/Opinions
Contact the Editor
SitNews
Stories In The News
Ketchikan, Alaska