Creative Patriot Spreads Patriotism One Roof At A Time
By Dick Kauffman
June 21, 2006
Wednesday

Ketchikan, Alaska - Scott LoBaido is a "Creative Patriot" and this New York City artist is on a mission - a "once in a life-time" mission to spread patriotism across the country. With an unmistakable New York City accent, LoBaido described how he is traveling the states to paint the American flag on one rooftop of one building in each of the 50 states. "Fifty roof tops, fifty flags, fifty states," said LoBaido. And Ketchikan is LoBaido's 19th stop and now a part of LoBaido's mission.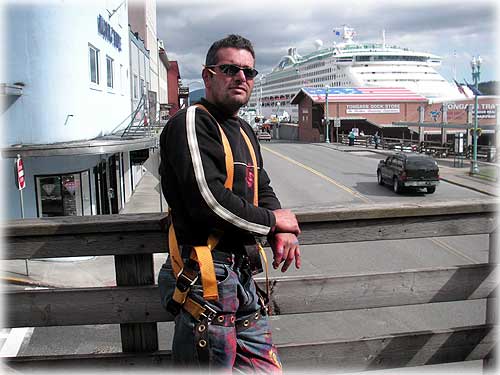 The "Creative Patriot" Scott LoBaido in Ketchikan, Alaska.
In the background is the flag LoBaido has painted on the
roof of Tongass Dock Store.
Photograph by Dick Kauffman

LoBaido said the question most frequently asked is why is he doing this. "I have pretty much more freedom than most people being an artist and I realized that people die and still do today so I can live free and express myself." LoBaido said he has always been patriotic and decided to take nine months and show how grateful he is to the veterans and to those serving our country, thus the Flags Across America project was born.
LoBaido said his dream is to promote patriotism in a grand and visible way. "I want to support our troops and welcome them home with an appreciative view from the sky." He hopes that his efforts will inspire others to be "Creative Patriots" also. But most importantly, LoBaido said of his project, "I will honor the veterans who gave me this creative opportunity and in return, thank them for the greatest gift to civilization - freedom!"
In choosing Ketchikan for the Flags Across America tour, LoBaido said he first did some research. He said," I've kind'a fell in love with the girl. She's alright, this place." With the assistance of Blaine Ashcraft of the local Chamber of Commerce, LoBaido was able to make connections and get down to work. After looking over Ketchikan, the roof of Tongass Dock Store was chosen as the ideal location. The management was then approached.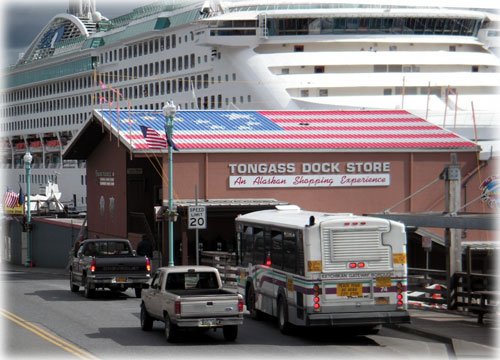 The "Creative Patriot" Scott LoBaido grand Amercian flag that he painted on the Tongass Trading Dock Flags as part of the Flags Across America project.
Photograph by Dick Kauffman

Chris Parks, manager of Tongass Dock Store, said he first heard of LoBaido's Flags Across America project through Blaine Ashcraft of the local Chamber of Commerce. Parks said Ashcraft and LoBaido first drove around Ketchikan looking for a roof that would be suitable and they chose the Tongass Trading Dock Store roof because it would be visible to locals and to visitors to the city. Parks said, "They thought it would be the best exposure" and approached Tongass with the idea. Parks said, "We're honored to be able to do it."
Each flag that LoBaido paints shows the American flag in some special way. The flag painted in Ketchikan that will represent Alaska on the Flags Across America tour has the Alaska flag represented in the blue field. It took LoBaido two days to paint the grand American flag on Tongass Trading Dock Store's roof and he planned to finish the final touch-ups Wednesday morning.
LoBaido said he is on a tight schedule and will be leaving Ketchikan on the ferry Wednesday on his way back to Washington to pick up his 1989 Chevy Silverado. He said, "I didn't think it would get me to two states but it got me all the way to Hawaii and back."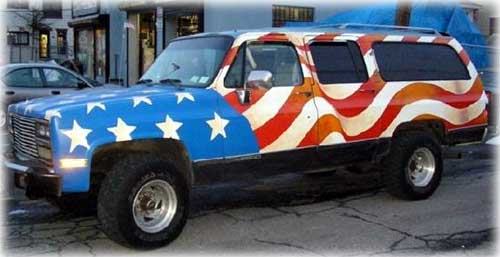 LoBaido puts Patriotism into everything he does and drives.
"Thank God this old truck was built in America. However, if anyone has a newer vehicle to donate, we sure could use one."
Photograph courtesy Scott LoBaido

Once in Seattle, LoBaido said, "I'll pick up my old Chevy suburban and drive to Montana. Montana is the next state." From Montana, LoBaido will travel to Wyoming, the Dakotas, Michigan and Illinois. He plans to be back in his home state of New York for the fifth anniversary of September 11th "to paint a special flag in regards to that every emotional anniversary."
After New York, LoBaido said he'd have about ten states left. The plan is to finish up the project the first week of December near Arlington Cemetery in Arlington, Virginia.
Described by LoBaido as a "million-dollar campaign", LoBaido said he hopes to get commercial sponsorships and hopefully a donation of a newer truck. He added he could offer some excellent exposure. "Look what I'm doing, I'm going to fifty states," he said.
The Flags Across America tour began in February 2006 in North Carolina. To date LoBaido has painted grand American flags on rooftops in North Carolina, South Carolina, Georgia, Florida, Alabama, Mississippi, Arkansas, Louisiana, Texas, New Mexico, Arizona, California, Hawaii, Nevada, Utah, Idaho, Oregon, Washington and now Alaska.
Asked about donations, LoBaido said, "That's the only way I survive. I ran out of money months ago." While in Ketchikan, donations came in a variety of ways from housing, food, transportation, lunch donated by the Gilmore Hotel, and paint and supplies donated by Tongass Trading. LoBaido said he also received a check from Ashcraft while in Ketchikan to help him on his way to his next destination. "People saying this is a good thing" and helping out is how LoBaido is able to stay on the road to fulfill his mission of spreading patriotism across the country.
Ketchikan will long remember the Creative Patriot's visit to our city. The grand American flag on the roof of Tongass Dock Store will serve as a daily reminder of LoBaido and of his patriotic statement thanking our veterans and those serving our country for the "greatest gift to civilization - freedom!"
On the Web:
Creative Patriot
http://www.creativepatriot.org/


Ketchikan
Our Troops
Dick Kauffman ©2006
Contact Dick at editor@sitnews.us


Publish A Letter on SitNews Read Letters/Opinions
Contact the Editor
SitNews
Stories In The News
Ketchikan, Alaska