President of Republic of Singapore Visits Ketchikan
By Marie L. Monyak
June 19, 2006
Monday

Ketchikan, Alaska - People from all over the world and from all walks of life find Ketchikan an attractive place to visit as was demonstrated Saturday morning when Ketchikan received an unannounced visit by the President of the Republic of Singapore who arrived aboard the Princess Cruise Line ship the Coral Princess.
President Sellapan Rama Nathan and his wife Urmila Nathan were accompanied by several unidentified persons. The Office of the President of the Republic of Singapore's website reports that Mr. SR Nathan and his wife have a son, daughter and three grandchildren. It appeared that those unidentified persons accompanying the President may likely have been family members along with several security guards.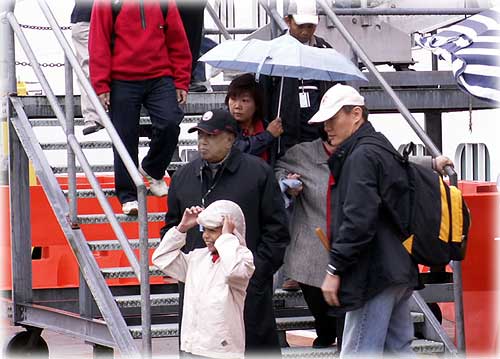 President SR Nathan (dark cap) disembarking the Coral Princess.
Photograph by Marie L. Monyak

President Nathan is currently serving his second term as the sixth President of the Republic of Singapore since his re-election in September 2005. Known as a city-state, Singapore became an independent Republic in 1965 and has since achieved enormous economic growth as Southeast Asia's most important seaport, as a financial center and a manufacturing hub which provides her people with one of the world's highest standards of living. It should be noted that Singaporeans enjoy a long life expectancy (males: 81 years and females: 84 years) and has one of the world's lowest infant mortality rates of only 4 deaths per 1000 births.

Although the population of Singapore is 4.7 million people, it does shares some similarity with Ketchikan, first and foremost as an island with many adjacent islets that are home to numerous fishing villages. Their main island extends 14 miles north-south, by 31 miles east-west, whereas Revillagigedo Island is 557 miles north-south, by 30 miles east-west. The glaring difference is the population density in Singapore of approximately 18,000 persons per square mile while all of Revilla is home to fewer than 14,000 persons. With a wet tropical climate the island receives approximately 95 inches of rain annually. Ketchikan recieves approximately 164 inches.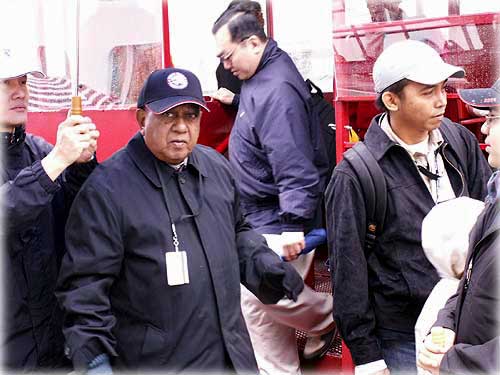 President SR Nathan as he exited the Horse Drawn Trolley tour.
Photograph by Marie L. Monyak

President Nathan and his party must have felt right at home in Ketchikan's light rain as they disembarked their cruise ship and were escorted to a Horse Drawn Trolley for a leisurely tour of Ketchikan. For security reasons Seahorse Ventures provided the group with their own trolley. After the tour, President Nathan briefly remained on board the trolley to speak with the narrators, the teamster and to pose for photographs, he even took time out to pet Loki, the ever present Husky that accompanies the trolley driver. The small group then boarded a deluxe Princess Cruises coach for a broader tour of Ketchikan after which they returned to their ship.

Princess Cruise Lines demonstated professionalism in their ability to maintain a high level of secrecy and for providing privacy and anonymity for their VIP guests ensuring them the opportunity to enjoy a pleasant family vacation. Knowledge of Presiden Nathan's presence in the First City was on a need to know basis only. Not one word of the President's cruise was leaked to the national or international press.

Due to current world affairs, this story was not published until the President and his party were safely out of our country and on their way to their next destination.
Marie L. Monyak is a freelance writer living in Ketchikan, Alaska.
A freelance writer is an uncommitted independent writer
from whom a publisher, such as SitNews, can order articles for a fee.
Monyak's freelance writing services: mlmx1[at]hotmail.com
Republication fee required. All rights reserved.
Send your story ideas for SitNews to editor@sitnews us


Publish A Letter on SitNews Read Letters/Opinions
Contact the Editor
SitNews
Stories In The News
Ketchikan, Alaska