PSSA Makes Living 'Off-the-Grid' More Comfortable
By Dick Kauffman
June 16, 2006
Friday

Ketchikan, Alaska - Living and working off-the-grid in remote areas of southeast Alaska has its challenges. However, with the development of a new Ketchikan-based company that provides independent power systems as well as fuel supplies, living and working in remote areas has become more comfortable.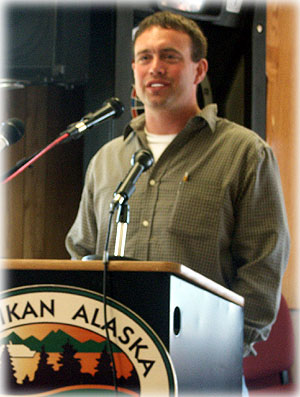 Andrew Spokely, Vice-President of Power Systems & Supplies of Alaska (PSSA)
Photograph by Dick Kauffman
Andrew Spokely, Vice-President of Power Systems & Supplies of Alaska (PSSA), spoke before the Greater Ketchikan Chamber of Commerce on June 7th about how this new company is meeting the needs of those who choose to live in remote areas in southeast Alaska. Before beginning his presentation, Spokely introduced his father and president of PSSA, David Spokely.
Prior to the development of the idea to form PSSA, father and son had researched and learned about powers systems said Andrew Spokely. There was a need behind the research, as David Spokely owned a place in a remote area around Moser Bay where there was no power source. Andrew Spokely said they later decided they would like to share what they had learned about power sources with others and decided to form their own outfit and supply solar panels, battery banks and other power supplies.
Thus the original intent to form the company, Power Systems & Supplies of Alaska, was born - to help homeowners in remote locations put together power systems such as batteries, solar panels, and inverters.
Spokely said, "Once we formed the company and spoke to potential customers, we realized that their biggest concern wasn't the solar panels or inverters, but was how to get fuel to supply their heating needs and the generators they already had."
Identifying this demand by potential customers, the company added fuel delivery to their service. The Spokelys looked for a boat that could be used to deliver at least 2,000 gallons of fuel to remote areas. Andrew Spokely said, "We found the Spirit, a 43 foot aluminum bow picker fishing boat."
"Over that winter we removed all the fishing gear and rigging on board the Spirit. We modified the fish holds and had five custom tanks made to fit each of the holds," said Spokely. "We ordered the same type of fuel system that you would find on a fuel delivery truck. Three-hundred feet of hose and a whole lot of piping."
The company was ready to go by June 1, 2005 with their mission "To make it available for anybody easily to live in a remote location, permanent or part-time." Spokely added, "A lot of people are real happy to be able to live comfortably out in a remote area."
Although their original plan was to supply power to cabins - which Spokely said has done well - Power Systems & Supplies of Alaska's first commercial customer in 2005 was the Avelon exploration mining camp in Little Vixen Inlet on the Cleveland Peninsula. Spokely said Avelon was originally using about 200 drums of fuel, which was flown in by helicopter. When Avelon found out that Power Systems & Supplies of Alaska could deliver fuel and pipe it into a tank, Spokely said Avelon placed a three-fixed tank at their mining campsite and did away with their drums almost completely.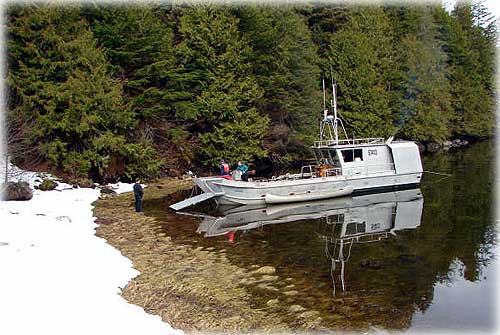 PSSA's vessel Spirit delivering fuel to Mink Bay
Photograph courtesy Power Systems & Supplies of Alaska

Spokely said, "We were able to do in an hour what use to take them [Avelon] a half a day with a helicopter." He said previously, Avelon would bring 200 drums up on barge and sling them off with a helicopter two at a time and set the drums down in muskeg. Whenever, the drums of fuel were needed, workers had to wrestle the drums through the muskeg.
Spokely said, " What we thought would be mostly home sites with an occasional lodge, turned out to be just the opposite. Between the mining camps, remote construction sites lodges both private and commercial, we actually kept ourselves busy." He said, "In fact, we even supplied Croman Helicopters with fuel when we received a desperate call saying that their entire logging operation was shut down because they were completely out of fuel."
"Last year we had what we thought was a pretty busy season, but in the first two months of operation of this year we have already exceeded last year's total volume," said Spokely.
"At the rate at which our volume is increasing we know that the 2,000 gallon capacity of the Spirit won't be adequate within a year," said Spokely. To meet this future need, the company is currently looking at purchasing a larger boat or having one built which would have 6,000 gallons capacity.
Spokely said, "The new boat will accommodate fuel loads and will also be a landing craft." He said they have been in discussions with both Allen Marine, Inc. and the Ketchikan Shipyard regarding building a boat for PSSA.
The current service range of Power Systems & Supplies of Alaska is from Union Bay, north Hidden Inlet, south Portland Canal, east Prince of Wales, and west to Ketchikan on the east. In their five-year plan, they are looking at expanding to remote areas around Petersburg and Wrangell.
Spokely said, "The biggest change has been in communities like Meyers Chuck, which started with just a few customers and has now grown to need us on a regular basis." He said they are now planning on servicing these communities year round.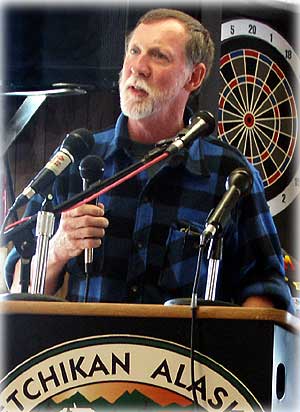 David Spokely, President of PSSA,
responding to questions.
Photograph by Dick Kauffman
In addition to providing power supplies and fuel, the company also meets other customer needs. Spokely said, "One of the needs that almost all of our customers talk about is getting smaller quantities of materials and equipment out to these remote locations. Loads too small to justify bringing a barge for."
On return trips, Spokely said, they haul back garbage and equipment that needs repair. Just recently a Forest Service employee in Shelter Cove had asked them if the company could transport vehicles to and from remote sites.
"We have been able to do quite a bit of these jobs with the Spirit, but it really isn't designed for it." Spokely said their new boat will be designed to have the fuel tanks completely below deck in order to have a flush open deck with a true landing craft below.
Another need by remote areas is the ability to handle smaller quantities at higher speeds. Spokely said they hope to add a third vessel to the fleet. It will be a 33 to 36 foot boat that will have a capacity of 1,200 gallons of fuel and will have a landing craft nose with an eight foot wide ramp. This vessel will be designed to run at high speeds.
Spokely said, "The fuel delivery part of our business has kept us pretty much saturated, but we haven't forgotten the systems side of the company." He said this past year Power Systems & Supplies of Alaska was able to provide customers with information and sales of power systems on a small scale. "This season we have our supply chains in place and have been providing Ketchikan with battery banks, solar panels, and inverters, and so forth," he said.
"This year we will be able to devote a lot more time into the power systems end of the company and it will eventually become a retail outlet," said Spokely.
In closing his presentation, Spokely said, "An interesting aspect about batteries, solar panels and inverters is how much misinformation is out there." He said they spend much of their time educating their customers of the options and the realities of power systems.
David Spokely, President of PSSA, joined Andrew Spokely at the podium at the end of the presentation to participate in a question and answer period.
Eliciting laughter, one member commented, "We don't have sun to do solar power." Andrew Spokely responded, "In fact, there are several cabins around now that are completely operating off solar panels."
When asked if panels are efficient enough, Andrew Spokely said, "Yes they are." He added, in southeast, solar panels of course would not be as efficient as in California.
David Spokely added, "People who are actually using solar panels are finding that five months out of the year the panels are not adequate to run the whole house." However he said, "The solar panels themselves are becoming a little more efficient."
As newer technologies emerge, the company is positioned to be able to also take advantage of newer fuel cells - such as hydrogen power, and ethanol, said David Spokely. With the addition of newer technologies, PSSA will continue making it much easier to live in remote areas.
Another question posed inquired about cost. David Spokely said most of the people that are buying solar panels to run their house are buying big arrays. The cost would start around $20,000 for these panels. Other power sources such as a battery pane would run around $2,000 - 3,000 and last 6-10 years. Generators can run from $3,000 up to $10,000.
For comprehensive information about the variety of power supplies and services offered by PSSA, contact Power Systems & Supplies of Alaska at PSSA[at]kpunet.net or call 907-247-7772.
Dick Kauffman ©2006
Contact Dick Kauffman at editor@sitnews.us


Publish A Letter on SitNews Read Letters/Opinions
Contact the Editor
SitNews
Stories In The News
Ketchikan, Alaska