Everyone Has to Commit

Medication Reconciliation Success in SE Alaska Region
June 16, 2006
Friday

Ketchikan, Alaska - When asked about medication reconciliation, Dr. Ernie Meloche jumps in the air and claps his hands with joy. As an emergency room physician at Ketchikan General Hospital, he understands the value of this process to help him provide the best patient care. Dr. Meloche can depend on the list because every ER nurse participates in updating medications. "Everyone has to commit, so I can trust," he says.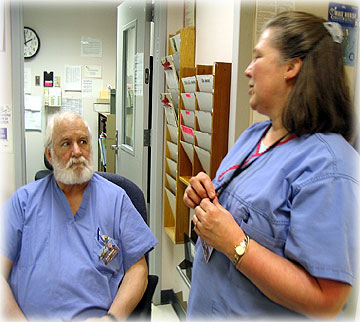 Dr. Meloche and Bev Crum pause to discuss the success of med reconciliation in the hospital ER.
The ER team at Ketchikan General Hospital (KGH) began updating patient allergies in LastWord about a year ago. They expanded that to full medication reconciliation early this year in response to JCAHO safety goals and the 100k Lives Campaign.
According to RN Wanda Sonnenburg, computers at the bedside make the process easier and more complete because they can enter medications directly into LastWord rather than writing them on paper. Nurses Jessi Pilcher RN and Jason Harris RN agree. They used to handwrite only the medication name, but by using LastWord, nurses record all information including dose, route, and frequency.
Dr. Meloche credits Bev Crum, the ER manager, with the success med reconciliation at KGH. "Bev is a leader in the true sense of the word," he emphasizes. "When she says something, we know it will happen." Crum credits Lisa Sheffler the hospital's Quality Director for the inspiration and guidance. Together they found that other ERs across the country started the reconciliation process with admitted patients and transfers, which became the foundation for their process at KGH.
The goal is 100% reconciliation for patients who are admitted through the emergency room. And a random check of the charts shows they are meeting this goal.
The process is simple. When it is determined that a patient will be admitted, the attending nurse reviews and updates the patient's medication list in LastWord. Of course this can be time consuming if patients have pages of medications, but after initial entry, the list needs only updating at future visits. Also, patients who use PeaceHealth physicians are likely to have a complete list that was updated in the clinic.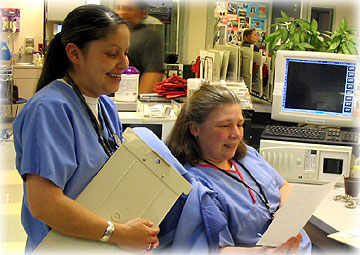 Nurse Manager Bev Crum and Nurse Norma Burton discuss
a patient medication list.
Checking allergies is another part of the process. Nurses sometimes help the patients remember medication reactions that had been forgotten, which is critical information for their care.
As final steps in the process, nurses print a list of medications for the admitting physician and a wallet size card for the patients. Both are popular. Physicians appreciate the complete and legible list that can be used as part of the admission orders. As new graduate Jennifer Taylor RN explains, "It speeds things up for them too." And patients welcome the convenient card with all of their medications.
Although the process is working for now, Crum and her nurses are concerned about the tourist season that can add 20 patients a day. In fact, this is one reason why nurses originally resisted the process. As RN Jason Harris explains, "Initially I though this was another time constraint." After time and experience with the process, Harris and his team support the process even with busy tourist season approaching. "We have to ask about medications anyway," he says, "This [process] makes you get things done."
In the future, the team hopes to reconcile medications on all patients who come through the ER. As the only emergency room in PeaceHealth who has embraced this process, they hope others will learn from their experience. And how does Crum feel about the team's success? "Our goal is to do the best we can" she says.
Congratulations to Nurse Manager Bev Crum and her team of inspired caregivers at Ketchikan General's emergency room.
On the Web:
Ketchikan General Hospital
http://www.peacehealth.org/SoutheastAlaska/
E-mail your news & photos to editor@sitnews.us


Publish A Letter on SitNews Read Letters/Opinions
Contact the Editor
SitNews
Stories In The News
Ketchikan, Alaska