Sounds of Denali (and lack thereof) in park plan
By Ned Rozell
June 16, 2006
Friday

Chad Hults hears everything in Denali National Park-a lonely sparrow singing on Ruth Glacier after a windstorm, the voices of climbers at Denali base camp, the thunder of glacial streams after a long winter, and the whine of millions of tundra mosquitoes.
Hults, a physical scientist at Denali National Park, monitors the "soundscape" with microphones he places in various spots within the six-million acre park. National parks across the nation now include sounds, or lack of them, as resources the Park Service should protect.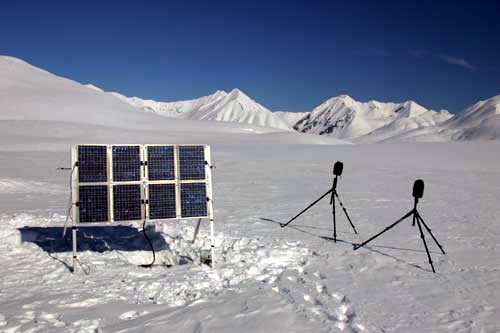 A microphone system set up near Broad Pass as part of Denali
National Park's soundscape monitoring.
Photo credit: Chad Hults

"At Denali, the sounds of wolves howling, marmots whistling, white-crowned sparrows singing, water rushing through streambeds, wind in the aspen trees, and absolute stillness and quiet are among the natural sounds that are potentially impacted . . .", park managers wrote in Denali's backcountry management plan of January 2006.
About six years ago, former Denali ecologist Shan Burson started setting out microphones in the park as part of a national effort to monitor sounds in parks. At Denali, backcountry hikers had used visitor comment forms to complain about noises in the park, mostly from flightseeing aircraft.
"The noise is something like camping on a flight path," wrote one backpacker.
Five companies with permits to land on glaciers within the park did so about 9,000 times in 1999. Landings per year increased to about 15,000 by 2005.
"That's a 70 percent increase, and we think it'll just keep on going that way," Hults said. "We don't want to shut down flightseeing. We want to protect both kinds of uses."
To protect people who don't want as part of their park experience the sound of aircraft engines-or snowmachines in the winter-members of the park staff have written up what they hope Denali's future conditions will be and included them in the backcountry management plan.
The plan includes managers' desired noise limits but does not set any legal limits on flightseeing companies or snowmachines, which make the south side of the park noisy in springtime.
"Enforcement is a totally different ballgame," Hults said. "We need more information about the current conditions before management can act."
In the past, Hults and Burson set out microphones in the Ruth Amphitheater, at Denali base camp on a fork of the Kahiltna Glacier, and at Wonder Lake. As part of his research this year, Hults has set out microphones in six locations scattered through the park.
Hults chose 60 evenly spaced points within the park where he'll take measurements during the next 10 years. Those spots can form a baseline for the Denali soundscape that managers in the future can compare to the present sound levels and sources. Microphones at his sites record for five seconds every five minutes for a total of 24 minutes each day. It's Hults' job to listen to all those sounds; the task takes him most of the off-season.
Sometimes, in midwinter, Hults will come into the office and cue his favorite soundbite from the park, which features the choppy call of wood frogs and bird songs.
"I play the one from Wonder Lake all the time," he said. "When you hear the life of spring in the dead of winter, it's a different world."
This column is provided as a public service by the Geophysical Institute, University of Alaska Fairbanks, in cooperation with the UAF research community.
Ned Rozell [nrozell@gi.alaska.edu] is a science writer at the institute.

Publish A Letter on SitNews
Read Letters/Opinions
Contact the Editor
SitNews
Stories In The News
Ketchikan, Alaska