Terrorist Leader Zarqawi's Death Called "Severe Blow" to al-Qaida

June 08, 2006
Thursday

Washington - President Bush announced this morning that Jordanian-born terrorist leader Abu Musab al-Zarqawi had been killed June 7 in a precision air strike by U.S. special operations forces in Iraq, in what he described as a "severe blow to al-Qaida and a significant victory in the War on Terror."
Speaking to reporters at the White House, Bush described Zarqawi as "the operational commander of the terrorist movement in Iraq," who led a campaign of car bombings, assassinations, and suicide attacks against Iraqi civilians and coalition forces in Iraq.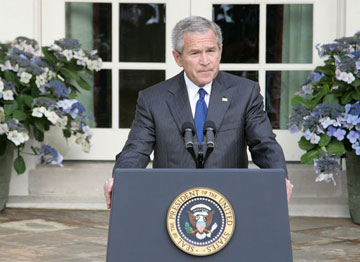 President George W. Bush delivers a statement regarding the death of terrorist al Zarqawi, an al Qaeda leader in Iraq, in the Rose Garden Thursday, June 8, 2006. "Last night in Iraq, United States military forces killed the terrorist al Zarqawi," said the President. "At 6:15 p.m. Baghdad time, special operation forces, acting on tips and intelligence from Iraqis, confirmed Zarqawi's location, and delivered justice to the most wanted terrorist in Iraq."
White House photo by Kimberlee Hewitt
Zarqawi also personally beheaded American hostages and other civilians in Iraq, and was responsible for violence in Jordan such as the assassination of an American diplomat and the bombing of three Amman hotels.
According to news reports, U.S. forces were acting on tips and intelligence from sources close to Zarqawi when they struck the terrorist leader and several close associates at a rural house near the city of Baqubah using two 500-pound precision-guided bombs.
Bush said the persistence and determination of coalition and Iraqi forces had been rewarded after a year of near misses and false leads. "Now Zarqawi has met his end, and this violent man will never murder again," Bush said.
Speaking to reporters in New York, U.N. Secretary-General Kofi Annan said, "It is a relief that such a heinous and dangerous man who has caused so much harm to the Iraqis is no longer around to continue his work."
In a June 8th statement, U.S. Ambassador to Iraq Zalmay Khalilzad called Zarqawi the "Godfather" of sectarian violence in Iraq. He said Zarqawi "declared a civil war within Islam and a global war of civilizations. His organization has been responsible for the death of thousands of civilians in Iraq and abroad."
Zarqawi's stated aim was to foment sectarian strife between his fellow Sunni Muslims and Iraq's Shi'a Muslim majority.
Khalilzad called on the leaders of Iraq's religious and ethnic communities to put an end to the civil strife and unite behind the leadership of Prime Minister Nouri al-Maliki.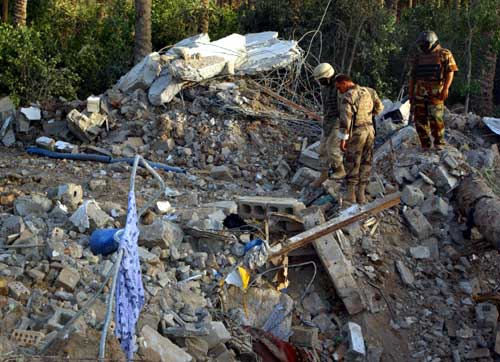 Strike Site
Rubble and debris litter the site of the last safe house of Abu Musab al-Zarqawi in Hibhib, Iraq, June 8, 2006. The top insurgent target in Iraq, along with several of his associates, was killed during an air strike on the house June 7, 2006. U.S. Army photo by Sgt. Zach Mott, 3rd Heavy Brigade Combat Team, 4th Infantry Division Public Affairs Office

Bush warned that terrorists and insurgents in Iraq can be expected to continue fighting and that sectarian violence will likely continue, but he said, "The ideology of terror has lost one of its most visible and aggressive leaders."
The president congratulated Prime Minister al-Maliki on the close collaboration between coalition and Iraqi forces in the hunt for Zarqawi, as well as the prime minister's completion of his cabinet appointments. Shortly after the announcement of Zarqawi's death, the Iraqi parliament overwhelmingly approved al-Maliki's nominees for the three remaining vacant cabinet posts. These included the portfolios of defense, the interior, and national security.
Bush said Iraq's ambassador to the United States would join him and the U.S. national security team at Camp David on June 13th for a teleconference discussion with Prime Minister al-Maliki's government.
"Together we will discuss how to best deploy America's resources in Iraq, and achieve our shared goal of an Iraq that can govern itself, defend itself and sustain itself," Bush said.
On the Web:
The transcript of Bush's remarks is available on White House Web site.

The full text Khalilzad's statement is available on the U.S. Embassy in Baghdad's Web site.

Publish A Letter on SitNews
Read Letters/Opinions
Contact the Editor
SitNews
Stories In The News
Ketchikan, Alaska